Concord woman adds stylish touch to medical jewelry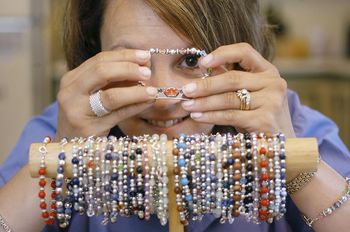 CONCORD – Sharon Adrien has had diabetes for 26 years, but until recently, she never wore a medical ID bracelet. When Adrien began using an insulin pump four years ago to regulate her insulin throughout the day, she knew she should wear something to let people know about her condition.
She also knew there was no way she was going to settle for the typical plain, stainless steel ID bracelet.
First, she looked online to see if she could find any bracelets that looked more like regular jewelry. After a fruitless search, Adrien bought some stone and silver beads and some jewelry-making equipment and designed her own.
For the past year, Adrien has made dozens of these bracelets for other people seeking a fashionable alternative to the standard ID bracelet. She uses sterling silver, hematite, turquoise, red coral, black onyx and other stones and metals to create beaded bands that can be easily attached to the steel engraved ID tag. The decorative strands are also interchangeable: Some customers have purchased two or three to coordinate with their moods and wardrobes.
Adrien, 36, of Concord has been telling people about her condition since childhood. But she relies on her medical bracelet to alert doctors, nurses or EMTs to her illness if she is unconscious or unable to talk. The bracelets are designed for people with heart conditions, medication allergies and other chronic illnesses in case of emergency.
Adrien said she saw no reason why the bracelets could not be trendy and useful.
"Now, I don't mind wearing it every day," she said. "When I don't wear it, it feels funny."
Adrien sells the ID bracelets (as well as regular bracelets and earrings) at local craft fairs under the name Jewelry by Sharon. She has also posted fliers at doctors' offices and diabetes education centers, and has received some referrals by word of mouth.
A bracelet – complete with beaded strand and engraved ID tag – costs $30. Additional strands of beads cost $15. Adrien can create an existing design, or work with a customer to design a bracelet based on a favorite color or series of beads.
By way of comparison, stainless steel bracelets go from between $5 to $20 on the Internet. Gold bracelets are available on the Web too, with prices reaching over $150.
Adrien suspects many people with serious medical conditions choose not to wear ID bracelets because they believe they are clunky and unattractive. She hopes by providing another choice, she can persuade more people to wear them.