Concord firm aids C&D recycling effort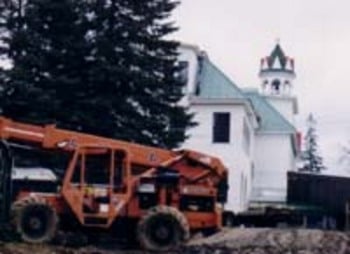 Vermont Law School has retained the Concord-based Institution Recycling Network to implement and manage a program to recycle construction and demolition wastes resulting from the reconstruction and expansion of the school's Debevoise Hall in South Royalton, Vt.
So when VLS realized the need to renovate and expand its 110-year-old Debevoise Hall, it was a given that great care would be taken to respect the architectural heritage of the building, and carefully integrate 6,000 feet of new construction into the original structure.
The school decided to set up the C&D recycling program as part of an effort to gain certification of the Debevoise Hall project under the Leadership in Energy and Environmental Design, or LEED, program, a nationwide initiative that recognizes efforts to minimize the environmental and energy use impacts of new construction and renovation. A critical element of LEED is to recover and recycle materials removed from the building during renovation, along with the construction and demolition wastes, or C&D, that are generated during construction.
When completed in 2004, the Debevoise Hall renovation will be one of the first buildings in Vermont to receive LEED certification, according to the Institution Recycling Network.
John Gundling, IRN's project manager for the renovation, said recycling of wastes from a project such as Debevoise Hall begins with careful planning. "Our first step is to inventory all of the architectural elements and furnishings that can be salvaged and reused," said Gundling. "Here, VLS and its architect (Truex Cullins & Partners of Burlington, Vt.) had already identified items like wainscoting, doors and door and window trim that would be refinished and re-used, and in some cases used as templates in creating new woodwork. Maximizing this kind of reuse is the first and highest recycling goal that we shoot for."
With IRN's assistance, the school then catalogued other materials that could be recycled as the building was taken apart and reconstructed with the new addition. Working from architectural and construction drawings, IRN identified over 50 different materials that will be targeted for recycling.
Said IRN's Gundling, "We start with salvageable items – things like door and window frames – which are sought out by renovators and designers. These are removed before any demolition begins. Next we work through the construction drawings and identify everything that can be recycled. We have markets for over two dozen materials: asphalt, brick and concrete, wood, ferrous and nonferrous metals, gypsum wallboard, roofing membranes, shingles, flashing. Our goal is first to identify everything that can be recycled, then work with the architect, contractor, and owner to turn this list into a recycling plan. The recycling plan balances the goal of recycling as much as possible with the realities of the project budget, schedule and site."
VLS broke ground on the project in October, and since then IRN has been handling on-site logistics, marketing the recycled materials and tracking and keeping records of the materials. By the time the last nail is hammered next winter, the school and IRN expect that they will have recycled over 75 percent of the wastes that would be thrown away on most job sites. The total cost of recycling is expected to be 15-30 percent less than the school would otherwise have paid for disposal of the same materials.