Concert to benefit scholarship fund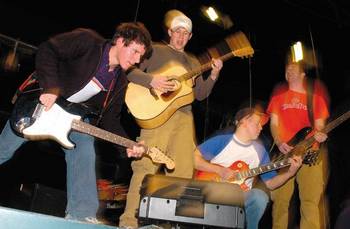 HOLLIS – Students at Hollis/Brookline High School will transform tragedy into melody tonight as members of the school's FIRST team and students in the senior class gather to host the "Rock 4 Charity" concert.
Proceeds from the concert will go toward establishing a scholarship in memory of sophomore Nicholas Jennings, who died in an accident on Nov. 20 after he was thrown from the 1993 Ford Explorer he was driving on Route 130.
Jennings, 16, was the son of David Jennings of Brookline and Diane Jennings-Lilley of Hollis.
Chris Peterson, one of the student organizers of Rock 4 Charity, said the concert was originally planned months ago to benefit a different cause. The Class of 2005 decided last year to put together a concert to benefit Operation Phone Home, which was set up by the school's FIRST robotics team to send care packages to men and women serving in the National Guards overseas.
But when one of their own died, plans changed.
"In the wake of Nick's death, there has been a big desire to have a benefit concert for his scholarship fund," Peterson said. He said students wanted to involve music in the fund-raiser somehow because Jennings enjoyed playing the guitar.
"I told his mom about the idea the Monday after he died," Peterson said. "She really likes the idea because she knows how much Nick enjoyed playing in guitar night." Guitar night refers to the "Night of the Living Guitars" – an annual school concert to benefit the fine arts department.
Details of the scholarship fund are still being worked out between the school and Jennings' family, according to Peterson. The concert will feature several Hollis/Brookline High School student bands, including StealHeadRun, the band Nicholas played with at last year's Night of the Living Guitars.
Also playing will be Social Halitosis, Peterson's band, Plastica, Sure, Freddy and the Freeloaders, Our Last Nite, Call it Quits and the Cindy Loo Whos. There will also be a tribute section at the end of the concert dedicated to Jennings.
Sgt. Richard Mello said Friday afternoon that the investigation into the car accident that killed Jennings was close to being complete.
"All the information we've gathered so far would lead us to believe that (Jennings) was not wearing his seat belt, being that he was either partially or fully ejected from the vehicle and the seat belt appeared to be in pretty good working condition," he said.
The department has not yet closed the accident investigation because the toxicology report has not arrived. However, Mello said, it doesn't appear that alcohol or drugs were a factor. Mello said it did not appear that speed was a factor in the accident, either.
Jennings' passenger, 17-year-old classmate Charlie Corey, suffered minor injuries as a result of the accident. Corey was wearing a seat belt at the time of the accident.
"The lack of injuries of the passenger indicates the difference (the seat belt might have made)," Mello said. "Driver inattention, distraction or interference will most likely be listed as the cause of this accident. I believe he would have survived (if he had worn a seat belt)."