Competition toughens in NH fitness industry
Budget chains, shifting demands bring changes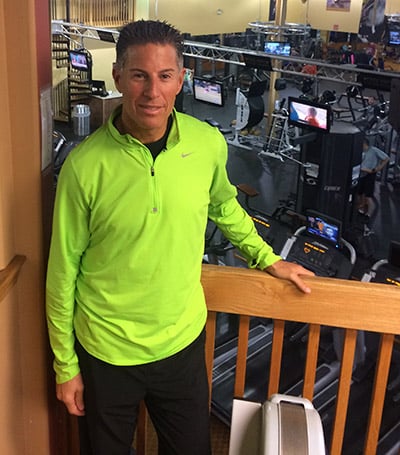 Twisted Fitness, a locally owned facility in Claremont, closed the day before Thanksgiving, two years after a lower-priced community center opened across the street. Similarly, Fit Nation in Keene shut down in December, two months after Planet Fitness opened up in town. There once were dozens of Curves fitness centers scattered around New Hampshire. Now there are three.
And starting with the new year, Gold's Gym is no longer in New Hampshire. The owner of the six gyms has jettisoned the iconic brand to start up Fitlab Fitness Clubs in the same locations.
So is the fitness industry dissolving or evolving?
The industry appears to be as strong as ever. The latest statistics show a slight gain in membership, at least nationally. But it is changing and perhaps consolidating, as baby boomers age, technology changes, and former fitness fads fade to make room for new ones.
Your standard fitness club is no longer standard, and it is become harder for midsized clubs to stay in business. They are losing their budget-conscious members to large chains, like Planet Fitness, that have slashed their prices to $10 a month as well as to high-end, low-overhead, high-intensity training studios.
It's not just the standalone gyms that are having difficulties.
"Back in the day," said Carole Sancoff, the head of the Londonderry Curves, referring to a decade ago, "busloads were dropped off at my door. Money was everywhere."
"Back in the day," she added, "I could have sold this for a half a million dollars. Now I don't think I could get anything at all."
Indeed, back in 2004 there were 10,000 Curves throughout the nation. Now there are a little more than a thousand nationwide, and only two other ones New Hampshire.
"The last eight years sucked," Sancoff said. People don't have the time to work out, or the money to fork out $30 a month.
She still thinks that a women's-only gym is a nice alternative to the big budget gyms where "they don't care if they ever see you again." But while she won't deny that it's a struggle to keep on although she doesn't doubt that she'll survive.
'Oversaturated' market
The market isn't just saturated, said Gerard Bonniello, owner of Option 1 Fitness, a Massachusetts-based three-gym chain with a facility in Keene that went under in December 2014. "It's oversaturated."
The "budget" gyms, are driving marginal gyms like Fit Nation out of business, Bonniello said. And that was before Planet Fitness opened up a gym in Keene in September, which was the death knell for Total Fitness, another Keene gym, that didn't reinvest in the business.
Once a Gold's Gym, this fitness facility in Nashua is now part of the new Fitab brand.
Bonniello, former owner of an Anytime Fitness franchise, said he does heavily invest in his gyms, making sure the equipment remains clean and in working order. He said he aims for a more "selective" group of people who don't mind paying a little more: in his case, $39 a month, with $20 for each additional member. That helped him survive when Planet Fitness arrived in town.
The rapidly growing Dover-based chain with over 1,000 locations – including 18 in New Hampshire – raised more than $200 million in an initial public offering last August. It has made a point of going after the vast majority of people who don't go to gyms, by getting rid of almost all frills, except for monthly treats of pizza and bagels.
First, Planet Fitness' marketing mocked those who lifted (and dropped) free weights as lunkheads, and then it got rid of the free weights altogether. This enabled the company to keep cutting costs, until on New Year's Eve in announced a $10 a month signup fee, at least for those joining during the first two weeks of the year.
"Traditional gyms typically target the 20 percent of the population that belong to a gym and are interested in amenities like pools, juice bars, daycares, group exercise classes, etc.," said Becky Brown, the company's public relations manager. "We are able to keep our prices low because first-time gym users typically focus more on cardio and limited weight training, which is what we provide."
Although most of Planet Fitness' New Hampshire locations are corporately owned, the vast majority are franchises, and the company makes most of its money via franchise fees and equipment sales.
In the first three quarters of 2015, the company's revenue was nearly $225 million.
"That's the big trend, $10 for a – how do I put it? – a treadmill farm," said Bonniello. "Now some gyms are even charging less. Pretty soon we are going to pay people to use our gyms," he said.
Usage rates
In his case, it has worked out, because Fit Nation's loss was Option 1's gain. He picked up the customers willing to pay more, and Planet Fitness picked up the rest.
Planet Fitness doesn't try to be selective at all. In fact, it plays off the image of the iconic Gold's Gym, with its Arnold Schwarzenegger bodybuilding reputation.
It's an image that Ted Bernson, the former owner of six Gold's franchises is trying to get away from. That's why he dumped the Gold's franchise on New Year's Day, rebranded his gyms as Fitlab Fitness Clubs, at a price point of $10 a month.
But walk into the company's two-decades-old facility in Nashua, and you see more than a big box populated with treadmills, ellipticals, exercise bikes and weight machines. There is a woman's-only section, a CrossFit room, a basketball court and another room for classes.
Most of these amenities are included in the membership fee, which, said Bernson, will give him the edge over Planet Fitness.
But others are optional, like day care and tanning booths and some high-tech bells and whistles. For a fee, Fitlab offers to hook you up to a machine that can stimulate underused muscles. It will offer a CrossFit class, complete with ropes and weights, with heart monitors broadcast to your classmates, creating a competition to reach your optimal heart rate. These extras are the how Fitlab hopes to make money, but it is also a way for casual users to save money.
"People want to be in control of what they buy, so we are giving this as an option," he said. "They only pay for what they're using."
But despite the price similarities, he said, it's a business model that is the opposite of Planet Fitness, "which is based on non-usage where we are based on usage." Bernson touts a usage rate of 64 percent – 10 percentage points above the industry average and more than triple that of Planet Fitness, at least according to Bernson. (Planet Fitness won't release its usage rate, saying that it's proprietary.)
'More personal'
Another chain is aiming at that middle market space. Anytime Fitness, which usually charges $30 a month (rates very at different gyms), has 2,300 locations, more than twice as many gyms as Planet Fitness, and, at 1.9 million, less than a third of its membership.
The gyms themselves are also smaller – usually about 5,000 square feet.
Four Anytime Fitness gyms are currently open in New Hampshire, with two more scheduled to open (one in Concord, according to the company's website). Anytime was the first large chain to offer 24/7 access, but "we are more than handing someone a key and saying good luck," said Rebecca Capo, owner of the Northwood franchise for the last year and a half. "We are much more personal."
The gym, she said, "really works on a sense of community" by offering free workouts in the parks during the spring and summer, "because it's not just what goes on in the gym." As a result, she boasts a usage rate of 75 percent.
But larger chains have it better off than independents like Leigh Ann Root, former owner of Twisted Fitness.
Root opened her gym in Claremont some 17 years ago, and membership grew every year until it faced low-end completion, not from Planet Fitness, but from the Claremont Community Center, which opened in March 2013.
Twisted Fitness, wasn't a "hole in the wall" gym, but it realized that "we really had to go big or go home," she said. She and her husband took out loans and invested $100,000 into such things as a two-story racquetball court, to give people a reason to stay. But when the tax-subsidized center across the street started offering family membership at what she was charging for individuals, "It was devastating," she said.
A club that was pulling in $300,000 a year was now losing $100,000 annually.
Half of her 1,000 members left, but after her initial discouragement, she realized that her gym was wasn't half empty, but half full. With renewed vigor, Root finally dropped the membership fee to $19.99, downsized her staff, "robbed Peter to pay Paul" and tried to restructure her debt with the local bank, which had just changed hands.
Her membership climbed back up to 750, but it wasn't good enough for the bank, which foreclosed on the property in December.
If $20 a month would put Twisted Fitness out of business, how could she ever compete with $10 a month?
"I have no idea," she said. "The big conglomerates can cut a rate, but a small business has fixed costs. We are starting to devalue fitness. It's a bad perception of what fitness costs, especially in rural areas where you don't have a high-density population."
"People perceive price and value as the same thing," echoed Jason Brennan, owner of American Fitness Center in Nashua, which also has had to dip down to $10-a-month specials. "Those $10 gyms are our competition. They have the deep pockets and the advertising team. They give the illusion that they are offering the equipment needed to reach their goal, but it's just an illusion."
Brennan says his gym focuses on group training "because the general public is starting to go beyond the basic exercises they've been doing since the '80s. Fitness has become a sport, an event on its own."
On the other hand, a lot of people aren't going to a gym at all. "A lot of small studios, boot camps, one-on-one training are popping up – tons and tons of them."
American Fitness is trying to bridge both worlds, with "strong trainers that can produce results that happens to be affordable," said Brennan. "We don't make a lot of profits. It's a challenge. It is tricky to be in the middle."