Company's microchip tester named Product of the Year
Claremont firm earns honor with liquid cooling solution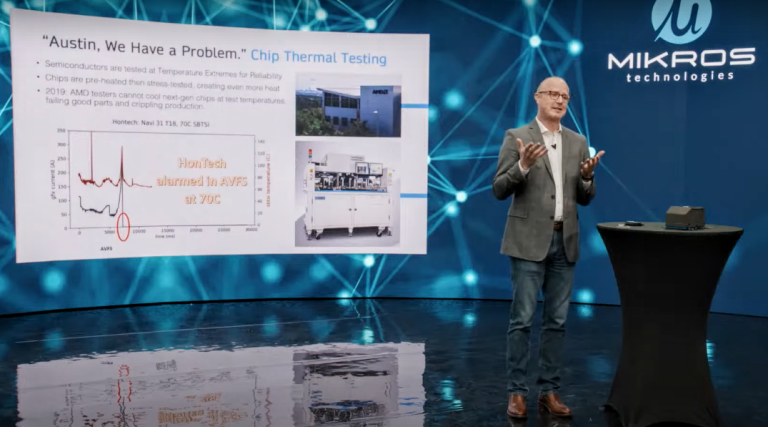 Microchips — the processing brains in everything from smartphones and laptops to cars and fighter jets — are getting smaller and more powerful.
As a result, they're producing more heat, making them more difficult to test for quality during the manufacturing process. A Claremont company has devised a solution: a new computer chip–thermal tester called the TU3.
For its efforts, the TU3 made by the company, Mikros Technologies, was awarded the NH Tech Alliance 2022 Product of the Year award.
"It tests the computer chip that goes in your computer, or phone, or in your car. It's what is called a thermal head. It's the thing that heats the chip up and keeps it at its temperature while it's being tested," said Drew Matter, vice president of Mikros.
He explained the significance of testing at extreme temperatures during his Tech Alliance presentation.
"An automaker, for instance, needs to know that your car is going to start and it's going to take you safely home if you are starting it in a parking lot in Manchester, New Hampshire, in January, or a parking lot in Phoenix, Arizona, in August," he said.
Mikros was founded by Javier Valenzuela in 1991 to design cooling solutions for NASA and its Earthorbiting space station, Freedom, a project that ultimately morphed into the International Space Station. In the process, he received five NASA Technical Achievements Awards and has received more than 15 U.S. patents.
Cost-efficient solution
There are two primary sides to the business today, according to Matter, micronozzles and microchannel liquid cooling. It was the liquid cooling aspect that gave rise to the TU3.
In some situations, such as your laptop, the microchip processor is air cooled. In other applications, it requires liquid cooling.
"In an artificial intelligence system, in a data center, in an electric vehicle, in laser applications, air is not a good enough coolant. It doesn't hold enough heat and so you have to move to liquid," said Matter. "The water just carries more heat with it."
New chips, according to Matter, can give off as much as one to 2 kilowatts of power in a few square inches, which is a lot.
It was their work in thermal cooling that caught the attention of AMD, a global U.S.-based company that manufactures semiconductor devices and related technologies used in computer processing and other electronic applications.
AMD's equipment for testing its newest, more powerful chips was failing at high heat, so they called Mikros.
"They have these computer chips that are coming out that are so powerful that they can't test their own chips," said Matter. "The testing equipment that can cost a half million dollars each was not able to test their chips because it couldn't proverbially take the heat. So they called us and they said: 'Hey, you guys do really high-performance liquid cooling. Can you make us a — we would call it a cold plate — for our chip tester?' And we said yes."
That call in 2019 led to the development of the TU3. "Over the next three years, we combined our patented high-efficiency liquid cooling, with advanced heating and fluid controls to essentially provide a turbocharger for AMD's existing chip-testing equipment," said Matter in his Tech Alliance presentation.
He also noted it is a cost-efficient solution to an expensive problem.
"We have capital expenditure savings for our clients, because right now the only thing that manufacturers can do is buy a new machine for $500,000 or they can buy a TU3 for $25,000 and extend the life of their capital equipment. That's a pretty easy math problem for the finance people to solve," said Matter.
Matter said Mikros was indeed proud of its Product of the Year award and excited to be a part of a competition that showcased new technologies being developed in New Hampshire.
"It was a great point of celebration for us. We take a lot of pride in what we do, but it was really neat to be recognized," said Matter.
"It was really wonderful to meet the other leaders and see what they're doing because, in some sense in New Hampshire, we're all in it together," he added. "We want the state to continue to become a tech hub and also a great place to live, and that's why we love living and doing technology work here."
Rethinking manufacturing processes
Other finalists in the 16th New Hampshire Tech Alliance's Product of the Year Award competition included:
• Solar OA Knee Brace from Corflex in Manchester, a state-of-the-art solution to the growing demand for custom orthotics, specifically for osteoarthritis, that achieves a true individualized fit by custom molding and modifying the brace in a single visit.
• DriverCloud from Driver Technologies in Portsmouth is a platform that enables drivers to control and share trip videos, maps and associated data with interested parties such as employers, insurers and family members.
• PaveScan Mix Design Module from Geophysical Survey Systems Inc., in Nashua, to give paving contractors the control they have always needed to lay down the perfect asphalt road.
• Skyhawk Hub, Sensor and Minisensor from Skyhawk in Derry, a series of cellular-based, batteryoperated remote monitoring sensors designed to provide businesses with vastly more utility and deployment capabilities.
Mikros, which currently employs about 50 people, is looking toward increasing its production capacity in the years ahead.
"Right now, we're a medium-volume manufacturer, and we are preparing to scale both here and with partners," said Matter. His presentation noted that they partner with up to 10 local New England suppliers for a host of components that go into making the TU3.
Global supply chain issues, combined with geopolitical considerations, have U.S. tech manufacturers thinking more about bringing their manufacturing processes back to this country, according to Matter.
"We're seeing a lot of renewed demand with clients who have historically manufactured overseas and are now reshoring," he said. "And the fact that we design, test and manufacture all in New Hampshire becomes a strong asset to us now."