Community College System Chairman Paul Holloway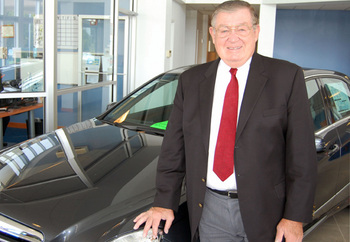 In May, Paul Holloway of Rye was elected to serve his sixth yearlong term as chairman of the Community College System of New Hampshire board of trustees. Holloway, who was a University System of New Hampshire trustee for 16 years, has been a businessman in New Hampshire since 1967. When he arrived to set up the first dealership in what became the Holloway Automotive Group, he said he was almost dumbfounded by what he saw as the strength of the work ethic in the state – a trait, he says, that is stronger than ever.
That's why Holloway tells anyone who will listen how important community colleges are to the health of the New Hampshire economy.
The interview came in the wake of an $8 million cut in state funding for the system and shortly before the CCSNH board announced that tuition rates would rise 7.7 percent for the 2011-2012 school year.
Q. Why another term as chair?
A. I find it very rewarding, one of the most rewarding things I've done in my life. When you attend graduations at our community colleges and see the kinds of students they are, the support they get from the families who have sacrificed so much and the response of the faculty members to turn out such good students and workers, you can't help but feel it.
It was an emotional experience when I attended my first graduation, and it hasn't changed. I've spent a lot of time on the periphery of education, and I've never worked with faculty who take such a personal interest in their students.
All in all, to be able to lend support is important for these students and the state.
Q. What have been a few of the accomplishments during your time?
A. We've seen capital expansion on every campus in the last six or seven years. We have responded to the needs of industry with flexibility and the quality of the programs we've been able to institute. We have taken the system from being controlled by a state board to an independent institution with a chancellor and a great board of trustees.
The diversity of our programs is outstanding. The automotive technology center in Laconia has twice been named best in the country by GM in the past 10 years. We train dental hygienists, nurses, X-ray technicians – so many of the people that you meet every day throughout the state. We have quality programs taught by quality people.
Q. What has disappointed you?
A. Most states support their community colleges at a 50 percent to 60 percent or 70 percent rate. We do 30 percent, and we are taking an $8 million hit with this, and our enrollments have never been higher. I'm disappointed that we have such a high tuition — one of the highest in the country for community colleges. Rising tuition will keep some students away because of finances. That said, the one thing we won't do is go down a slippery slope and sacrifice the quality of the programs. We may have fewer programs, but they will still have high quality.
Every state is going through a tough time and getting their comeuppance. They are making some very difficult budget choices and doing the best they can in Concord. The fact is that we've been able to improve facilities with strong support from the Legislature, and Governor Lynch has been a great cheerleader for the system.
Q. How important is the role of the community colleges in the state economy?
A. When I was chair of the National Auto Dealers Association, I traveled to 47 states and was often asked 'Is this how you do it in New Hampshire?' and I thought they were pretty envious of how we make it work.
The first thing to do is to look at the whole picture from a businessman's perspective. When you look at our state, the quality of our knowledge-based employees and their work ethic, we should be selling our knowledge-based economy. We have people who work, who don't close their doors when there's a snowstorm and who are willing to learn and be trained. We have a beautiful state, a great quality of life here, but if you don't have people who can do the job, you don't have anything.
It all comes down to people, and we are training them and meeting the needs of industry. Look at Lonza (in Portsmouth) or Hypertherm (in Hanover). The flexibility of CCSNH is the beauty of the system. They move quickly to respond to business needs.
Q. What would readers be surprised to find out about CCSNH?
A. For a state with a population of 1.3 million, we are very fortunate to have the CCSNH. I think it's important why industries are locating here. CCSNH is very involved — more involved than most people realize in setting up training programs for companies like Albany Engineered Composites in Rochester.
The combined involvement of many state agencies and the CCSNH is the main reason why Albany came here and is undertaking a major expansion. These are good-paying manufacturing jobs for New Hampshire workers trained here.