Common Man effort Relief for Ukraine raises $2.5 million
NH Relief for Ukraine Fund provides for everything from generators for orphanages to a blood mobile for supplying field hospitals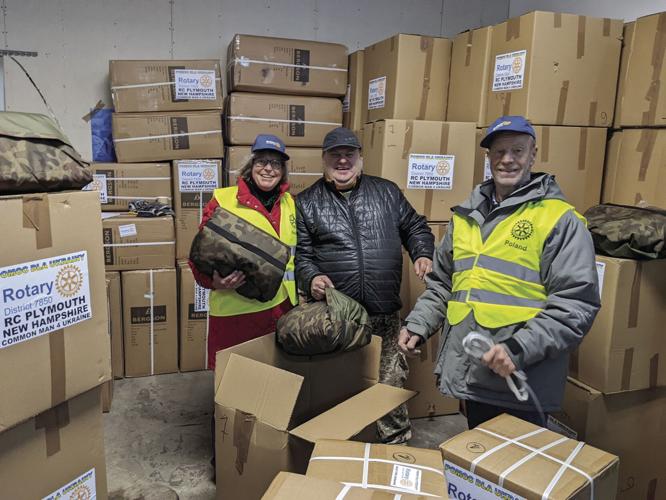 A Ukrainian relief effort started by Alex Ray, owner of The Common Man hospitality family in New Hampshire, set out with a goal to raise $1 million. In just six months, the campaign, The New Hampshire Relief for Ukraine Fund, raised $2.5 million, which has gone to fund everything from generators for orphanages to a blood mobile for supplying field hospitals.
"When this thing started, when they got barraged, people in our country asked, 'How can we help?'" Ray recalled. "We can't send containers of stuff, it takes too long, and only 60 percent gets there by the time you're done."
Instead of sending material goods, Ray decided to raise money, then travel to Ukraine to assess the needs locally, and arrange for the goods to be purchased on the spot, eliminating the intermediary as much as possible.
"The first thing I thought of was Rotary Clubs," Ray said. "It's global, all around the world. Why not call Poland and talk to the chief of one district if they could help receive our resources and find out what they need and fill it with our fundraising?" Ray and a group of close friends traveled to a Rotary Club in Warsaw. The eastern nation has taken on a vital humanitarian role during the war due to its close proximity to Ukraine.
"Three days later we came home with a laundry list of six items," Ray said. "We don't have to send them anything except the money to procure those things in either Poland or Ukraine, and that's what we did. It worked out, and it just developed."
The Common Man was joined by WMUR, iHeart Media, the New Hampshire Fisher Cats, Granite United Way, former Gov. John Lynch and the Rotary Clubs of Plymouth and Warsaw in its efforts.
According to Ray's friend and partner in the effort, Susan Mathison, "We've sent 700 tons of food, 10,000 sleeping bags, 500 generators, purchased a blood mobile that is now deployed in eastern Ukraine," Mathison said. "A trauma counseling center is now funded for the next two years. That's for refugee children in Poland. We also provided three sessions of two weeks of psychologically supported vacations for orphans."
Both Ray and Mathison say they are incredibly proud and grateful of the funds they were able to raise.
"One of the magic things about this is everyone did what he or she could, and had the faith and trust in us that we would deliver to Ukraine," Mathison said.
"It was roughly 2,500 people that donated from just $15 to an anonymous donation of a quarter-million dollars," Ray said. "It's been a wonderful testament to see how much people care."
Although the fund more than doubled the initial goal, Ray and Mathison said their work is far from done.
"As the war has dragged on and winter is now a weapon of war, we've decided to continue forward, so CommonManForUkraine.org is the website where people can continue to donate," Mathison said.