Commitment, values take food-service firm to the top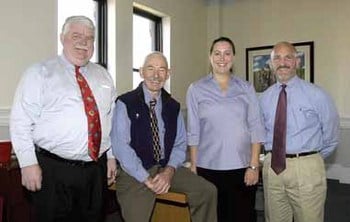 It was nearly 30 years ago when businessman Carl Fitz saw a niche in the food-service industry that needed to be filled. Through his commitment to fill that niche he has built a multimillion-dollar business that employs over 1,000 people and now serves more than 8 million meals annually throughout New England, New York and the Mid-Atlantic states.
"We bill ourselves as a customized food-service company," said Fitz about his firm, Fitz, Vogt and Associates Ltd., the company he started with Roy Vogt in 1977.
Although Fitz bought Vogt out in 1989, the original commitment to providing customers with quality meals and personalized service has continued. This same sense of commitment extends to his staff and the communities they serve, earning Fitz, Vogt and Associates recognition by Citizens Bank as the winner of this month's Not Your Typical Business Award.
"From the top down, Fitz, Vogt and Associates are extremely focused on achieving solid results by having colleagues that are committed to the company and their customers," said Vernon Studer, senior vice president of Citizens Bank. "Their core values have been there since their inception."
Fitz's values regarding customer relations and community involvement are something he takes seriously. The two sometimes meld into one, as in the case of St. Joseph Community Services and its Hillsborough County Meals on Wheels program, for which FVA is contracted to provide nutritious home-cooked meals to local seniors but also dedicates personal time to co-chair the organization's annual fund-raising event.
"Fitz, Vogt and Associates is committed to helping us meet our goal of serving a hot meal and providing daily safety checks to the frail, elderly and disabled population in our service area," said Meghan Brady, executive director of St. Joseph Community Services.
"We consider them to be our friends," added Joel Ackerman, director of outreach and development at St. Joseph Community Services. "No problem is too small and no hurdle too big for them to overcome — and on top of that, they eagerly acted as co-chair people for our event."
FVA extends the same level of involvement to Meals on Wheels programs in Vermont and works with local Boy Scouts, YMCAs, Special Olympics and New London Rotary.
According to Jim Hecker, FVA's chief operating officer, the company's employees consistently go beyond their usual duties to make sure the needs of customers are fulfilled.
"We had one district manager who actually moved into an unfinished building for 30 days to make sure we would be ready when they finally did open. Stories like this are regular occurrences," Hecker said. "We have three deadlines, seven days a week. We can't just miss one."
In a competitive industry where pricing can drive customers to other providers, service can often make the difference, according to Fitz, whose company now provides services to 160 facilities.
"We work hard to keep costs down, and all our customers see us weekly," Fitz said. "We really work hard at the relationship part of it."
The ability to serve customers effectively depends greatly on the quality of the FVA staff.
Even though the majority of employees are scattered in areas far from corporate headquarters in the southwestern New Hampshire town of Walpole — making it difficult to foster a sense of cohesiveness — nearly 15 percent of them have remained with the company for more than a decade, and a dozen have been working for FVA for more than 20 years.
The team philosophy nurtured by Fitz is in part responsible for this and is fostered by regular site visits, regional meetings, and an annual gathering at which the entire staff is brought together to mix work and play. Corporate-wide training sessions and ongoing newsletters also serve as team-building tools.
"We give a lot of support," said Fitz, 63. "It's a support approach here, versus a managerial approach."
This effort has been important to Chief Administrative Officer Bob Long, and he believes others appreciate it also.
"Carl is always sure to respond to folks in the field and works hard to foster a sense of connectedness among them," said Long, who left teaching to pursue a culinary career and joined FVA eight years ago. "People here have the ability to work freely, and that doesn't happen in a lot of companies."
The sense of regard Fitz shows his staff and customers has carried the company far since its start up 28 years ago when it began with five employees and a single Brattleboro, Vt., nursing home as its only client. Now recognized as the largest food-service provider in the area, and with an annual growth rate of 26 percent in 2004 and annual sales in excess of $45 million, Fitz, Vogt and Associates is the 30th-largest food service company in the country according to Food Management magazine.
While Carl Fitz takes a great sense of pride in all of this, he seems most gratified by the contentment of his staff and the satisfaction of his customers – including that very first customer, the Brattleboro nursing home, which remains a client today.
"I think that says something about what we do and how we do it," said Fitz.