Commercial use of wood energy picks up steam
Economic impact of NH's biomass-producing industry pegged at $72m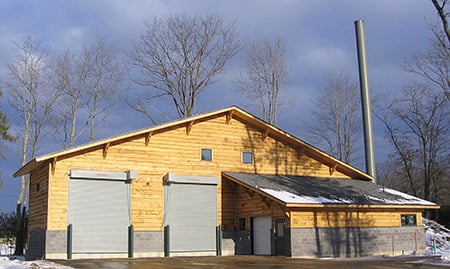 New Hampshire's forests connect us to nature, provide a home for wildlife, bring tourists across our borders and provide a wide variety of forest products to meet our everyday needs. Increasingly, they are also a source of cost-effective and environmentally responsible electricity and heat.
New Hampshire's forests have always been a local and renewable energy resource for its residents. About 8 percent of New Hampshire homes depend on firewood for heat, and many more use it as a supplemental heating source in fireplaces and wood-burning stoves. But as more local governments and commercial building owners discover that wood energy offers significant savings over oil, the use of wood-based heat and hot water systems is on the rise.
Across the state, schools, hospitals, libraries, county complexes and other municipal and commercial buildings have converted to wood-based heat and hot water systems, saving millions of dollars each year.
Judd Gates, director of facilities, planning and information for the Rockingham County complex in Brentwood, sums up his county's decision to choose a wood-based system.
"Burning wood instead of oil was an environmentally sound decision that gave us an opportunity to purchase a product generated in New Hampshire," he says. "It has already resulted in great savings. In 2013, we saved over $500,000, and in 2014, we saved over $580,000. Even with the drop in oil prices in 2015, we still expect to have our investment returned in less than five years, which is pretty exciting."
In the Winnisquam Regional School District, Ian Raymond, chair of the Energy Committee of Sanbornton, a NH Wood Energy Council member and a former state representative, was instrumental in developing a plan to convert the heating plant at the town's regional middle and high school to a wood-based system.
"Back in 2008, when we began working on the biomass project, oil prices had nearly doubled over what the school district had originally budgeted," he says. "By investing in energy-efficient upgrades and installing a wood chip-burning biomass plant, we have been able to save $1,007,572 in energy costs within the first four years of the biomass plant's operation. The savings have allowed the school district to retain three teaching positions that otherwise would have been eliminated."
He said the project was so successful "that we are currently looking to install wood boilers at two additional schools in our district."
New energy sources
The rise in use for heat and power has raised concerns that the state's forests will be exploited to support wood energy. But private landowners, who control 76 percent of the state's forests and ultimately control what is harvested, are not likely to let that happen.
According to research, timber harvesting is at the bottom of the list when it comes to managing their investments.
Furthermore, wood used for energy is relatively low value and therefore not economically feasible to harvest by itself. Most wood utilized for energy is a byproduct of existing logging operations, sawmills and other wood-utilizing manufacturers.
The use of wood as an energy source will continue in New Hampshire as the state and the nation explore new energy sources and expand the use of renewables.
That's good news for the state: A 2011 study by UNH Cooperative Extension and the NH Timberland Owners Association estimated the total direct economic impact of New Hampshire's biomass-producing industry is $72 million. In addition, eight wood-energy power plants across the state provide 8 percent of the state's electrical needs and serve as an economic engine for many rural communities.
Sarah Smith is forest industry specialist for UNH Cooperative Extension. This article is part of a collaboration between UNH Cooperative Extension and NH Business Review.