Claremont installs 151-kilowatt solar array
Project is part of energy strategy to save nearly $1 million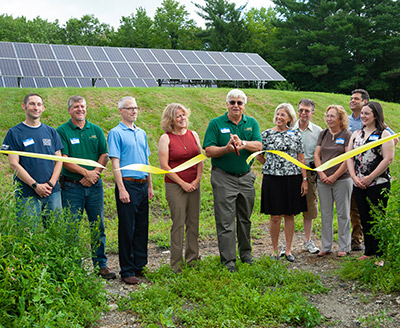 Claremont recently celebrated the installation of a solar array near its wastewater treatment plant, the city's largest electricity user.
The project is a key feature of the city's multi-year plan to cuts costs and reduce environmental impacts. Last year, the Claremont City Council approved funding for the solar array, which has no impact on the city's tax rate and is forecast to save taxpayers more than $800,000, according to a press release from the city. The plan includes an energy audit of the municipality, numerous lighting upgrades, water conservation and efficiency measures, heating the public works garage with used motor oil, and other initiatives.
"Claremont has, and will remain, committed to cost-effective, alternative energy resources that lower costs both financially and to the environment," said Claremont City Manager Ryan McNutt.
Incorporating solar energy demonstrates the municipality's commitment to sustainability while reducing its reliance on fossil fuels. The array lowers peak demand at the wastewater treatment plant and protects against electricity price spikes by locking in energy prices over the 40-year lifespan of the system.
The 151.2-kilowatt array consists of 432 solar panels installed across three rows on land adjacent to the plant. If each panel were laid end-to-end lengthwise, the array would span the length of eight football fields. The system will generate approximately 190,522 kilowatt hours per year and offset more than 200,000 pounds of carbon pollution each year, which is equivalent to the emissions from 100,000 pounds of coal or 10,000 gallons of gas.
"Water and wastewater treatment facilities are typically the largest electricity users in a given municipality, therefore providing the largest opportunity for savings," said ReVision Energy Branch Manager and Employee-Owner James Hasselbeck. "These plants often have underutilized rooftops or land available for solar generation with existing electrical equipment that typically can support large-scale solar electric systems without costly upgrades."
Claremont has been recognized before for its efficiency projects. In 2006, it was named a Leader for Energy Efficiency at the Northeast Energy Efficiency Summit for its first municipal lighting conversion project. Earlier this year, the city was honored with the 2018 Energy Week Municipal Energy Champion Award. The awards reflect the results of a comprehensive strategy to increase energy efficiency and decrease environmental impacts.