City bids farewell to chief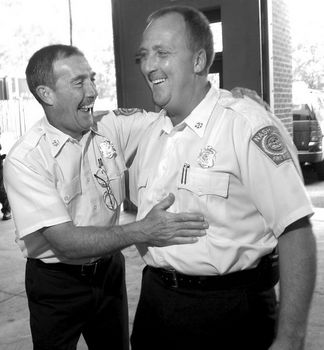 NASHUA – Michael Buxton said "so long" to one of his families Friday when he officially retired from Nashua Fire Rescue.
His two families are closely entwined. Buxton's father, grandfather and great-grandfather each served more than 30 years as firefighters in Hudson.
Buxton has served with the city's fire department for nearly 33 years, the last three of them as chief.
Buxton chose to retire on the same day that he and Sue Buxton celebrated their 33rd wedding anniversary.
Their two sons, Rob and Steve, are both firefighters in Nashua. As for their grandchildren, they're all a bit young yet.
Well over 100 firefighters, retired firefighters, relatives, city officials and other well-wishers gathered Friday at the Lake Street station to show their appreciation, socialize and tuck into a generous buffet provided by Buxton's family.
"Mike has truly exemplified a firefighter's firefighter," Fire Commissioner Mark Piekarski said, from "his early years on the fire ground of a multiple-alarm fire, where he was always one of the first to enter the burning building and one of the last out, to a suit-and-tie chief making his pitch for our department to the mayor and Board of Aldermen."
Buxton helped the fire department to grow and improve as his own career matured, Piekarski said. He recalled Buxton's work developing a training center at the city landfill, and his later projects, including helping to found the regional Souhegan Hazardous Materials Response Team, directing the city's emergency planning and negotiating for land for a new Crown Hill fire station.
"We are proud and it is an honor to have had the opportunity to work alongside you all these years, and for you to be a part of this fire department family, and more importantly, for us to be part of your firefighting family," Piekarski said.
Buxton urged everyone present to meet "my other family, the ones I live with when I'm not in this building or City Hall."
He recalled one of his prouder moments, years ago when his son Rob worked at the Hudson Fire Department. A car had plunged into the Nashua River, and sunk too deep for firefighters to get to it.
Nashua called for help, and when the Hudson dive team truck rolled up, and the door opened, his son was there, all geared up and ready to jump into the drink, Buxton said.
Mayor Bernie Streeter and Alderman Mark Plamondon also commended Buxton for his service, and Westmore, Vt., Fire Chief Kimball Johnson thanked Buxton for his help in establishing that town's first volunteer fire department three years ago.
Nashua donated some castaway fire gear and a truck to the department, and Buxton helped Johnson to organize the department.
The Fire Commission, firefighters union and firefighter's relief association all presented Buxton with tokens of esteem.
Fire Inspectors Rick Wood and Charlene Brouillette introduced Buxton to the one of the department's newest recruits, "Patches," a remote-controlled robot Dalmatian that wears a fire hat and drives a pumper truck.
Patches and Pumper will be used to teach fire safety to younger children, but they amused the adult crowd by driving into the station with lights flashing, calling out for Buxton.
Acting Fire Chief Roger Hatfield said Buxton has been a mentor to him for years, all the more so in recent weeks as he helped Hatfield ease into command.
"My plate has been getting kind of full . . . I've got my work cut out for me," Hatfield said, but if things get overwhelming, he added, "I know where he lives. I can always go over for a cup of coffee."
Andrew Wolfe can be reached at 594-6410 or wolfea@telegraph-nh.com.