'Church family' tells what they're thankful for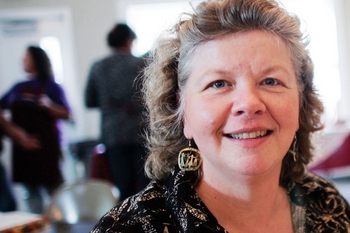 MILFORD – Not everyone celebrated Thanksgiving with turkey, stuffing and all the fixings at home, surrounded by friends and family. Some of them did so at church, with family of a different kind.
Almost 100 people came to Milford United Methodist Church on Thursday afternoon to eat and give thanks along with members of their church family. It was the church's third annual Thanksgiving dinner.
Volunteers served about 75 people in the church's sanctuary and delivered about a dozen meals to those who couldn't make it to the church, according to volunteer Lisa Payne.
"I think Thanksgiving is about family, friends and fellowship with the community, and I like to share that," Payne said.
"This is a small token of returning something back to God," said another volunteer, Steve Takacs.
In between bites of the Thanksgiving favorites, several people took a moment to remember what they're thankful for:
Lisa Payne, Milford: "My church family. Waking up every day healthy. Oh, and music. Music's a big thing."
Retired Rev. Robert Morgan, Milford: "I'm especially thankful for the blessings of which I'm not aware."
Susan Drew, Milford: "My family and that we're all healthy."
Alexis Eaton, Milford: "My family."
Liz Iorio, Milford: "My family first, and my health. And my meal."
Kaleen Fortuntao, Milford: "This church for one thing. My husband. Mostly I'm thankful that God takes care of me in my time of need."
Vivian Ross, Lyndeborough: "I'm very thankful for" her sister, Priscilla Lambert, coming to live with her in August.
Priscilla Lambert, Lyndeborough: "That I'm here."
Rachel Adams, Cambridge, Mass. "Family and friends and being able to come together as a community."
Brendan Face, Greenfield: "Being in good health and having my whole family around for the holiday."
Jim Giordano, Nashua: "I'm thankful for my family and the gifts I've received, which are too many to list."
Jonathan Giordano – 11, Nashua "I'm happy I have my family, and I'm happy I have my PSP."
Christopher Giordano – 8, Nashua "My family. My friends. My Gameboy. That's it. And I'm thankful for Thanksgiving."
Steve Takacs – Milford, volunteer "All the blessings that God has given me."
Deb Mench – Amherst "All the opportunities I have to help others. I'm happiest when I'm helping other people."
Peg Croissant – Mont Vernon "We're thankful for our family and our friends."
Keith Roberts – Milford "I'm thankful for my health. I'm thankful for the chance to get together with my neighbors and my congregation. The world is treating me well."