Chief justice wants more money spent on security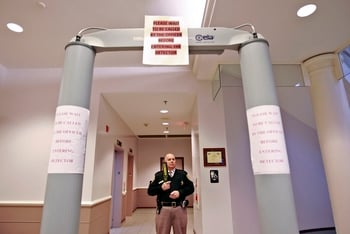 CONCORD – Supreme Court Chief Justice John Broderick shared an amusing anecdote with legislators last week, while pitching a proposal to spend $3 million more on court security.
It happened in Manchester, in the mid-1990s. Now retired Justice Richard Galway was presiding over an unusually acrimonious domestic case, he said. At the end of the hearing, the man began venting ire on his ex.
The man became so angry and animated that Galway feared for the woman's safety. The judge caught the attention of a bailiff, and suggested that he intervene, Broderick said.
The elderly bailiff approached the couple.
"He took out his can of mace – pft, pft – and he sprays himself in the eyes," Broderick told members of the House Finance Committee.
The bailiff began to holler that he couldn't see, Broderick said, and the commotion defused the situation.
"Somehow, it worked," Broderick said.
Here's another story, one Broderick didn't tell.On Aug. 20, 1999, a Nashua man became so enraged by his dealings with the courts and state social services that he ambushed and murdered the social worker assigned to help his family.
He then drove to the Hillsborough County Superior Court on Spring Street, where he'd been obliged to appear many times. This time, he came bearing a .30-caliber assault rifle, three handguns and plenty of ammunition.
He saw his murder of the social worker as a protest against the government, and he "intended to make more demonstrations" at the courthouse, he told police later, but he thought better of it, and drove away.
Considering the passions that family court matters can inflame, it's just a matter of time before such a thing happens again, Broderick said. In the last week of February, someone was stopped trying to bring a loaded handgun into the Hillsborough County Superior Court in Manchester, where the person was scheduled to appear for a hearing, he said.
"Thank God they found it," Broderick said, adding, "It's not a question of whether there will be violence in a courthouse; it's a question of when and where."
While it may be impossible to predict or prevent such an incident, the courts can control how prepared they are to respond.
"The security we have on the ground right now in our courthouses is not adequate to protect the public," Broderick said. "It's a ticking bomb."
Broderick was visiting the Legislative Office Building on March 5 to testify in favor of House Bill 682, a proposal to increase annual spending on court security by about $3 million a year. Given the current budget climate, Broderick said, he knew it was a lot to ask.
"I know there is no money, but . . . I hope I'm not here to testify on a bill that's been named in honor of someone who has died."
"Sometimes public safety requires that we step up," he added. "I plead guilty to the fact that it costs money . . . Sometimes things cost money."
Paying people costs money, and the bill would increase pay for court security officers dramatically, from $65 a day with no benefits to $100 a day with no benefits.
It would also require, however, court officers to undergo training and meet standards developed by the state Police Standards and Training Council for education, training and fitness. There are no such requirements at present.
"The standards are the key component with this legislation," Hillsborough County Sheriff James Hardy said, adding later, "Currently, right now, I can basically hire anybody, subject to a background investigation, and say 'Congratulations, you're a court officer.'"
"We want to make sure that any court officer has the ability to do that job," he said.
The proposal would also streamline court security, which is now a mash-up of state and county functions, Supreme Court staff attorney Howard Zibel said. County sheriffs currently handle security at the superior courts, while the courts' own security officers handle the district courts and Supreme Court. In all cases, the county sheriffs watch over prisoners. Some of the county officers are paid directly by the court system, and others are paid by state administrative services, depending on whether they are working the door, monitoring a courtroom or actually guarding prisoners, Zibel said. The bill would eliminate the overlap, and leave court security entirely to the county sheriffs.
In addition to hiking court officers' pay, the proposal calls for the courts to pay counties a 3 percent administrative fee to cover the costs of hiring and training court officers, Zibel said.
The courts now spend roughly $4 million a year on security, and the proposal would raise annual spending to about $7 million, Zibel said. The changeover would cost an additional $2.2 million in the first year, including the cost of buying guns, so that all court officers would use the same weapons. Court officers who carry guns are now required to supply their own.
A similar but more expensive proposal to use fulltime professional staff for court security failed to clear a Senate committee in 2007, Zibel said.
"We haven't met anybody that doesn't think this is a good idea. The question is funding," Hardy said.
The next hearing on the bill is scheduled at 1:30 p.m. Wednesday, again before the House Finance Committee.
Legislators on the committee noted that any spending increases will be a hard sell this season, and some questioned whether the current system was really so bad. There are metal detectors at the door of every courthouse, just as in the airports, one lawmaker remarked.
You can't stop violence just by taking away the tools of the trade, however, Broderick said, and it is self-evident that a court officer who is both fit and trained would be better equipped to break up a tussle than one who is neither.
"You deal with volatile situations in the courthouse," Hardy said. "Most of the people in these courthouses aren't in there because they are having a good day."