Cheshire Medical's health care vision extends well beyond the hospital
Keene hospital honored for efforts to forge 'a better way'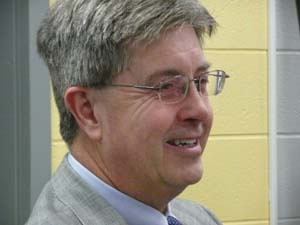 At a time when skepticism of and pessimism toward the American health care system seems to be at an all-time high, there's some good news here in New Hampshire.
Cheshire Medical Center/Dartmouth-Hitchcock Keene, a rural hospital in Keene, has won the American Hospital Association's Carolyn Boone Lewis Living the Vision Award, a prestigious national honor that recognizes a hospital's work to improve the health of its entire community. Cheshire Medical Center is the first hospital in New Hampshire to receive the award, which was established in 1996.
"It really intends to acknowledge those hospitals that are working outside the four walls of their institution," says Dr. Rudy Fedrizzi, the hospital's director of community health clinical integration. "It's an award that recognizes that health is bigger than just medical care."
In 2006, Cheshire Medical Center embarked on making that idea a reality by starting Healthy Monadnock 2020, a community-wide health initiative that aims to make Cheshire County the healthiest community in the country by the year 2020. The initiative gets its funding from the medical center's community benefit spending, as well as sponsors such as Markem-Imaje, C&S Wholesale Grocers and the Putnam Foundation, Fedrizzi says.
Reaching outside and beyond the hospital is at the heart of what Cheshire Medical Center has been working toward for the past eight years. And at the heart of that is an effort to change the mentality and culture around health care, says Art Nichols, Cheshire Medical Center's CEO.
"The current American health care system does not pay hospitals and doctors to try to keep [patients] well and out of the hospital," Nichols says.
Instead, it pays for sickness, literally.
"That's a shortcoming of the American health care system," he says. "There has to be a better way."
As the Carolyn Boone Lewis Living the Vision Award recognizes, Cheshire Medical Center is among the national leaders trying to forge that better way. Instead of waiting for people to get sick and helping them get better, Cheshire Medical Center is devoting itself to keeping the members of its community healthy and out of the hospital in the first place.
Shared goal
If Healthy Monadnock 2020 sounds overly ambitious, just stop to consider how incredibly far-reaching it really is. Cheshire Medical Center is the backbone and guidepost of a program that also involves 85 "Organizational Champions," which have partnered with the hospital to bring comprehensive wellness programs out into the community.
These partners include the city of Keene; local community and service organizations such as the YMCA and Kiwanis and Lions clubs; schools and school boards; government organizations such as Cheshire County Sheriff's Office; and businesses ranging from Pfizer to Savings Bank of Walpole to Hamshaw Lumber.
In addition, more than 2,100 people have pledged to be individual champions and take greater responsibility for their own health and healthy behaviors.
"We've made a real effort to bring together in a collective fashion all the people and all the entities that would have the potential to impact health in a positive way, and aligned all their efforts to a shared goal," Fedrizzi says.
That shared goal is one that's both simple and complex: Make the people in the Monadnock Region healthier and more engaged in their own wellness.
Each of the Healthy Monadnock 2020 partners is working toward doing that in some way, and the efforts are wide-ranging and all-encompassing, going far beyond what happens inside the hospital.
For instance, the city of Keene has adopted a "Complete Streets" ordinance, which means that roadway renovations will be undertaken with an eye toward making streets more accessible to walkers and cyclists.
Another partner, Cheshire County HEAL (Healthy Eating Active Living), helps local businesses use the CDC's Worksite Health ScoreCard questionnaire to comprehensively score themselves on employee wellness.
According to Fedrizzi, one of Healthy Monadnock 2020's business partners, Hamshaw Lumber, became a tobacco-free workplace as a result of taking on the assessment.
"There's a real, tangible change that came about because a workplace was able to assess itself," Fedrizzi says.
Nichols adds that by going smoke-free, Hamshaw Lumber was able to reduce its number of employees who smoke and improve its insurance premium costs. It's an example, Nichols says, of the business case for employers to ensure that their employees get and stay healthier.
"Here in Keene, like most of New Hampshire, you get people, and they're with you for the long term, so you should be very interested in their health," Nichols says of Granite State employees. For instance, he notes that the average employee works at Cheshire Medical Center for more than 15 years.
"We're very interested in their health in the long term," Nichols says. "We all have the vested interest in keeping our population healthy."
Another example of Healthy Monadnock 2020 partners working together is within its "Know Your Numbers" campaign, which encourages individuals to know their blood pressure, body mass index, and cholesterol levels. In addition, outreach efforts from Cheshire Medical Center, partners such as Keene State College and the YMCA hand out healthy-living wallet cards to people in support of the campaign. Fedrizzi says over the past 18 months, the outreach, combined with a redesign of the hospital's clinical processes, has led to a 13 percent improvement in the percentage of patients who have good blood pressure control.
"It really leads to measureable differences in the whole community," Fedrizzi says. "It can move an entire population's numbers."
Efforts such as these — which reach into schools, businesses, and government organizations — combine to make a community that's engaged in its health at every level. And Nichols says he's noticed that the initiative is becoming a part of people's everyday lives in the region.
"The whole notion of Healthy Monadnock 2020 is creeping into the vernacular," he says.
Healthy food
Steve Ahnen, president of the New Hampshire Hospital Association, which nominated Cheshire Medical for the Carolyn Boone Lewis Living the Vision Award, says what's so impressive is that the medical center is really "walking the walk" when it comes to improving the health of its community.
"It's really about being out in the community," Ahnen says. "To me, that's what's so exciting … they've really stayed true to their focus."
So what's next for Healthy Monadnock 2020? Just because Cheshire Medical Center has won a prestigious national award doesn't mean it plans to rest on its laurels.
Fedrizzi says next on the agenda is trying to build a more comprehensive healthy food system in the community that will incorporate farmers markets; community gardens; food co-ops; adding healthy food to convenience store shelves; farm-to-school programs; and linking farmers to restaurants and cafeteria managers.
That a healthy food system is part of the medical center's overarching priorities is further evidence that it believes community health extends outside the realm of traditional medical care.
"The key to this is engagement – this idea of collective, coordinated engagement," Fedrizzi says.
Nichols adds it's not only engagement but personal empowerment that will help make people and communities healthier. With the help of Cheshire Medical Center, people and organizations in the Monadnock region are leading the cultural shift away from curing sickness and toward building long-term health.
"For the majority of Americans, the single biggest factor is our own behaviors, and that's the undercurrent of Healthy Monadnock 2020," Nichols says. "There's no drug out there; there's no single piece of science that can help us more than we ourselves. We can make a difference. It's not easy, but we've got to start thinking a little differently and start building it into our everyday lives."