Change of scenery pays off for insurance firm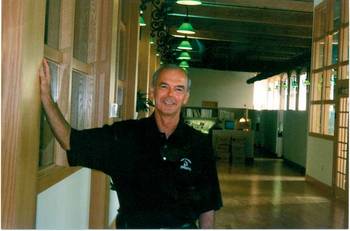 International Insurance Company, now Riverstone Resources LLC, moved to New Hampshire from Chicago seven years ago, looking for room to grow and a way to lower operating costs.
The company found both in the giant Waumbec Mills building in Manchester's Millyard, where Riverstone now leases the entire top floor. And the company that moved here in 1999 with all 32 of its employees now has about 225 people at work in an office that covers more than 100,000 square feet.
"We have lots of elbow room," says Bob Warren, senior vice president of administration.
The company – not to be confused with the former Cabletron Systems spinoff company Riverstone Networks — started out with 30,000 square feet but expanded into its present space within 18 months of moving in, Warren said. And while the rent, at $9.50 per square foot, is nearly double what it was seven years ago, Riverstone still has roughly four times the space for less than 20 percent of the price it was paying in the Windy City.
Riverstone's business is putting insurance companies out of business. "We are what is known as a runoff company. We take over troubled and distressed property and casualty companies and put them out of business and resolve the outstanding claims." By investing the acquired reserves, the company makes money against pending claims. "We recover a significant portion of our operating costs though investment income," says Warren. "If we can effectively resolve outstanding claims, we make money on saving our reserves."
Founded as a property and casualty company in 1909, International Insurance Company was later acquired by Xerox Corp. In the early '90s, Xerox, like many large corporations, chose to get out of the insurance business. "We were resolving outstanding claims and getting out of the business, primarily because of the class or kind of business we were in," Warren says. "It was mostly environmental. Asbestos was the biggest component."
That was when a group of investors acquired the company to put its expertise to work in the marketplace — helping other companies get out of the insurance business.
"It's the nature of the latent liability," Warren said. "Most of the claims are settled long after the loss occurred." That proved especially costly for companies underwriting liabilities in environmental lawsuits. "Much of the loss occurred in the 1970s when most companies didn't know what their exposure was."
Choosing N.H.
International was in the process of being acquired by Fairfax Financial Holdings Ltd. of Toronto when the decision was made to relocate from Chicago.
"Our lease was expiring and the cost of doing business in Chicago was becoming outrageous," says Warren. "Essentially we decided to do a nationwide search to see if we could find a place to do business at a reasonable cost and reasonable quality of life. We can do what we do anywhere."
Being close to an international airport for company travel was a key requirement. Other factors considered in the search for a new home included quality and cost of housing and quality of schools. Still another consideration played a key role in eventually bringing the company to the Granite State.
"The people making the decisions were four or five senior officers at a level where the personal income tax is significant," Warren says.
The search eventually was focused on nine states that had no income tax. Alaska and South Dakota seemed a bit too remote. "For quality-of-life reasons, the people making the decisions weren't interested," says Warren. "They didn't want the heat of Texas or Florida's humidity." One by one, New Hampshire's competitors were eliminated.
"We kind of stumbled onto New Hampshire," Warren says, acknowledging the state was "not high on our list" at the start of the search. "We started liking no personal income tax and no sales tax. The property values were pretty good, relative to where we were coming from. The schools were pretty good relative to where we were coming from. There's an international airport at Logan and a great airport locally for domestic travel. When it comes to business office facilities, we found a real bargain in Manchester."
The newcomers liked the new location enough to spend about $5 million in renovating the old mill space, starting with floors that were worn and carried the indentations of the old textile machinery. A new hardwood floor was laid and new walls were constructed and overlaid with oak paneling. Lighting fixtures that were both functional and decorative for office were installed, including replicas of 1890s gas street lamps.
"The level of finish is actually beautiful," said Arthur Sullivan of Brady Sullivan Properties, landlord of the building. "They've converted it to Class A space. It's probably the nicest mill space north of Boston."
A 3 percent 'raise'
The former insurance company opened for business in Manchester on Aug. 11, 1999, the same day Fairfax closed on its acquisition of the firm. International Insurance became Riverstone, a composite name reflecting the company's location on the Merrimack River and its move to the Granite State.
"We established Riverstone as a means of acquiring other companies," says Warren. The Riverstone Group now holds reserves of roughly $1 billion against some 20,000 outstanding claims, including 6,000 claims of environmental damages. Many are multimillion-dollar suits that take years getting through the legal system. "With each passing day, the legal fees keep ticking up," he says. "We pay a premium to have them settled sooner rather than later."
By the end of 2002, Riverstone was merged with another Fairfax company, Trans-America Insurance Group, or TIG. While the company has expanded its affiliations and enlarged its workforce considerably since its arrival in the Queen City, 29 of the 32 employees who moved here from Chicago seven years ago are still with the firm.
"Normally, it's pretty hard to pry Midwesterners away from their roots," says Warren. On the other hand, jobs with an average salary of $70,000 a year might be hard to duplicate anywhere. And the company's top executives would not be the only ones to benefit from leaving Illinois' 3 percent income tax behind.
"That's a 3 percent pay raise," Warren says. "As a matter of fact, we did not give people a pay raise to move," though the company did pay for moving expenses. "They were willing to come along on the adventure and see how it works."