Ceremony honors Litchfield DARE graduates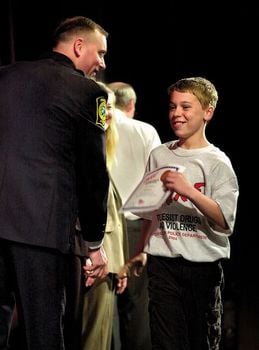 LITCHFIELD – Fifth-grader Emily Martin never knew there were so many ways to say no to drugs and alcohol.
"A very important thing I learned was how to say no," she said. If you act unsure, peers might ask you again to use drugs or try alcohol, she said.
Martin and her fellow fifth-graders participated in the Drug Abuse Resistance Education program and attended a graduation ceremony Thursday where they received certificates for completing the program.
She also won a free bike in an essay contest and read her essay to a crowd that included fellow students, parents, relatives and local officials.
"I pledge when I grow up I will try to make good decisions," Martin read, adding later: "I know that DARE will be a big part of that."
This was the fifth year that the School District and the Police Department have teamed up on the program that teaches children about the dangers of drugs, alcohol and tobacco.
The town is also teaching DARE's new curriculum this year and New Hampshire is one of the first states to do so, School Resource Officer Heath Savage said. Savage and police Officer Bob Bennett decided to keep some of the old lessons, such as using high school role models. Several teenagers went to classes and the fifth-graders were able to ask them about anything.
About 150 fifth-graders at Litchfield Middle School and 20 at St. Francis Academy participated in the program.
Gov. Craig Benson lauded the students for their efforts.
Students may ask why they need to know all this information, he said. The decisions they face now might be what to eat for lunch or whom to play with after school, he said.
But, the choices they face in the future might not be so simple.
"(We) try to make you understand the consequences of making choices about drugs and alcohol," Benson said.
Using drugs and alcohol can cloud your head and cause you make bad choices, Benson said. Students may not be able to help someone if they're under the influence, he said.
"We educate you the best we can about the decisions you'll have to make," he said.
Anne Lundregan can be reached at 594-6449 or lundregana@telegraph-nh.com.