CEO-to-median worker pay varies widely in state
New rules call for release of ratios by public firms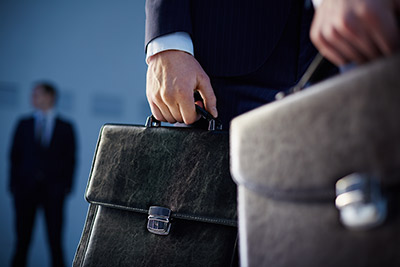 She could have been a University of New Hampshire student working part-time at a Timberland footwear store in Stratham, making little more than $10,000 a year. That's how VF Corp. (which owns Timberland) describes a worker earning its median wage in a proxy filed in March: "a part-time, retail associate who was attending a local college."
VF needed to find that "median worker" in order to calculate its pay ratio, comparing the $10,000 she or he earned last year to the $13.7 million compensation package received by VF CEO, Steven Rendle, under new federal disclosure rules.
VF's ratio was 1,352 to 1. And it was the largest disparity among public companies with a strong presence in the state. (The worst nationally was Manpower, with a 2,483 to 1 ratio.)
Compare that to Unitil, the Hampton-based utility, which said its median worker earned more than $180,000 in 2017. CEO Robert G. Schoenberger made $3.4 million, 19 times more.
Those were the largest and smallest ratios. The average ratio of the proxies examined by NH Business Review was 192 to one.
That ratio could have been even larger, since Securities and Exchange Commission rules give companies leeway to manipulate the ratios so they might not seem quite as bad.
For instance, the rules allow companies to include every executive except the CEO, and to exclude some foreign workers in determining median pay.
Indeed, one of the reasons VF's ratio was so large was that it excluded only two of its 56,943-member workforce, even though 34,841 were non-U.S. employees.
VF could have excluded 5 percent of its overseas workforce and select particular counties to exclude. That's what Walmart did.
It excluded nearly 90,000 of its 2.3 million employees from countries such as Argentina, Bangladesh, Botswana, Mozambique, Nicaragua and South Africa. That helped increase the retail giant's median pay to $19,117, but CEO Doug McMillon still earns 1,188 times more — $22.8 million, the most highly compensated CEO of the companies examined. (Nationally, the honor goes to Hock Tan, CEO of Broadcom, who earned $103 million.)
Since it is a ratio based on median pay and not average pay, a change in the number of workers on the bottom could push that median higher.
VF, however, said it was interested in full "transparency. We're a global company, so we calculated our numbers through a global lens," explained Craig Hodges, the company spokesman. The ratio reflects the "fact 25 percent of our total workforce comprises part-time workers who are in high school or college, and approximately 65 percent of our total workforce are manufacturing employees, most of whom reside and work outside the U.S."
Questionable effect
The CEO pay ratio rule was a result of the Dodd-Frank legislation passed as a response to the Wall Street meltdown in 2010. It was supposed to restrain or shame — depending on your point of view — companies into limiting CEO pay.
But it took years for the SEC to come up with the rules, which it passed narrowly in August 2015. Then President Trump was elected. And even as congressional and White House efforts to weaken and even repeal Dodd-Frank Congress gained steam, and the median pay rule was being fought tooth and nail by lobbyists, the process marched on administratively, and was finalized in time for this proxy season.
But the overall effect of the rule is questionable, at least when it comes to gaining the public's attention.
"It is effectively a dud," said Nyron J. Persaud, a principal at Winston & Strawn, a New York law firm, who specializes in the new rule. "The media attention is not nearly as bright as it was expected to be."
That's partly because the public disclosure of hefty CEO salaries is not exactly new, and there have been attempts to compare them to workers' wages before.
NH Business Review did just that two years ago, by using industry code and Bureau of Labor Statistics information to get a rough idea of average compensation in New Hampshire. At that time, the average ratio was 162 to 1, slightly better than half of what was revealed under the CEO pay ratio rule.
But that doesn't mean the gap has drastically widened, because it would be misleading to compare the two figures.
Under the SEC pay ratio rule, however, a company uses its own actual payroll data to determine the median, not an average. It includes everybody but the CEO, from highly compensated executives to foreign workers paid far below the minimum wage. And it usually includes similar benefits that are listed in the CEO compensation package.
That's one reason that the Unitil median salary compensation was so high. It includes a change in the pension value as well as other benefits that boosted the CEO's compensation by nearly $1 million, to $3.4 million, but also increased the median employee's salary compensation by $58,000 to $181,000, by far the highest median compensation of any company examined.
Another utility, Eversource, was second, with a median pay of $125,000. Eversource's ratio was 127 to 1 because new CEO James Judge was paid $15.9 million, though that did include a $6.9 million increase in pension benefits, thanks to his promotion.
Both utilities' median pay was higher than that of a high-tech software company (Autodesk, $116,000) or an insurance conglomerate (White Mountains Insurance Group, $88,000) or a national hospital chain (HCA, which owns Portsmouth Regional Hospital and Parkland Medical Center in Derry, $55,000.)
The lowest median wage among the companies was the $8,300 reported by Benchmark Electronics, a contract manufacturer headquartered in Texas with a facility that employs 400 people in Nashua. But that is a small portion of the company's 11,030 employees, half of whom are in Asia and 13 percent of whom are in Mexico. The company's CEO, Paul J. Tufano, was paid $4.3 million 516 times the median wage.
Unitil and Eversource both said the figures are neither misleading nor out of whack because they should not be seen as reflective of take-home pay, said spokespersons from both companies.
"Utilities are a highly regulated industry," said Unitil's Alec O'Meara. "We need to retain highly skilled, quality employees while keeping our costs down. It is a balancing act."
"We do have excellent pay and benefits," said Eversource's Martin Murray. "We use an outside party to shape our compensation, and it is in line with the market."
Besides, wages have remained stable, said Murray. They haven't been part of a rate hike request since 2009.
Local companies
Of the nine public companies headquartered in New Hampshire, only a handful have revealed their pay ratios. White Mountains' current CEO, G. Manning Rountree, received $6.6 million the most (some 75 times over its median employee), but that is actually down from the $8.6 million he earned the previous year before he became CEO in March. White Mountains downsized its pay package after selling off its One Beacon subsidiary for $1.7 billion, making it a much smaller company, at least in terms of revenue.
However, outgoing CEO Raymond Barrette collected $21.3 million in compensation, boosted by a separation agreement, allowing him to cash in his equity.
Sprague Resources, the energy importer based in Portsmouth tied Until for the lowest ratio. Its CEO earned $1.2 million, 19 times more than its median employee's annualized salary of $63,662.
Two companies — Standex and Bottomline Technologies — also were excluded because of the timing of their fiscal year. And Planet Fitness was exempted from the rule because it is too new, as was iCAD because it is too small.
Planet Fitness, the national gym fitness chain which went public in August 2015, is classified as an emerging companies under the JOBS act, a category set up to encourage new companies to go public during the recession for five years or until it reaches a certain size. Under those roles, the rapidly growing company will disclose its ratio in its 2019 proxy statement.
The salary of its CEO Christopher Rondeau is growing rapidly as well. Last year, he received more than $4 million in compensation, 288 percent more than in 2015 (the biggest two-year increase of any CEO examined). Rondeau's salary is 254 times the saverage salary of a fitness employee in New Hampshire.
As for iCAD, a maker of cancer detection and radiation therapy systems, it didn't have to disclose its ratio because it was a "smaller reporting company" with $28 million of revenue in 2017. The threshold is $50 million.
The compensation package of CEO Ken Ferry was $904,000, the smallest of all examined. It was 42 percent lower than two years ago, the deepest cut save for Sprague's David Glendon, whose salary was down by 47 percent.
Ferry's salary would have been 14 times the average salary of someone in the medical devices industry, which is less than $64,500.
Yet iCAD shareholders are disgruntled. Two years ago, in a nonbinding "say on pay" vote, 58.7 percent voted against the company's compensation policies.
This article has been corrected to reflect the fact that median total compensation includes not just salary but benefits, including pensions and insurance. In addition, it puts into better perspective the median compensation reported by Unitil and Eversource.
Click on the image below to see a larger version of the highest-paid CEOs chart.