Centrix earnings fall, but other numbers climb
Assets climbed to $895 million, up 12 percent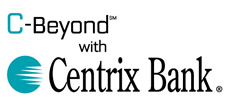 Centrix Bank's earnings fell in the second quarter, but it was about the only financial result that did for the Bedford-based commercial bank, as assets, loans and deposits all saw double-digit growth.
The bank's reported $2 million in net income (63 cents a diluted share) for the second quarter of 2013 was a $400,000 drop from the second quarter of 2012. Similarly, the bank made $3.7 million ($1.16 per share) year to date, a $300,000 decline.
The bank points out that there was a $829,000 gain on the discretionary sale of selected investment securities in 2012. Without that sale, there would have been a net increase in income of 29 percent for the quarter and 19 percent for the half, the bank reported.
That seems right. While securities sales and dividends dropped, the revenue from interest and fees on loans increased, some $600,000 for the quarter, and about a $1 million year to date.
Assets climbed to $895 million, up 12 percent. Loans grew to $622 million, a 15 percent increase. And deposits are now $724 million, representing 11 percent growth. That means that the bank's book value per common share rose to $18.51, compared to $16.91 a year ago.
Asset quality remains constant, though there was a slight slippage in the percentage of assets that are nonperforming – 0.75 percent as of June 30, compared to 0.62 percent at the same point the previous year.
"While competition for business remains intense, we have been able to find quality relationship opportunities and make our case for the value we provide," said Joe Reilly, president and CEO of the bank.