Centrix CEO: We're 'delighted and excited'
Merger with Boston-based Eastern 'first and final stop' for Bedford bank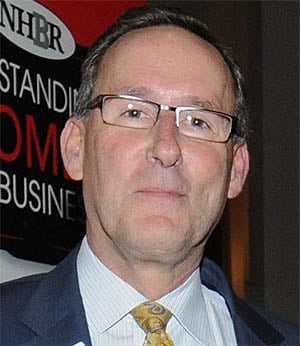 Centrix Bank & Trust felt it had no choice but to grow, and grow faster than it could organically, says CEO Joseph B. Reilly, president and CEO of the Bedford-based bank.
That's why he was "delighted and excited" on Monday to announce its intention to expand tenfold by selling itself to Eastern Bank Corp., a Boston-based mutual bank, for $134 million cash.
Centrix stockholders were likely excited too, since share prices jumped nearly by half to approach the selling price of $41 a share in the wake of Monday's merger announcement.
And why not? Centrix shareholder equity at the end of the year was only $85.5 million, according to its last earnings report, released at the end of January.
While Centrix shareholders will walk away with more cash than they thought their bank was worth, its customers will become new owners of Eastern, which was already the largest ($8.7 billion in assets) and oldest (founded in Salem, Mass. in 1818) mutual bank in the country.
Until now, all of Eastern's 90 branches were confined to eastern Massachusetts. Now it will not only acquire the $909 million in assets that Centrix bank accumulated over its relatively short 15-year history. It will use Centrix's seven branches — from Portsmouth to Concord – and its $677.4 million loan portfolio – to step into the Granite State with a pretty large footprint.
The merged entity will have nearly $10 billion in assets, making it the sixth-largest bank with branches in New Hampshire, following People's United with $30 billion. (Centrix itself was the fourth-largest locally owned bank. Lake Sunapee Bank in Newport, has $1.3 billion in assets, making it the largest.
Although there will be some Eastern branches on both sides of the border after the merger, none are close enough to be consolidated, said Reilly, who will stay on as Eastern's regional president for New Hampshire.
Indeed, Reilly said, Centrix partly chose Eastern to avoid the instability that often follows an acquisition — the branch closings and subsequent acquisitions in the merger frenzy that often washes over the industry in waves.
That's because, he said, Eastern is a mutual, controlled by its customers, and would have to convert to a shareholder model into to sell itself.
"This a first and final stop for Centrix," he said.
Reilly also emphasized that the nonprofits that have benefited from Centrix's generosity have little to fear, because Eastern's contribution of more than 10 percent of its net income to charity far exceeds what Centrix has been able to do.
According to Reilly, Centrix embarked on its exploration of partnering with a larger bank last summer, during the bank's annual strategic review. The bank always had to grow to keep up with an increasingly competitive and regulatory environment, and it was doing so.
According to its most recent earnings report, the bank posted a net annual income of $7.4 million, or $2.32 a share, thanks to a revenue stream of $34.5 million. It finished the year with some $84 million more in total equity than it did at the beginning, with about $26 million in cash.
But it could see that necessary growth curve's "slope was steepening" over the next few years, if the bank was to continue satisfy customers, employees' communities and shareholders, Reilly said.
So in the fall, it hired an investment banking firm to put out feelers and "felt strongly that Eastern would be a good partner for our company," said Reilly.
The bank also felt it was the right time to move because these acquisitions go in cycles, "and if you miss the cycle you become less relevant and less attractive. We just felt that the timing, all factors considered, was appropriate now."
Aside from Centrix stock rising, nothing will happen until the merger is approved by regulators and Centrix shareholders in a special meeting yet to be scheduled.
Even after the deal is finalized, it will take a while before Eastern can offer Centrix some of the services provided by a larger bank, the most apparent being mobile banking. But Eastern will be able to offer wealth management, international banking capabilities and insurance services.