Center for Women and Enterprise opens Nashua branch
Training, assistance offered to female and male entrepreneurs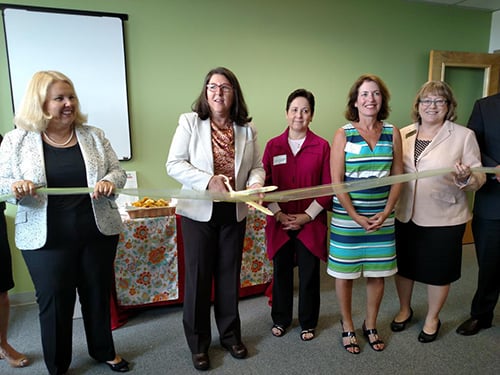 The Center for Women and Enterprise, on Monday, held the grand opening for its new location in Nashua, with the goal of providing business-related education, training and technical assistance to female and male entrepreneurs.
Founded in 1995, the Massachusetts-based CWE has long provided resources to entrepreneurs in the Bay State and Rhode Island. The Nashua office is its first in New Hampshire.
Many of classes offered by the organization are free and, for those that aren't, scholarships are available to assist anyone interested in learning about starting or growing their small business.
Terry Williams, program manager for the new Nashua office, said that the trainings and seminars, which have already begun for the summer, are a great opportunity for attendees to learn from each other as well as the instructors. Each class offers a chance to interact with small business owners with varying levels of experience from across the state, she said.
Some of the center's upcoming classes include workshops titled "Understanding Government, State and Corporate Certification Options for Your Business" and "Is Entrepreneurship Right for You?"
Other events held by the center will include a series of monthly networking days called "Coffee and Connections," as well as the CWE Women Business Leaders Conference in October.
Many of the small business owners who attended the Monday open house were women who had taken advantage of the center's services in the past, at other locations.
Sherie Grillon, one such entrepreneur, owner of the Massachusetts-based Nola's Fresh Foods LLC, told NH Business Review she credits a CWE intro course with getting the ball rolling for her business. While it is easy to feel isolated when starting your own business, Grillon said, the CWE provided mentors and a continuous support system to help her learn how to run her enterprise.
According to CWE CEO Susan Richer, the organization also plans to collaborate with the U.S. Small Business Administration and other services to foster "professional success and personal growth" among entrepreneurs throughout New Hampshire.