Catholic Medical Center readies big expansion
Plans call for 220,000-square-foot addition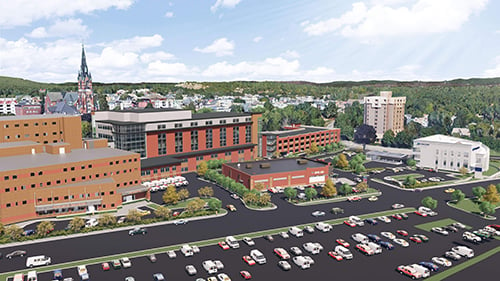 Construction is expected to start this summer on a 220,000-square-foot addition to Catholic Medical Center in Manchester.
CMC, a member hospital of the GraniteOne Health system, has filed plans with the city of Manchester to redevelop land adjacent to the hospital, transforming a key piece of property on the city's West Side.
The plans are slated to be presented to the Manchester Zoning Board of Adjustment and Planning Board in May. The goal is to break ground on the project this summer, with the expansion opening in 2022.
The project – which is expected to cost between $125 million and $175 million, according to the NH Union Leader – will include construction of new facilities for the New England Heart & Vascular Institute, up to 90 private patient rooms enabling the hospital to operate its full existing 330-bed license, six additional operating suites, and a larger, upgraded Emergency Department.
"CMC has a history of and commitment to meeting the community's healthcare needs, and the community needs this," said Dr. Joseph Pepe, CMC's president and CEO. "On any given day, this hospital is nearly or completely full. We treat some of the sickest, most medically complex patients in the community. The demand for our high-quality services is growing and patients expect nothing but the best from us. We have an obligation to deliver and this new addition will help us carry out our mission of health, healing, and hope."
CMC has been growing on the West Side for more than 125 years. Its most recent campus expansion took place in 2008, with the opening of the Notre Dame Pavilion and the Sky Bridge over McGregor Street. In 2004, the hospital opened a 74,000-square-foot addition.
For this next phase of growth, CMC officials said they are working with their neighbors, Rite-Aid and St. Mary's Bank. Under the plan, the current Rite-Aid store in a near-vacant strip mall will be moved to a new building closer to McGregor Street and various site, traffic flow and parking improvements will be made. The hospital expansion will be built on the strip mall site.
The approximately 220,000 square feet of new space aim to increase patient access and satisfaction. "The trend in health care is certainly toward single-patient rooms," said CMC's Chief Nursing Officer Jennifer Cassin. "Increased privacy promotes comfort and helps patients and families better manage the stress of being in the hospital. Single-patient rooms can also lead to fewer hospital acquired infections and help patients recover more quickly."
Regular updates on the construction's progress will be posted at catholicmedicalcenter.org