Candlepin bowling 'headquarters' Leda Lanes files for Chapter 11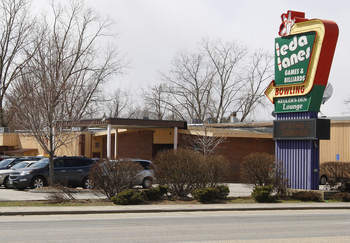 Leda Lanes filed for Chapter 11 bankruptcy last month, but the iconic candlepin bowling alley in Nashua fully plans to stay in business.
"I want everyone to know that we are going to be stronger than before," the company's vice president, Sean Howard, told NHBR.
He said that nothing will change and that his 30 employees' jobs are secure. But it's hoped the restructuring would enable the bowling alley to consolidate $4.4 million in liabilities into one lower-interest loan.
Leda Lanes – once known as Kegler's Den — has been on Amherst Street in Nashua since Sean's stepfather, Ray Simoneau, cut the ribbon in 1959. It has since become known as the city's "headquarters" of candlepin bowling, the New England version of the game, featuring thinner pins, smaller balls – and some would say – requiring more skill than the more popular version of the game.
Simoneau manned the counter nearly every day until shortly before he died at age 80 in September 2011, leaving the alley and to his stepson.
Howard's wife Linda is leasing another candlepin alley that was struggling, Lucky Lanes in Milford, but that venture has nothing to do with Leda's bankruptcy, Howard said.
Howard said Leda Lanes went into deeper debt to build Leda's Lighthouse, a Day-Glo alley to attract the younger set, back in 2006.
"It was the right loan at the wrong time," said Scott Gardiner, vice president of Granite State Development Corp., the Portsmouth agency that acted as agent for Leda Lanes' U.S. Small Business Administration loan.
"No one sent us a memo that we were going into a recession," added Howard.
The company's biggest secured creditor is Ittleson Trust, based in Fairport, N.Y., doesn't want to renegotiate the $2.4 million owed on its loan, said Howard. Ittleson bought the debt — the private sector part of the SBA 504 loan — from CIT Financial. Such a loan is attractive to borrowers since they only have to put up 10 percent – and don't have to pay off the SBA portion for 20 years. That portion comes from bonds sold by Granite State Economic Development, which is on the hook for $975,000.
All told, creditors are holding some $3.85 million in secured claims, an amount that only secured by a property estimated to be worth $1 million. Some $555,000 of the debt is not secured, including some $300,000 in back pay owed to Howard.
Meanwhile, the company recorded $1.5 million in revenues in 2012, and some $391,000 so far this year, according to the filing.
"It's been up and down," Howard said. "We hoped that the election would turn things around, but in the last year and a half, it has been terrible."
Howard said that his creditors are willing to negotiate, now that he has filed bankruptcy.
A creditors' meeting on the sale is scheduled for Thursday afternoon. – BOB SANDERS/NEW HAMPSHIRE BUSINESS REVIEW