Candidates put business on the map in '14 campaign
Republicans visited 72 more businesses than Democrats in September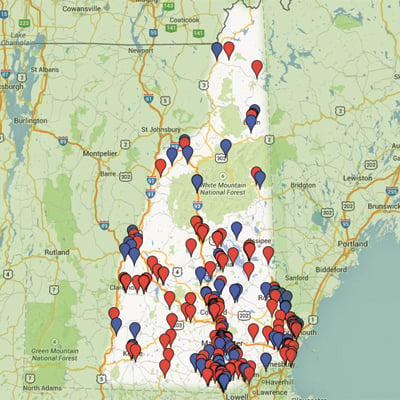 Charles Leonard Steel Services recently invited Scott Brown – the Republican candidate for U.S. Senate – to drop by its Concord facility because it blamed its older workers' health insurance increases on Obamacare.
"[Meeting Brown] could mean better things down the road," said John Severini, the son of the business' owner and a company spokesman. "It's always good to make a friend and build a relationship."
Henniker Brewery hosted Congresswoman Annie Kuster to talk about reducing the excise tax on alcohol. Brown has been there too, "because he likes our beer," said owner David Currier, a former Republican state senator himself. Besides, said Currier, "the publicity the candidate gets is also good for the business entity."
From left to right: Gov. Maggie Hassan (D) and challenger Walt Havenstein (R); Marilinda Garcia (R) and Congresswoman Annie Kuster (D); Frank Guinta (R) and Congresswoman Carol Shea-Porter (D); Sen. Jeanne Shaheen (D) and Scott Brown (R).
And Cirtronics in Milford really wanted to talk to U.S. Sen. Jeanne Shaheen in 2013 about the benefits of having an employee stock ownership plan. This year, the company has hosted Brown, Kuster, Kuster's challenger Marilinda Garcia, and Walt Havenstein, who is challenging Maggie Hassan for governor.
Nearly three-quarters of the company's 150 workers came to hear the candidates – and they were on the clock, said CEO Geraldine Ferlins.
"It's to do our civic duty," she said. "Not to listen to TV and sound bites and to shake their hands and feel the aura."
If you think that candidates are visiting a lot of Ne Hampshire businesses this election, you are right.
The eight nominated gubernatorial and federal candidates alone made more than 300 individual visits to companies through September, not even counting October – the most hectic month of the election year. At least that's how many the eight campaigns could list. And the number doesn't include visits their primary opponents made in their losing campaigns, nor the numerous visits by officials and candidates for local office.
These visits are literally all over the map, from the Codet-Newport Corp. in Colebrook (Kuster) to Hollis Pharmacy (Havenstein), from Pro Cut International in West Lebanon (Shaheen) to the Yankee Fisherman's Cooperative in Seabrook (Frank Guinta, the Republican congressional candidate in the 1st C.D.)
Republicans generally listed more business visits than Democrats, 171-99. Both Brown and Havenstein tied for first, at 61 apiece, adhering to the party's image, whether true or not, of being business friendly.
Shaheen led the Democrats with 53. Carol Shea-Porter listed the fewest businesses: 15. (The candidates' lists often include appearances before such groups as Rotary Clubs, community health centers and chambers of commerce, or taking various downtown walking tours, but NHBR only included actual businesses with addresses in compiling the data.)
Republicans are challengers this year, and may have simply had more time to and take to the campaign trail. They also faced primary opponents, pushing them to do so. On the other hand, incumbents often get invited to ribbon-cuttings or go to businesses as part of their official duties.
It could also be that some candidates' campaigns listed more stops than others.
Republicans tended to list more restaurants and retail stores – which could often be a place to stop and grab a bite to eat – and where they can talk about how government programs are hurting the little guy.
Democrats tended to favor manufacturing facilities, where they can emphasize the need for better infrastructure and a highly educated workforce.
The defense and gun industry – which you would think is a Republican stronghold – had the same number of visits from both parties, though Sturm, Ruger & Co., which makes no secret of its scorn for gun control advocates, only had three Republican visits.
In any case, restaurants and retail establishments accounted for 117 visits, more than a third. Manufacturers, high-tech and defense firms accounted for 70 visits. Cirtronics and BAE Systems were visited the most (four times) by Havenstein, the former CEO of BAE, though his visit to the defense contractor's Nashua facility was more of a homecoming.
Often, the visits are part of a theme or message the candidate is trying to convey: Hassan's "Innovate NH" tour, Guinta's "Middle-Class Economic Recovery Tour," Kuster's "Congress-At-Your-Company" series, for instance.
All of the candidates were asked to share either serious or funny anecdotes about their visits, but most just stayed on message. Governor Hassan, the only one to respond by phone, said that her most memorable visit was to Rustic Crust Pizza in Pittsfield.
The company, which manufactures ready-made pizza, was destroyed by fire in March, but its owner pledged to continue to pay his idle workers while rebuilding at the same site. The facility reopened in August.
"It was incredibly moving," Hassan said. "They were told they couldn't get it up and running, and there they were, bigger and better, everybody pulling together. It shows a New Hampshire employer that knows and values its employees: an inspiring example."
Hassan said the visits really brought home "how quickly technology changes, how nimble and innovative business need to be," which led here to her campaign themes: a highly skilled creative workforce, STEM skills and affordable college education.
Havenstein issued this statement in response to the same questions:
"Restoring New Hampshire's economic vitality is the principal motive in my run for the governor's office," he wrote. "I've led N.H.'s largest manufacturer, BAE Systems in Nashua, and I know what our businesses need in order to be successful. My 8.15.17 plan will create 25,000 jobs by 2017 through cutting the costs of creating jobs, making it easier to fill jobs and marketing N.H. to the region and nation."
Kuster also offered an email response about her "first hand glimpse of how our businesses operate."
"For example, at Hypertherm in Lebanon, I enjoyed learning first hand about some of the advanced manufacturing taking place right here in New Hampshire," she wrote. "Based on these and my other visits, I authored a 'Middle Class Jobs and Opportunity Agenda,' a bipartisan blueprint, which outlines steps Congress can take to help New Hampshire businesses succeed."