Canada's take on Northern Pass
Consul general calls it an 'opportunity'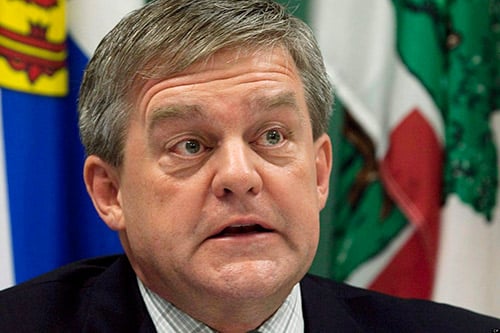 Would New Hampshire be shooting itself in the foot if it doesn't support construction of the Northern Pass electric transmission project? According to the Canada's Boston-based consul general, it could very well be.
While David Alward, a former premier of the Canadian province of New Brunswick, is quick to say any decision on any kind of transmission infrastructure is up to the appropriate U.S. and state regulators, it's clear that he sees projects like Northern Pass as not only an opportunity for Canadian power suppliers, but for U.S. consumers and businesses as well.
Canada, he said, is "blessed" with energy resources and mostly "clean" resources – those that don't emit greenhouse gases – at that.
"More than 70 percent of our electricity is from hydroelectricity, and a total of 80 percent of our
our electricity is non-emitting, when you add in other renewables and nuclear. We have a really good story to tell, quite frankly," said Alward.
He said negotiating long-term contracts for Canadian hydropower, such as a deal being worked out with Massachusetts, "is a positive opportunity both for Canada and New England."
"If you look at the GHG [greenhouse gas emissions] targets that collectively the New England governors have set, there's a lot of work that has to be done."
Massachusetts, for example, will be shuttering its Pilgrim nuclear plant in Plymouth – a plant that Alward said "is just about 85 percent of their clean energy production. That has a huge impact on their ability to meet the GHG production requirements. And the reality is that GHG impacts aren't held within a specific boundary or region. It impacts all of us.
And Canadian hydroelectricity and wind "can be an important part of the mix to allow New England to get to where New England needs to be from a GHG reduction perspective," he added.
Indeed, he said, Canada has "an abundance of energy that we are open to trading and open to long-term contracts, which is good for Canada and good for here."
Access to energy
But even if several long-term contracts are negotiated for Canadian hydro in New England, said Alward, "it takes infrastructure to be able to do that, and for people to think that, as an example, that solar and wind solely are going to be able to provide for the needs of communities – businesses and families – that's not possible now. There continues to be work on battery capacity or different types of grid systems, etc., and that will change. But for the foreseeable future, we believe Canadian hydro and Canadian wind can be a real positive part of the solution, along with natural gas. Both of our nations are blessed with abundant energy resources, but those resources are only ultimately positive if they're able to be used and if people can have access to them."
Meanwhile, the demand for electricity, especially from non-emitting sources, will rise, he said.
"People talk about the electrification of the automobile sector, which is growing, but people need to remember that the electrification of the automobile sector requires electricity production for that to work, and you don't gain any benefits if all that electricity production comes from carbon-based production."
And such clean energy sources as wind and solar are "intermittent, whereas Canadian hydropower is reliable," said Alward. "So when you combine the two together, that allows you to continue to develop a renewable portfolio so you've got that safe backup if the sun's not shining or the wind's not blowing. People don't have to worry about freezing to death or companies are still able to operate their businesses – whatever it happens to be."
'Greater solution'
According to Alward, Canada supplies the United States with an estimated $100 billion a year in energy, and the U.S. provides about half of any of the energy that Canada purchases. "So isn't it better for both of us that we're able to help each other be more competitive, more secure, when we're both each other's closest neighbor and trade partner and, very importantly, have the same values?" he said.
But that energy, he said, "has to get here somehow."
One way is the Northern Pass transmission project through northern New Hampshire and another is the TDI New England Clean Power Link project proposed to run under Lake Champlain and through Vermont, which he said, "is in the very final stages of approval."
In addition, said Alward, "there are opportunities to see systems coming down in through Maine and see Maine benefit. There's the potential for projects going undersea as well. Right now there's an undersea project being constructed between Labrador, Newfoundland and Nova Scotia, and there's the potential to see that come in to New England as well."
Alward quickly added that while he sees the need for more transmission infrastructure in New England as "important," it's "ultimately up to the people of the United States, the people of individual jurisdictions like New Hampshire, to make those decisions. Ultimately, the Site Evaluation Committee in New Hampshire and the federal Department of Energy will make the regulatory decisions."
So does he think it would be a mistake for Northern Pass not to go through?
"There's no one project, but there are a number of opportunities. Do I think Northern Pass could be an important part of it? Absolutely. Is it an opportunity for New Hampshire to benefit from access to clean Canadian hydro? Absolutely. And is it an opportunity to be part of a greater solution? I also believe on that side. But it will be the regulators on this side that ultimately will make those determinations."