Can the 'visionary' Les Otten save The Balsams?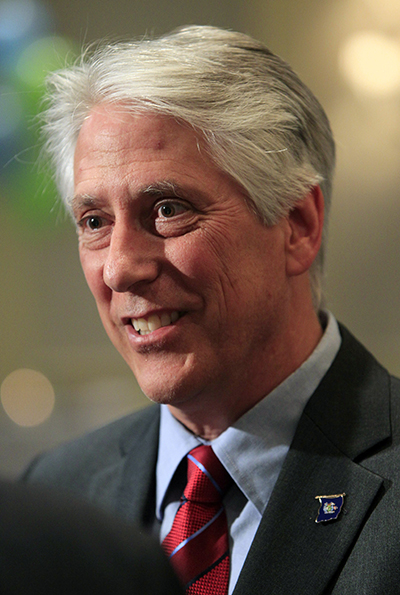 First of two parts
A year and a half ago, Les Otten told Dan Hebert and Dan Dagesse that he wasn't interested when the two owners of The Balsams Grand Resort in Dixville first asked him to help them revive the cozy resort. At the time, it had already been shuttered for two years.
Despite the response, Hebert drove a dozen miles past the Maine border one late summer Sunday afternoon in 2013 to the Greenwood home of Otten, the legendary head of the American Skiing Company through its meteoric rise and fall, the instigator of the ownership team that renovated Fenway Park and brought two World Series championships to Boston; and most recently, the founder of one of the largest wood pellet system companies in North America.
Otten took a look at the topographical map of The Balsams area, but it wasn't the resort that caught his attention. It was 20,000 nearby acres owned by a single timber company. The first thing he thought was, "Wow, there are 2,000 feet of vertical here."
And it's intermediate terrain, a must for most ski resorts.
And finally, there's the snow – lots of it.
"This is one of the snowiest places in the Northeast," Otten enthused.
It didn't take long for Otten to acquire an option on those acres. Today he is proposing an audacious plan that has snowballed to 20 times the size of the original Balsams – a resort that would be twice the size of Sugarloaf in Kingfield, Maine, with the goal of becoming "the ultimate resort in North America," a four-season vacation destination that would include everything from a hot springs spa and whitewater rafting to snowmobile trails and a world-class golf course.
Who is Les Otten?
Otten said he has lined up nearly $100 million in private financing to pump into the lagging economy of the North Country. The rehabilitation and expansion of The Balsams would create, according to a study conducted for the project, as many as 1,700 jobs when all is said and done.
And while he's at it, Otten has thought up a new way to sell vacation ownership and managed to convince the New Hampshire Senate to pass a bill allowing a new type of gap financing that could put the state on the hook for about $28 million.
"I didn't create the terrain, the lakes or rivers or the views," he told NHBR in a long phone interview. "But I was able, with my team, to understand how all these things come together to provide an extraordinary vacation experience. They had me take a look at it, and I saw something that hasn't been recognized by anybody else."
That's what Otten's about, said Rick Khal, editor of Ski Area Management magazine.
"He is a visionary," Khal said. "He's always looking to push the envelope. That what is what makes him really fascinating."
So who is this Les Otten, the man who could possibly help rejuvenate the North Country economy?
Well for one thing, he is no stranger to turning around ski areas.
The son of a Jewish refugee from the Nazis who became a steel magnate in this country, Otten was a Jersey kid who spent a lot of his time in Ithaca College on the ski slopes, once planning to create a small resort on a nearby mountain as a college project.
Entering the industry
After getting a bachelor's in business administration in 1971, he slid into a management training program at the Killington resort in Vermont. When Killington's parent company acquired Sunday River in Bethel, Maine, two years later, it sent this 23-year-old upstart to run it. In 1980, Otten invested $132,000 of his own money as part of a team that spent $840,000 to buy it.
Sunday River is also (like The Balsams) over three hours from the Boston market, so Otten had to convince all those skiers to drive past such places as Waterville Valley and Attitash Bear Peak to get there.
One technique was to dump a truckload of Maine snow on the Boston Common. Another was to become something of a pioneer in snowmaking technology. A third was to target the affordable housing market with simple condo units.
Add the first-ever frequent skier program, and the number of visitors at Sunday River rose from 40,000 visits at the beginning of the '80s to half a million at the end of the 1990s. That was enough to earn him Inc. magazine's Turnaround Entrepreneur of the Year title in 1989.
"Les is always more," said Skip King, who handled Otten's public relations back then and now heads Reputation Strategies LLC, a consulting and marketing firm. "He sees possibilities where other people don't. He took an unimpressive chain of mountains and made it into a major ski area by means of very smart continual reinvestment into the resort, concentrating on the ski experience, not the guest experience."
American Skiing saga
In 1994 Otten formed LBO Resort Enterprises to duplicate the Sunday River success in ski areas all over the country, including Attitash Bear Peak in Bartlett, where he rebuilt the Grand Summit Resort Hotel, Waterville Valley and, briefly, Mount Cranmore, as well as Sugarbush in Vermont.
In 1996, after purchasing S-K-I Ltd., he gained ownership of Killington and Mount Snow in Vermont and Sugarloaf in Maine. That was the year LBO became American Skiing Company, and the company looked westward the following year, creating the Canyons in Park City, Utah, as well as developing the Steamboat resort in Colorado and Heavenly Ski Resort near Lake Tahoe in California.
"He was the first guy to go really big," remembered King. "The industry was consolidating, and he was very, very, very aggressive."
Ten hours was a short day, King said, and sometimes they extended to 15 hours, seven or eight weeks without a day off.
"It was like rocket ship. How long to you hang on before you let go?" he said.
Ski resort entrepreneur says he has a plan to turn the historic property into 'the ultimate resort in North America'
By November 1997, when American Skiing went public, Otten had become the head of the largest resort operator in North America.
Listed on the New York Stock Exchange, the company's shares debuted at $18. That was the company's peak. From then on, the stock slid downhill until it crashed.
"The stock never hit a 52-week high in its history," said Brad McCurtain of Maine Securities, a Portland investment firm that followed the stock.
But the company was still growing rapidly. Revenue doubled in 1997 and doubled again in 1998 to $340 million. But it never made a profit. In fiscal 1998, it posted a $6.96 million operating loss. The individual resorts thrived, but the company was loaded down with more than $400 million in debt.
What went wrong?
"He got overextended," said King. "It was very ambitious. It could have worked , it was very risky. It turned out very sad."
"Debt," summed up McCurtain. "The guy certainly knows how to make resorts work, but he had visions of growing without limits. It's very difficult to borrow such a big amount at 14 and 15 percent interest rates."
In 1999, Otten brought in Oak Hill Capital Partners on a preferred stock basis, and when he couldn't pay the interest due, he had to give up his stock in the company.
"He pledged his own stock, so he would maintain control. But he bet too much on himself and lost control," McCurtain said. Otten remained on the board, but was helpless as he saw Oak Hill sell off his beloved resorts piecemeal over several years.
For McCurtain, the lesson was "when you are a person like Les, you need a strong CFO and a board who challenges you. He didn't have that."
King said he thinks Otten learned his lesson.
"What happened with ASC impacted Les a lot more than people realize. Les has never been a guy who is afraid to fail. That's what makes him a great entrepreneur. But to bounce back from that failure, he must have learned a lot," he said.
Red Sox years
Ask Otten what went wrong, and he blames it on the preferred investors for selling off the assets.
"Had they held, the value today is about three times what they sold them for," he said. It was the common stockholder that got cheated."
Since Otten owned half the stock, more than anyone else, he got cheated the most, but when asked to quantify the damages, he replied, "Not how much did I lose, but how much did I make? I started with $132,000, so I didn't lose my initial investment."
When pressed, he said, "If there was an error in this, it was allowing the company to be in the position where the financial strings were going to be pulled by people with a short time view that wanted to pull in and out and make a quick profit."
Reports describe Otten as being forced out of the management of American Skiing, but he said he chose to leave. In any case, he moved on to an entirely different sport in an entirely different season – baseball.
Otten is given credit – and takes it – for assembling and pushing the team of investors that includes John Henry and Tom Werner into buying the Boston Red Sox for $700 million.
"I spent four months putting together the plans for rebuilding Fenway Park and the floor expansion," he said.
He stayed on as vice chairman with a minority ownership while the team installed Green Monster seats and turned part of Yawkey Way into an outdoor food court. And, of course, when the team won its first, and then second, World Series since 1918.
When he sold his interest in the franchise in 2008 (and he won't disclose that interest except "it was big enough to make me smile"), the team was worth $1.5 billion.
Baseball too is a long-term business, so why didn't he stay?
"Seven years was long enough, and there was plenty of profit potential which I chose to take advantage of," said Otten.
During this period, he developed an interest in renewable energy, launching Maine Energy Systems with $10 million, which imported a pricier but more efficient wood-burning technology.
At the time, he was talking about being able – in five or 10 years – to sell 10,000 water boilers a year, netting $100 million annually.
Five years later, he still stands by that "potential," but would not disclose sales figures. He did say that the company is worth more than his original investment, with 20 employees and 50 technicians trained to install systems in New Hampshire alone.
"They are the leading providers of fully automated wood chip burners for residential customers for the Northeast, and perhaps the entire country," said Charles Niebling, former head of Jaffrey-based New England Wood Pellet and now a biomass industry consultant. "He started this in a very nascent phase of the industry in the middle of a very deep recession and kept at it with a lot of ups and downs in the energy market, with a stick-to-it-ness that is admired by anybody in this business, and now they are the market leader."
'I envision things'
Otten still owns and manages Maine Energy Systems, and is still involved in a number of other companies that he founded: Sports Vision Technologies, which has sold about 10,000 golf swing simulators; Cartera Commerce, which runs loyalty programs for major banks, retailers and airlines and employs 100 people in Lexington, Mass.; Colony Development Company, which sells lots around Sunday River; and FutureMetrics, an international renewable energy consulting firm.
But now, he said, 80 percent of his time is working with his team to develop The Balsams.
"All my life I've been able to have an understanding from an economic and growth standpoint of the potential of different assets. I saw and built out Sunday River and the Canyons of Utah. I saw how to fix the Red Sox. I see the value in the energy industry. I may not have hit a homerun every time I went out to the plate, but every single business I ever started is better off for my being involved."
Added Otten: "I envision things, not in a bigger-than-life way, but I can often see things that other people don't. That's what I saw in Sunday River, that's what I see in The Balsams."