Can N.H. ever build the 'last mile' of broadband?
Different approaches weighed to reach the 5% without access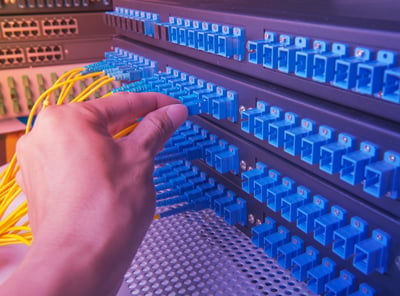 In February, FairPoint Communications announced that 95 percent of residences and businesses in its service area had access to broadband, reaching the goal it agreed to when it became the region's phone company in 2008.
That's quite an accomplishment, thanks to a $351 million investment by the company – with the help of some federal funding and regulator prodding – in building up its fiber-optic network in New Hampshire.
But to expect service for the last 5 percent – the "last mile" of broadband coverage in the Granite State – is unrealistic, at least in the current environment.
"The cost to get to 100 percent coverage is significant," said Patrick McHugh, FairPoint's state president. "The problem is there is no return on investment, so if we can't partner with the federal government, the state of New Hampshire or the communities themselves, we likely won't build it."
It's not an unreasonable stance for a company that has been losing money ever since it emerged from bankruptcy in 2011.
In its latest quarterly financial statement, filed in early August, the company reported that it lost more than $50 million in the first half of this year, on top of a total $670 million loss in the three years before that.
FairPoint, which wrote off nearly $1 billion in debt during its bankruptcy reorganization, now owes $300 million and is locked in a labor battle to cut back on benefits obligations it inherited and agreed to continue when it took over Verizon's northern New England telephone service. That contract expired on Aug. 2, and at deadline, negotiations were stalled and a strike threat looms.
Despite all that, FairPoint has managed to keep its promise to build out broadband in most of New Hampshire, providing high-speed Internet access to a total of 215 communities and making it available to 100,000 additional homes and businesses.
"We are very proud of the fact that whether you are in Pittsburg or Manchester, we have great coverage with our DSL and business services," said Ellen Scarponi, director of government and economic development for FairPoint in New Hampshire.
"FairPoint promised to expand broadband availability, and they have made the investment needed to reach the target," said Amy Ignatius, chair of the New Hampshire Public Utilities Commission, back in February. "We are very pleased that FairPoint has met its broadband commitment to the state."
Wider network
Expansion of broadband access wasn't done by FairPoint just to be altruistic – broadband is key to the company's future.
While telephone landlines continue to decline – the number was about 7 percent lower in the second quarter compared to a year earlier – the number of broadband lines has jumped more than 39 percent. In addition, a wider broadband network enables the company to better reach out to businesses, which the company is counting on to make up for declining revenue from residential phone customers.
In fact, the 95 percent coverage figure touted by FairPoint is in its marketing materials aimed at business customers.
But a soon-to-be-released report will conclude that there remain some 4,500 homes and businesses that do not have any high-speed Internet connection – be it through FairPoint, Comcast or any of their rivals – according to Carol Miller, director of broadband technologies for the state Department of Resources and Economic Development.
Which raises the question: Is it possible to reach those areas? Or are there going to be some areas of the state, for better or worse, that are just not worth the expense of installing broadband?
"It could be $2,000 to $5,000 per access line per home," said McHugh. "But you just don't build for one customer [who is] going to pay $30 or $40 a month. You'll never get a return on your investment. And don't forget, just because you build it doesn't mean they all will come. So if you get a 50 percent take rate, it's just not economical."
At least, not without some kind of subsidy, he said.
The state is doing all that it can, said Miller.
"We are actively seeking funding from grants – federal and local sources," said Miller, adding that "once every household has the availability, we will still have challenges with adoption, affordability, bandwidth capacity to ensure functional use of broadband."
One source is the Connection American Fund, a federal program designed to make sure there's affordable broadband coverage everywhere in the nation.
According to FairPoint's filing with the U.S. Securities and Exchange Commission, there was a bit of a tussle between the company and the Federal Communications Commission about how much money the utility should get without actually providing 100 percent coverage.
FairPoint ended up with a $2.9 million grant (some $740,000 earmarked for New Hampshire), one of the largest amounts in the nation, and it is one of the reasons the company was able to reach its 95 percent commitment.
The PUC also prodded FairPoint, though more with a stick than a carrot.
The company owed the state $2.5 million in penalties for not meeting service requirements during the troubled transition from Verizon – a period when customers complained of long delays in getting connected and interminable waits when trying to reach the company.
After FairPoint went bankrupt – and the PUC was just one more creditor trying to get paid – both sides reached a deal that permitted the company to spend the penalty funds on broadband connections, if FairPoint kicked in another $500,000.
That brought broadband to another 2,400 customers, said Kate Bailey, who heads the PUC's telecommunication division.
Legislative approach
Legislators are also working to complete the last mile. One bill last session, House Bill 286, would have allowed towns to bond for telecommunication infrastructure, putting it out to bid, like any other municipal project.
FairPoint opposed the bill, not because it would open it up to competition, but because "it would overbuild what we and Comcast and other providers installed … they would put themselves at a tremendous risk," said Scarponi.
But it is sort of disingenuous for FairPoint to tell a community what's in its own best interest, said Cordell Johnston, governor affairs counsel for the New Hampshire Municipal Association.
"I never understood their opposition," he said. "Any bond would have to be approved by a vote. If it's a bad idea for the town, that's still a decision for a town to make."
The House passed that bill on a roll call vote, but the Senate sent it to study.
FairPoint backed other legislative solutions. One possibility is a variant of Senate Bill 223, which is designed to help Walmart to expand sewer line access in Hooksett. Under the bill, which has been signed into law, Walmart can front the cost of the sewer line to the town, and the town can partially pay it back by assessing other users that hook up to the line as they move into the area.
Scarponi said she thinks such an approach could apply to broadband as well.
"It would be the perfect application; it would be through a municipal assessment," she said.
Johnston, however, isn't so sure, since sewers – unlike broadband lines – belong to the town. Why would the town need to be involved at all, he asked. Couldn't the company do it on its own?
FairPoint also supported HB 1458, which allows a town to establish a special assessment district and tack on a special tax for something like broadband. This differs from tax increment financing (TIF) districts because they don't create new money but simply allocate existing taxes from a particular district for a particular purpose, said Don Jutton, president of Municipal Resources Inc., a consulting firm based in Meredith.
It also differs from betterment districts, since they only involve such things as water and sewer lines. And it differs from a village district because that involves setting up a mini-government, a village within a town.
HB 1458 would allow a governing body to draw up the district, though a majority from the designated area would still have to approve any spending. The House sent this bill to study. Johnston didn't object to the bill in principle but agreed that lawmakers needed more time to think it over before letting towns increase taxes on certain areas.
There are other alternatives. The state of Maine, for instance, is seeking bids to hook up the last mile, said McHugh.
In New Hampshire, he said, "There is no state mechanism at present, but that doesn't mean there shouldn't be. You can cite study after study that ties access to the Internet to good-paying jobs. It depends on the Legislature and the governor deciding whether getting to 100 percent is a priority, and how we are going to help get there."