Call to arms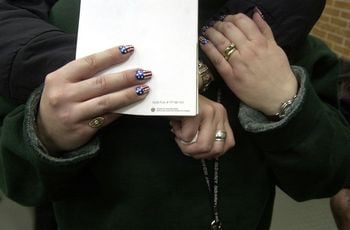 CONCORD – They instruct ballet, build houses, sell real estate and drive trucks. They collectively have 102 spouses, 228 children, 24 grandchildren and numerous relatives and friends.
But 148 members of a New Hampshire Army National Guard unit will leave the state today as one. As part of the 744th Transportation Company, they will deliver goods to ground units in Iraq, meaning they must leave the safety of home for a foreign territory still unsettled by violent insurgency.
The sum of the company, though, seems greater than its parts, and this will undoubtedly help soldier and family alike brave the accompanying danger and loneliness. This seemed apparent Thursday, when this tight-knit military community held a departure ceremony at the state Police Standards and Training Council headquarters.
All of the spouses, children, grandchildren and friends joined the soldiers – almost 1,000 people crammed into a large training room – and vowed to keep the soldiers' spirits alive while praying for their safe return.
The soldiers, in turn, promised to stay in touch with their spouses and parents, and remember their children's birthdays.
The ceremony lasted about an hour, as Gov. Craig Benson's wife, Denise, U.S. Sen. Judd Gregg, U.S. Rep. Jeb Bradley and
several military commanders praised the departing soldiers. But the soldiers lingered long after, sharing jokes, food, familial anecdotes, e-mail addresses and teary hugs.
"Anyone who wishes this on themselves is a fool," said Staff Sgt. Robert Baker. "But part of it is being prepared and never having to use your (defensive) skills."
Baker will celebrate his 38th birthday Saturday, and his son Ross will turn 8 on Monday. They had a double-birthday and farewell party last week, and Baker feels fortunate his son's recent appendicitis surgery occurred while he was still here and not in Iraq.
A commercial truck driver and Exeter resident, Baker told his son he would now steer a green truck and not a red one, and that he won't come home at night for quite some time.
The company, based in Hillsborough, has detachments in Claremont and Somersworth, and soldiers will leave today from those various posts. After a stay in Fort Drum, N.Y., the company will leave for Iraq on a date undisclosed by military officials. This company is part of the largest deployment of New Hampshire National Guard members since World War II.
Once in Iraq, the company will transport dry and refrigerated goods, water, general cargo and petroleum products to ground units. The 744th's last major deployment came in 1991 for Operation Desert Storm in Kuwait and Iraq. The soldiers could be deployed for up to 18 months.
The company's leaders instructed the soldiers not to worry and concentrate on their tasks at hand, simply because their loved ones would be in good hands while they are gone.
"I feel the anxiety in the room, and we are praying for you," said Maj. Gen. John Blair, the adjutant general of the New Hampshire Army National Guard.
Blair, at times fighting back tears, asked the soldiers to "stand shoulder to shoulder, and protect one another."
Master Sgt. Herb Czarnosz works in command headquarters, and will handle the soldiers' paychecks while they serve.
"I know these guys; some of them are friends," he said. "I don't want them to go."
But many of the soldiers, while acknowledging their anxieties, are not hesitating to answer the call.
"I'm a little nervous, a healthy fear of the unexpected," said Pvt. Jeremiah Smith, 27, of Manchester. "If I didn't worry, something would be wrong with me. I have to have a healthy confidence."
This is the first deployment for Smith, a carpenter by trade. It also marks the first deployment for Baker and Pfc. Tina Fitts.
A 25-year-old health care worker from Pembroke, Fitts has spent the past month packing, visiting her grandparents in Arizona and squeezing in training with her unit. Fitts, a mechanic in the National Guard, found her range of emotions "hard to put into words."
Her father, Ralph Fitts, and her mother, Deborah Bourgeois, had plenty to say about their daughter.
"She's very brave, very patriotic and very headstrong," her mother said. Added her father: "I'm proud and scared. She's a fighter. She's a tough lil' cookie, and knows her job."
The family will pool their money and buy Pitts a laptop. They hope she will stay in touch with a flurry of e-mail messages.
Her sister, Wanda Fitts, said she had hoped Tina would "break a leg" or get pregnant in order to avoid deployment. But Wanda Fitts nonetheless appreciates her sister's service.
"It won't hit me until she's there," Wanda Fitts said. "It won't make much difference until she's overseas."