Calif. tech firm opens software lab in Nashua
Cloudera helps its clients manage and analyze 'big data'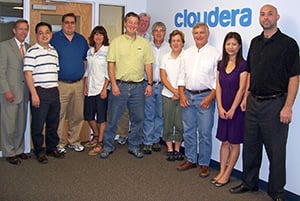 A California-based software firm, has opened an office in New Hampshire, creating eight jobs at its Nashua facility.
Palo Alto-based Cloudera sells and services data management software that helps clients manage and analyze large amounts of data quickly using the open source Apache Hadoop program.
Doug Cutting – who created Apache Hadoop — is Cloudera's chief architect. He has further developed the program to meet the needs of Cloudera's major clients, including eBay and the U.S. Army.
Cloudera's newest office, located at 402 Amherst St. in Nashua, will function as a software engineering lab, testing and supporting various "big data" products, the company said.
"We chose Nashua because of its proximity to the Boston metro market and easy access to skilled software engineers" said Frank Liva, Cloudera's senior engineering director, in a press release. "Many experienced software engineers in Silicon Valley move from job to job, and we find that New Hampshire attracts a very stable and committed workforce and offers a great quality of life."
Cloudera was founded in 2008 by three engineers from Google, Yahoo and Facebook and a former Oracle executive. New Hampshire is the company's ninth location – it has others in Japan, London and throughout the United States.
Michael Bergeron, business development manager for the New Hampshire Department of Economic Development, worked with Cloudera in its expansion to the Granite State.