C.B. Sullivan's educated approach to salons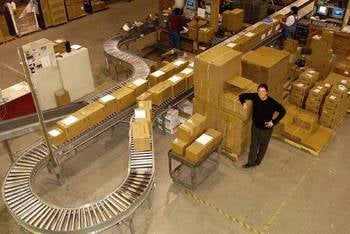 It might be an exaggeration to say that C.B. Sullivan Jr. was born with the salon supply business in his blood. But not by much.
"We grew up with a small barber supply business in our basement," Sullivan says of the company founded by his father (the original C.B. – short for Charles B. — Sullivan) in 1946. After this eldest son bought the company from his father in 1980, Sullivan orchestrated the transformation of C.B. Sullivan Company into one of the nation's largest wholesale distributors of hair, skin and nail care products.
The result, almost a quarter-century later, is a multimillion-dollar corporation that employs more than 300 people in six states (New Hampshire, Maine, Vermont, Massachusetts, Rhode Island and Texas), with 26 company stores serving an estimated 6,000 salons and 45,000 licensed salon professionals, and a 90,000 square-foot headquarters and distribution facility in Hooksett.
"I worked as a manufacturer's representative (in the professional salon business) and knew the trend was overwhelmingly to unisex salons and … the traditional barbershop industry my father had served for many years was disappearing," says Sullivan, who is the president, CEO and, admittedly, top company cheerleader. "My father loved the business, loved working with the people he served, and I'm the same way."
Sullivan isn't the only family member hooked in the business. All of his siblings are as well: sister Donna Sullivan Lewis is senior vice president for stores; brother Rick is distribution manager; brother Jeff is the senior vice president of sales; and youngest brother Mark is vice president of business development.
And, oh yes, the third Sullivan generation is already on board. C.B. Sullivan's son Tyler is a sales representative in the Lakes Region.
The education component
The company has come a long way since the days when it was located in the back of the long-defunct Carpenter Hotel barber shop in Manchester. The clients have changed and their needs have become more complex and, Sullivan emphasizes, education has become a crucial value-added service.
"This is a very gratifying business which everyone uses, and often as a form of therapy," he says. "Making sure the people we serve become better at what they do is our mission, and training is so vital."
The growth of multiple-use salons – salons that offer multiple spa services, such as tanning, pedicures and manicures — has been the most important change in the business during the past five years, Sullivan says. And it has put his company in a strong position to handle the salon's transition smoothly.
"It's our number one motivation, because if my company facilitates their business to become better, then in return we get support."
C.B. Sullivan's 17 learning centers (located in product stores) offer extensive training for licensed salon professionals on everything from the latest styling equipment to new hair color uses and manicure techniques.
"We are able to anticipate what they (clients) need because we have people in our learning centers who are licensed professionals as well — former hairdressers or nail artists and trained cosmetologists," Sullivan says. "Unfortunately, in this industry professional refresher courses aren't a priority. They are for us."
According to Sullivan, in 2003 alone, his company held 383 education events, ranging from classes and demonstrations to sponsoring two annual major industry shows in Manchester and Boston. (Sullivan estimates each event drew more than 10,000 salon professionals.)
Janet Lane, owner of Hair Everywhere salons in Rochester and Dover, considers C.B. Sullivan to be an indispensable partner in her success.
Lane, who opened her first salon 15 years ago, says, "Owning was new to me, and I started from scratch, but they were with me helping me with everything before my doors even opened. They aren't just salespeople who come in once in a while. They've helped me with every facet of my business, and to this day, C.B. himself keeps a personal interest in our success. They believe that if I'm successful, then they will be too."
Susan Gerry, manager of the Newington store, has worked for the company for the last 14 years. She says the boss' personal magnetism is an important part if the business' success.
"We love him, and so do our customers," says Gerry.
'A great marketer'
Over the years, C.B. Sullivan has forged important exclusive product distribution deals with such salon industry giants as Paul Mitchell Systems, Matrix, OPI and TIGI. (C.B. Sullivan expanded to Texas in part because that is where Paul Mitchell's corporate headquarters is located.)
"What's great about working with C.B. Sullivan is that they are a very strong company financially," says Lori Chandonnais, vice president of commercial lending at Citizens Bank New Hampshire in Manchester.
Citizens assisted in financing C.B. Sullivan's acquisition of Bay State Beauty Supply in 1998, and Chandonnais believes the company will have continued success because "C.B. is very energetic, a great marketer, and it's never boring with them because he's always looking for the next challenge."
Chandonnais says C.B. Sullivan has "stepped up big" in his company's support of the United Way and its Police Athletic League golf tournament, which is known as one of the more popular fund-raising events in the Manchester area.
"A lot of people knock on C.B.'s door, and he rarely turns them away," Chandonnais says.
The Citizens Bank Not Your Typical Business Award is presented in partnership with New Hampshire Business Review. Businesses are selected each month based on the company's commitment to community, colleagues and customers.
Visit Citizens Bank online at www.citizensbank.com.