Business urged to 'take the lead' in drugs fight
NH's addiction crisis 'a drag on the economy'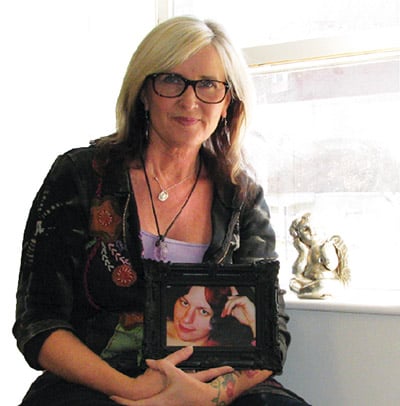 A week after Melissa Crews took over the Ignite & Hooked restaurants in Manchester, she had to let an employee go who was abusing drugs. He survived – unlike a female line worker whom Crews also urged to seek help. That employee died of an overdose.
Her husband, AutoFair CEO Andy Crews, has also had to deal with employee deaths from drugs. Developer Dick Anagnost has spent "countless hours" dealing with the addiction problems of just a handful of his workers in his various enterprises.
And Kriss Blevens, owner of Kriss Cosmetics and makeup artist to many a presidential candidate over the years, suffered the greatest personal loss of all: Her step-daughter, Amber, was found dead in April 2014, at age 22, in an alley behind the North End Superette in Manchester, after a long struggle with heroin addiction.
She was one of the more than 320 New Hampshire deaths attributed to drug overdoses that year.
While the NH Legislature prepares for a Nov. 18 special session on the state's growing opioid and opiate addiction crisis, these four have decided to move ahead on their own in the private sector.
Anagnost and Andy Crews bought the 37,000-square-foot former Hoitts Furniture building in Manchester with plans to renovate and rent it at no cost to Hope for New Hampshire Recovery, an organization chaired by Melissa Crews, and Amber's Place, a new temporary residence that Blevens is putting together.
"This is not just philanthropic," said Andy Crews. "Businesses are getting something they actually need. We can't wait on government. Business needs to take the lead."
"We really need the voice of business," said the state's "drug czar," Jack Wozmak, "because this is dragging our economy."
$1.8 billion impact
Most people think of human costs of the increasing addiction crisis: lives lost, families torn apart. But, as documented in a report published last November by New Futures, it also has devastating economic consequences.
This is particularly true in New Hampshire, which is ranked first in the country when it comes to levels of drug dependence among 18- to 25-year-olds, according to the National Survey on Drug Use and Health from 2012-2013 and is ranked second from the bottom when it comes to access to substance abuse treatment for those who need it.
The New Futures report, authored by economist Brian Gottlob, estimates that substance misuse accounted for a $1.8 billion negative impact on the economy in 2012, with over half of that $1.15 billion as a result of impaired productivity and absenteeism, and the rest having to do with health care, criminal justice and automobile accidents. That's about 2.8 percent of the gross state product, or nearly $1,400 a person.
Those figures don't even count the $393 million impact of premature deaths. (Nationally, the cost is $193 billion, also mainly due to lost productivity, according to a 2011 Justice Department study.)
"Substance misuse is correctly viewed not only as a public health crisis, but also as an economic policy issue," concludes Gottlob.
Three years ago, the primary substance to be abused was alcohol. But even then opioid abuse accounted for 45 percent of primary substance abuse treatment, compared to about 15 percent a decade earlier. They even by then surpassed alcohol slightly as the reason behind job absenteeism. (Nationally, drug and alcohol misuse among workers in 2012 was about the same, around 8.5 percent.)
But since then, opioid and opiate use has been rising in the workforce, led by the use of heroin, which increased by 50 percent between 2012 and 2014, a calculation based on the results of some 9 million annual drug tests, according to Quest Diagnostics.
In New Hampshire, reports of emergency room overdoes treatments doubled from 2012 to 2013. Treatment programs have nearly doubled as well.
'It's no secret'
"It started more with alcohol, but more recently prescription pain killers and now even heroin," said Charla Bizios Stevens, an attorney who vice chair of the Business and Industry Association of NH's Healthcare and Workforce Development Committee.
Heroin – now often an illegal replacement for the prescription pain killers that are becoming harder to come by – has made a disturbing comeback, and this time its use is more prevalent among people in the working and middle classes.
"The demographically 'average' heroin addict is now a 23-year-old white woman living in the suburbs. Rates of heroin addiction among urban males of color have stayed the same, but there is a surge in the rates of white users in suburban and rural areas," said Jonathan Sheff, senior partner of MKS Performance Solutions LLC, an employee assistance program.
The lodging and food service industry is affected most – both nationally and locally – since it employs many of those younger workers.
Nationally, nearly 17 percent of workers in the lodging and food service industry were substance abusers, followed by construction, 14.3 percent. Management is up there too, with 11.4 percent of workers considered substance abusers, with health care and education at the bottom, at under 6 percent.
In New Hampshire, a survey of workers cited by Gottlob in his New Futures report, showed a 19.4 percent addiction problem in the food services industry (with 5.4 percent of that drug misuse) followed by 16.6 percent in construction (3.2 percent drug misuse). Again, the education and health were at 6.6 percent, with 1.4 percent of employees with drugs.
"The restaurant business is riddled with abusers," said Melissa Crews. "Those who tell you otherwise are either ignorant or not being completely honest."
Crews, who recovered herself from abusing alcohol some two decades ago, said she is attuned to the signs.
"It's no secret when you have some who always came in on time showing up late for work. Some have IV marks on them." Others, like the girl who overdosed, started covering up, "with turtlenecks and the like."
"We are a recovery-friendly workplace," she sighed. "We talked to her, we did everything we could to lead her to the right path, but we had to let her go eventually."
"It is a problem in the industry," acknowledged Mike Somers, president of the NH Lodging and Restaurant Association. "We are certainly watching the whole issue."
Somers attributes it to a number of reasons: age of the workforce, the high-paced environment and the stress of those working part-time at night while going to school during the day.
More and more employers have turned to drug tests to screen out abusers, and some report a 30 percent failure rate, said Wozmak.
"At DRED they are talking about adding 68,000 jobs (to the economy). But if we have to go through another 18,000 people who can't pass the tests, then HR folks are doing a lot of work for nothing," said Wozmak. "For me it's about economic development and job creation. We don't have a healthy enough workforce."
This might have been OK five years ago, when there was a large jobless pool and employers could skim the cream of the crop, but now with relatively low employment, "many of those who are left are now unemployable because of addiction," said Val Zanchuck, CEO of Graphicast in Jaffrey.
Hardest-hit industries
Employers face another dilemma once a person is on the job: Fire the employee and pay to retrain someone else, or invest in treatment and recovery. There are legal issues as well.
And dismissal based on addiction alone could result in discrimination charges on the basis of disability, pointed out attorney Stevens. On the other hand, doing nothing when addiction could cause a workplace injury or injurious behavior, like sexual harassment, could result in lawsuits as well.
Many of the industries hit hardest by addiction don't often offer health coverage, and in New Hampshire, the state isn't stepping in to fill the gap. In 2012, 53 percent of individuals receiving substance abuse treatment in the Granite State paid for the services out of pocket, compared to 17 percent nationwide. That's partly the reason that only 6 percent received treatment that year, the second lowest rate in the nation. This may be changing with the Affordable Care Act, which requires mental health parity, as well as expanded Medicaid coverage.
But while treatment is usually covered by insurance, recovery – especially the peer-to-peer variety – usually isn't.
"The recovery community gets zero funding in New Hampshire," said Andy Crews. Studies show that peer recovery coaching works. It's insanity not to do it."
It's not just the cost, but the availability of treatment beds that is the biggest issue, said Anagnost. There are less than a handful of centers like Easter Seals' Farnum Center or Serenity Place, and "they are booked solid," he said.
Often, people are sent out of state to recover, far from the support networks they most desperately need.
Mixing business and advocacy
Kriss Blevins thinks that her step-daughter Amber might have been alive today if there was room available at the Farnum Center when she needed it. Instead, she was shipped off to a one-week detox in Portsmouth and went back onto the streets.
The experience caused Blevins, whose high-profile cosmetics business gives her the access, to talk to everybody from businesspeople to presidential candidates about the drug crisis in New Hampshire. Her business Facebook page has attracted others who were facing the same issues.
"I am mixing business and advocacy, one hand in each," she said.
Blevins and the Crewses caught the ear of Anagnost and they searched for months before finding the former furniture store on Wilson Street, with its nearby services like a hospital and the police station.
Anagnost said he hopes to close on the purchase at the end of November to begin renovations to make room on the first floor for Hope for New Hampshire Recovery. The nonprofit has been bursting at the seams in its shared space with Families in Transition on Market Street, and is temporarily moving to 900 square feet at an old Catholic Charities facility at the corner of Pine and Central.
That's where Blevins just opened up Amber's Place, with 20 beds to provide temporary shelter for those waiting for treatment. The two agencies hope to move into the Anagnost building in the spring, enabling both to expand their services.
In addition, Anagnost said he hopes to offer "sober housing" apartments on the second and third floors in the third phase of the project.
It isn't just a matter of a place to go. There needs to be more outreach in the workplace itself, said Wozmak.
Many companies have employee assistance programs, "but often this is an 800 number, a referral service with no face to face interaction," he said though there are exceptions, like MKS, an Exeter firm that does offer face-to-face counseling.
But Andy Crews believes that that isn't enough either.
"If you've got a counselor who has never been on the end of a needle or hit rock bottom and overdosed, how does that person have the credibility that, yes, there is hope on the other side of all this?" said Crew.
AutoFair is the first of two companies to sign on to the a new Hope for New Hampshire Recovery program, which offers peer counseling services to businesses to supplement an EAP.
Hope for New Hampshire Recovery recently hosted a meeting of a large group of businesses, including several major hospitals and two advertising agencies, said the program's director, Holly Cekala.
"It's not just for the employee but for family members," she said. "If you are concerned if your son and daughter are not going to make it to tomorrow, you are not going to be on top of your game today."
Businesses are the key in reaching nearly 100,000 people who are addicted in the state, said New Futures' communications director, Joe Gallagher, because three-quarters of them are employed. That's why his organization is trying to organize a business roundtable.
"We are hoping to engage businesses because they are bearing the brunt of this, in both absenteeism and loss of productivity," said Gallagher.