Business-related NH bankruptcies tick up in June
But total filings for protection was lowest for month since 1989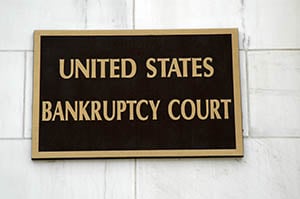 What is going on with business-related debt in New Hampshire? While there have been only seven bankruptcy filings by businesses in the last three months, 59 personal bankruptcy filings were at least partly due to business-related debt over the same period. That's more than double the amount of the previous three months.
Still, the number of personal bankruptcy filings continues to fall, but not nearly as much as in previous years.
Some 148 Granite State families and business filed for protection in June, 26 fewer than May and 15 fewer than June 2015.
It was the fewest filings in any June since 1989.
Some 20 of the June filings were due to business-related debt, up from 16 in May and down from 23 in April. But before April such filings were in the single digits.
In April, five of the 23 business-related filings were by the businesses themselves. In May, all of the 16 business-related filings were by individuals who lost money because of their businesses or business holdings.
In June, there were two actual bankruptcy filings by businesses. They were:
• MRMS Property Management LLC, filed June 14, Chapter 11. (Trustee has filed motion to convert it to Chapter 7). Assets: $450,000. Liabilities: $1,093,100.
• Moose Mountain Realty Trust, Manchester (with commercial properties in Merrimack and Claremont), filed June 14, Chapter 7 (involuntary and contested). Assets and liabilities: unknown.