Business is sweet for new chocolatiers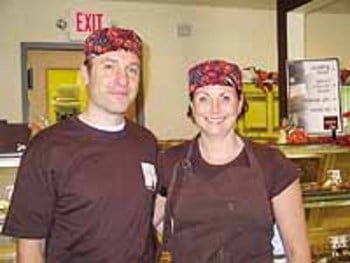 Have you ever walked into a business and said to yourself, "These guys have got it" — with "it" being the undefinable sense of success?
Swan Chocolates in Merrimack is one of those businesses. Great location, great retail display, outrageously wonderful chocolate. And a business that is profitable and growing faster than your appetite for handmade truffles.
Theresa and Michael Anderson opened their candy store last April. Their first day of business came just three days after receiving a certificate of occupancy, yet they managed to keep some 300 customers, including dozens of children, satisfied with their confections.
"We sold out of everything we had on the shelves," recalled Theresa.
For those experienced in the food industry, gearing up so quickly might have been a tall order. For the Andersons, it was a frightening and exhilarating dream come true — they had never worked in a restaurant before and never made chocolates on a commercial scale until opening their store. Theresa was in sales and Michael still works full time at his own marketing agency, Pennyhorse Advertising.
It was their love of chocolate, however, that drove their decision to open up their own candy shop. They never really talked about it as a business until several years ago while on vacation in Vermont. "We thought it would be something we'd do when we retired," Michael said.
Their business plans began like so many others — in a lounge, on the back of a cocktail napkin. "We were on vacation and just had an epiphany. We talked about it that night, and the next, and the next," said Michael. "The idea wasn't going away, so we figured we better take this seriously."
Ahead of schedule
While having some experience being in business for themselves with Pennyhorse might have helped in some areas, there was a lot still to learn. They sought out the best suppliers and spent six weeks in Montreal learning from master chocolatier, Julian Rose.
"We happened to find somebody who took us under his wing and was just so kind to show us how to do this," said Michael.
They also spent weeks researching hundreds of different kinds of chocolate before deciding on Belgian chocolate. "It had the flavor and consistency we wanted," Michael said.
By Christmas 2002, the Andersons' plans were taking shape — in the form of chocolate swan centerpieces. "That's how we told the family that we were going to do this," said Theresa. (The name "Swan" is Theresa's family surname from England.) She said the family laughed at them at first because they both still had full-time jobs that were far removed from chocolate, but then they soon became just as excited as the Andersons.
"We couldn't have opened without them," she said of family members who were the only "employees" until several months ago.
"We paid them in chocolate," added Michael. In fact, many will be coming back to help out during the holidays.
The Andersons also count the town as a supporter of the business. "Merrimack has never had anything like this," said Michael. "So, the town told us they would do everything they could to help us succeed."
The chocolate truffles as well as the fudge and other treats they sell did come largely from recipes tested in their home, but the Andersons never went through the phase of selling from the kitchen to friends and other acquaintances.
"We actually planned on opening a store next year, but then this space opened up," said Theresa of their retail space in Twin Bridge Place on Daniel Webster Highway in Merrimack. "We were surprisingly well prepared because we had done a tremendous amount of research. So we actually ended up in a very good position."
Exponential growth
Michael admitted there were some "scary moments" moving forward so quickly. One of those moments was finding the financing to start. "Because we had no experience in the food industry, which is considered risky anyway with a high failure rate, and because most chocolate shops are mom-and-pop businesses, there's not a lot of money being handed out to people like what we were looking for. We just had to be as creative as we possibly could with our own finances. That puts us much more vested in what we do. We have no choice but to succeed."
If growth is one measure of success, then they certainly are successful. "We're already 1,000 percent over our break-even point," said Michael.
Theresa pointed out that they've had substantial increases in sales every month they've been open. They expected the summer to slow down, and added coffee, muffins and gelato as a hedge against sluggish sales, but customers continued to stream in.
"We've doubled our sales from what they were in April," she said.
The business uses two savvy ideas that speak of Michael's marketing experience. The Andersons secured an 800 number for customers out of state and the Web site was enabled to process e-mail addresses of those interested in learning more about Swan even before the full site was live.
"People have been asking us since we opened to be put on a mailing list, but we had no way to capture that data. We had to develop the Web site at least to that extent," Michael said. Currently, he said, they have more than 1,000 addresses.
This exponential growth has put them on the fast track for new mail-order and wholesale business for their chocolate. "We expanded into another 1,200 square feet of space downstairs to accommodate packaging, shipping and receiving for both the retail store and the mail order business," said Michael.
They are currently creating wholesale partnerships with local retailers and gift basket companies, selling their champagne truffles, pistachio chocolate truffles and palm-sized pecan clusters. They also will be adding gourmet-flavored coffee roasted especially for Swan by Black Bear Microroastery in Center Tuftonboro.
And franchises? "We've been approached several times, but it's way too early," said Michael, "however, it's fun to think about."
One would think that working with chocolate every day would be reward enough, but for the Andersons, sweet rewards go beyond the sugar. Their desire is to support the local community as much as the local community has supported them.
"In our other jobs, there wasn't quite as much of an opportunity to do that," said Theresa. In addition to partnering with other local companies like Black Bear, they support local charities, including participating in breast cancer awareness events and the Muscular Dystrophy Association's "Black and Blue Ball" (as in black leather and blue jeans) gala fund-raiser.
"That's the fun part of our jobs. We get to give back to the community," said Theresa.