Building on Hope picks Manchester Police Athletic League
Community-funded renovation project to begin in spring 2016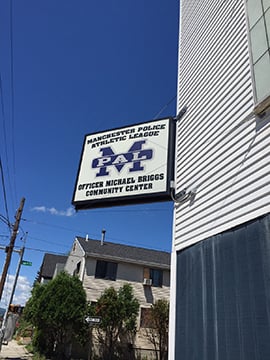 The 105-year-old Manchester Police Athletic League building will undergo a million-dollar makeover next year, thanks to the organization Building on Hope.
Building on Hope, an organization of New Hampshire volunteers who have completed over $1 million in community-funded renovation projects in the past six years, announced earlier this week that it has chosen the Beech Street building, the Michael Briggs Community Center, which was named in honor of fallen Manchester Police Officer Michael Briggs.
The building is in need of major renovations to fully serve the 8,600 at-risk youth living within one mile of the community center, said Jonathan Halle, co-chair of Building on Hope.
"While dozens of New Hampshire nonprofits applied to be considered for a Building on Hope renovation, it quickly became clear MPAL was the ideal choice given their needs and the current national discourse," said Halle.
Halle said that, "by far," the MPAL project will be the organization's most costly and labor-intensive to date.
"The scope of the project is still underway, but we estimate it could cost upwards of $1 million to renovate all four floors of the 16,000-square-foot facility."
At 105 years old, the building is in need of updates to electric and heating systems, appropriate flooring for athletic activities and a resurfaced parking lot. A commercial kitchen is eyed to provide healthy snacks and meals to many kids who do not have adequate access to nutritious food at home. The installation of basketball hoops and conversion of two floors of vacant areas into usable space will bring the 16,000-square-foot facility to its full capacity and make room for more participants.
MPAL provides a safe after-school environment for Manchester's inner-city youth. Each day up to 100 youth between the ages of 5 and 21 come to MPAL after school to participate in free activities, including judo, aikido, wrestling, boxing, rugby and lacrosse in addition to receiving academic help from Manchester police officers. MPAL also offers a Venture Boy Scout Troop giving inner-city kids the opportunity to enjoy outdoor activities as well as a computer room staffed with volunteer student tutors from Saint Anselm College.
"There are about 8,600 youth living within a mile of MPAL – one-fourth of them minorities and one-third living below the poverty line. With new space and improved facilities, we can continue to build trust between law enforcement and young people, contribute to making stronger communities, and stop problems before they start," said Manchester Police Lt. Brian O'Keefe, president of MPAL's board of directors.