Budgetary victims?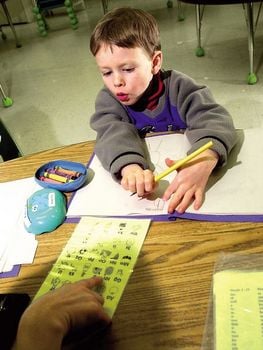 NASHUA – Sue McCormack signed her daughter up for kindergarten classes at Bicentennial Elementary School for next year.
But she has a big problem.
Along with the other parents who registered their children for public kindergarten last week, McCormack isn't sure if kindergarten will even exist in Nashua next year.
"How can they do that to parents?" said McCormack, a mother of four. "It's more than a little nerve-racking and frustrating."
The elimination of kindergarten is one of the cuts school administrators said might be necessary for the school district to meet Mayor Bernie Streeter's level-funding budget directive. Elimination of kindergarten would save about $900,000 out of $5 million the school district would need to cut to meet Streeter's request, school officials said.
But with nearly 900 students in kindergarten, the cut would be among the most drastic to the school system, said Superintendent of Schools Joseph Giuliano.
Other potential cuts include shutting down an elementary school, closing the alternative middle school and eliminating busing for high school students.
McCormack, like many parents, doesn't know McCormack, like many parents, doesn't know what to think about the talk of closing down schools and doing away with programs.
The Board of Education has yet to take action on its budget. The mayor is weeks away from sending a budget to the Board of Aldermen. And the aldermen are months away from setting the city's bottom line for the next fiscal year, which begins July 1.
A lot could happen between now and then, including making no cuts to the school budget or cutting everything the school board is now considering.
As a result, some parents are in a pickle.
McCormack said she might register her daughter for private kindergarten at a cost of $100. If public kindergarten remains, she would be forced to forfeit the registration fee.
"If I wait, it might be all filled up," she said. "Unfortunately, the kids who get hurt are the ones who can't afford it."
McCormack said she might even have her daughter tested to enter first grade early if kindergarten is canceled.
"As a taxpayer, I think we're very generous with the school system," she said. "But I have a vested interest in kindergarten. I don't know what's going to happen."
'Grave mistake'
State Department of Education officials have been strong advocates for early learning programs in New Hampshire, including kindergarten. From their point of view, shutting down kindergarten doesn't make sense.
"It could have a devastating ripple effect on the whole community down the road," said Paul Ezen, deputy commissioner of education. "It would just be a grave mistake for those kids."
Cutting kindergarten could turn out to be pennywise and pound foolish, Ezen said. A key component of kindergarten is helping students develop the foundation for literacy.
Without kindergarten, there could be more students who lack the foundation to excel in school, Ezen said. As a result, more costly programs may be required to bring them up to grade level later.
"It's an early investment to save later on and create better opportunities for kids down the road," he said. "Invest a little bit early on and you can gain a lot more that way."
At Bicentennial – one of the city schools that has demonstrated literacy on the state assessment tests given to third- and sixth-graders each year – kindergarten teachers Jane Gilbert and Linda Baer share a trailer with two classrooms in front of the school.
"I hope that our citizens realize the importance of public kindergarten," said Baer, who has taught kindergarten at the school for 13 years.
"It's the start. It's the basis for the educational foundation," said Gilbert, as if to finish her colleague's thought.
For many children, kindergarten is the first group experience with other children. It's their introduction to a classroom setting. They learn to follow instruction. For some, it's their first exposure to books.
On Friday, Gilbert and Baer worked on journal writing with the children in their classes. Some students worked on computers. Others completed worksheets. They read books such as "Bentley's Snowflake" and "The Missing Mitten Mystery."
In Gilbert's class, the students had to figure out how to pay for something at a store with coins.
In Baer's class, students estimated the number of candy hearts in a jar and then counted them out.
Cutting kindergarten would hurt the city, they said.
"What's going to happen to the future of our city and our country if our children don't get a quality education?" Baer said.
"Talk about no children left behind," Gilbert said, referring to the federal No Child Left Behind act. "They would be left behind."
But most of all, it would hurt the kids, they said.
"These are our children," Gilbert said.
"Our future," Baer said.
By the numbers
The city was in a $7 million hole before budget deliberations even began this year. With a reduction of about $4.4 million in state aid to education and a $3 million deficit from the Solid Waste Department, the city has to raise $7.4 million more than it did last year just to break even.
Add in a few contractual obligations and the city was looking at a tax increase of more than 10 percent. That's why Streeter requested city departments be level funded.
For the School Department, that means remaining at its current budget of $76.7 million with the exception of the costs associated with opening both high schools at the start of next school year.
Yet even the cost of opening the schools has caused a wrinkle. Streeter committed $1.8 million for the transition, while the school district is projecting the opening costs to be more like $2.3 million.
To reach that amount, the school board would have to cut $5 million from the $84.3 million budget school administrators proposed for the next school year. That proposed budget represents $7.6 million more in spending and an increase of about 10 percent over this year's $76.9 million operating budget.
"At this time nothing has been reduced," Giuliano said. "We're a long way from a final product."
The superintendent said he is looking at other ways to save money, such as raising class sizes throughout the district, which means reducing the teaching force.
"This is a very crucial year for the city of Nashua," school board member Latha Mangipudi said. "I want to tell the parents we will do the best we can. If I could write a $1 million check to save the school system, I would."
Mangipudi said she has heard that some private kindergarten centers would try to accommodate the growing need in Nashua if public kindergarten is eliminated.
"None of the private kindergartens have the infrastructure to expand overnight," she said. "There's no way the community can absorb (nearly) 1,000 students."
Mangipudi urged parents to lobby their local and state representatives rather than give up hope for a solution.
"I'm a firm believer we can solve it as a community if we come together, not pointing fingers and playing the blame game," she said. "The community has to work together."
Jonathan Van Fleet can be reached at 594-6465 or vanfleetj@telegraph-nh.com.