Budding auto technicians showcase their skills
NH high school students take part in Transportation SkillsUSA competition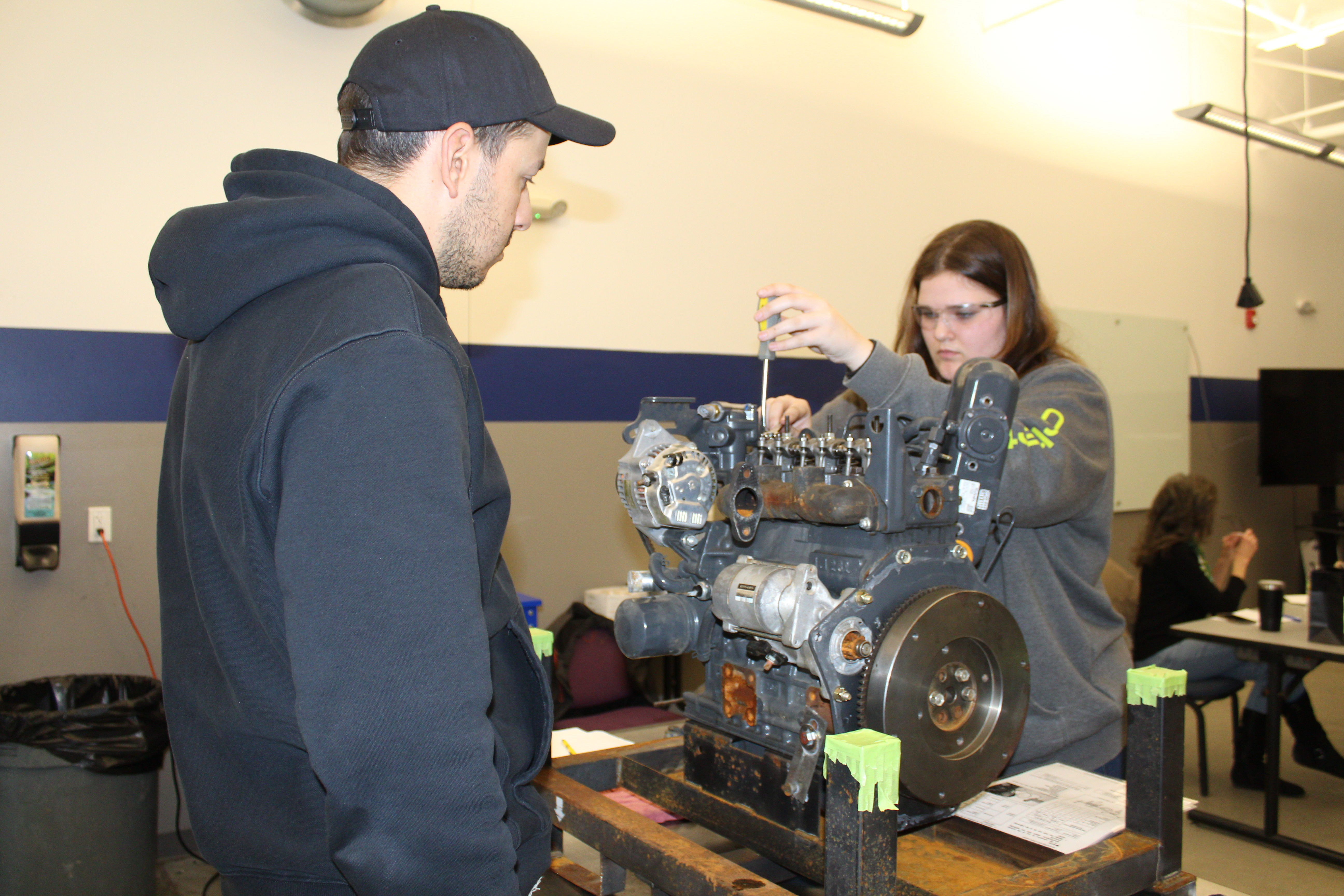 Forty New Hampshire high school students were able to display their skills as automotive technicians in the 2023 Transportation SkillsUSA Competition hosted by Lakes Region Community College in March 17. (Photo courtesy of Lakes Region Community College)
The first combined Transportation SkillsUSA competition for high school students interested in automotive careers attracted some 40 participants from around the state to showcase their skills at the Lakes Region Community College event.
The competition, held March 17, was presented by LRCC, White Mountains Community College, the NH Auto Dealers Association and SkillsUSA NH. The 40 students came from 14 Career and Technical Education Centers' Automotive Service Excellence-certified high schools across the state for hands-on activities, such as engine repair, circuit testing and brake inspection and measurement along with written tests and practice interviews. Their skills were judged by a panel composed of community college professors, industry professionals and employers in four different competitions: automotive service technology; maintenance and light repair; power equipment technology; and diesel equipment technology.
SkillsUSA, a single-day, multiple-event contest that uses a wide variety of academic-based competitions and leadership activities, is a partnership of students, teachers and industry representatives working toward growing a skilled workforce.
"This SkillsUSA transportation competition is a pretty cool hands-on experience for high school students interested in an automotive career," said Jamie Decato, LRCC associate professor of automotive technology and department chair for transportation technologies. "We need skilled technicians in New Hampshire, and this paves the way for a rewarding career in a dynamic industry. The participants were really focused on what they're doing and giving it their all. This event was a great success, and we were blown away by the talent of these students."
"There is a huge shortage of technicians, and events like this help us raise awareness of career opportunities while being an exciting hands-on event for the students," said Adam Memmolo, The Auto Dealers Association's workforce development coordinator. "The competition provides them with a chance and opportunity to do something challenging, get out of the classroom and be a part of something big. Students that compete in SkillsUSA are the best of the best."
The top four finalists from each category were awarded a $1,000 scholarship from the NH Auto Dealers Education Foundation to be used to attend a transportation program at one of New Hampshire's community colleges, and a $1,000 U.S. General Toolbox and toolset. The finalists will advance to represent NH on the national stage at the National SkillsUSA Leadership and Skills Conference (NLSC) taking place in Atlanta, Ga., June 19 to 23, 2023. The NLSC is a gathering of over 15,000 members and a showcase of more than 5,000 career and technical education students from across the country competing in over 100 categories of career, leadership and technical skills areas ranging from aviation to welding.