Brady Sullivan wins variance for Keene housing project
90 units proposed for Colony Mill retail complex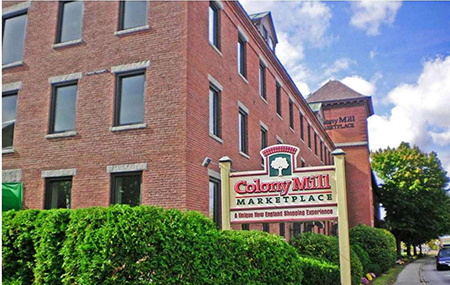 Brady Sullivan Properties' plan to turn an historic mill-turned-retail complex into 90 residential units has cleared key hurdle by winning a variance to pursue the project.
The Keene Zoning Board of Adjustment on Monday voted 4-1 to grant the variance to Brady Sullivan, which has proposed building the 90 apartments in the 112,000-square-foot structure.
The complex is zoned for retail and office space, but not residential or mixed use.
The Keene Sentinel reported that a draft floor plan presented to the zoning board shows that the only business that would remain in the complex is the Elm City Restaurant and Brewery.
According to the Sentinel, 28 apartments ranging in size from 650 to 1,250 square feet are planned for the first floor, where the restaurant is located, along with 2,500 square feet for amenities and 1,500 square feet for a leasing office.
Sixty apartments are proposed for the second, third and fourth floors, with 36 planned for the second floor. They too will range in from 650 to 1,250 square feet. Two units, both about 1,288 square feet, are proposed for a structure adjacent to the mill.
Brady Sullivan purchased Colony Mill Marketplace property in 2014 for $4.5 million.