Bradley says things have gone downhill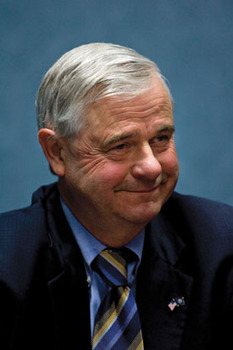 EDITOR'S NOTE: This is the 12th in an occasional series of stories based on interviews with candidates for federal and state office by The Telegraph editorial board.
Jeb Bradley says the country was in better shape two years ago when he left Congress, pointing to a lower unemployment rate, lower gas prices and a more vibrant economy.
Now, the Republican from Wolfeboro is trying to get back to Washington by beating Democrat Carol Shea-Porter, who ousted him in 2006 after two terms.
"I felt the direction Carol Shea-Porter was taking the country was not the correct direction," Bradley said in an interview with The Telegraph's editorial board Tuesday. "I wanted to go back and represent the values I felt were more consistent with the values of New Hampshire."
>>>N.H. Campaigns 2008<<<
Starting with the economy, Bradley said he opposed the government's $700 billion bailout of financial institutions because he wanted banks, with a loan guarantee, to "work out their problems with their borrowers themselves as opposed to putting the government in the middle of it." He said mortgage giants Fannie Mae and Freddie Mac lent to people who weren't credit worthy but said responsibility lies with corporate America, too.
Bradley has repeatedly said that Shea-Porter voted for tax increases by virtue of not extending a relief package for the middle class. In debates and news reports, Shea-Porter has vehemently denied raising taxes and has said a vote to terminate the tax breaks in 2010 was taken before her election.
Bradley said that didn't matter.
"She's had the opportunity to vote on different occasions, in particular on the marriage penalty and in particular on child tax credits, to make them permanent, and she's voted against doing that," Bradley said. "That's her prerogative, but please don't tell anyone in New Hampshire that's not a tax increase."
JEB BRADLEY
He proposes cutting agricultural subsidies, ethanol subsidies and taxpayer-funded benefits for illegal immigrants.
On energy, Bradley hammered the federal government's plan to drill for oil 100 miles off shore, "where there is little or no known oil," according to geologists, he said. It would be harder to find and therefore more expensive to capture.
He supported a different energy bill that called for drilling 25 miles offshore and that would have provided revenue to states through oil company leases. In general, Bradley called for producing more oil domestically – in coastal regions, the Rocky Mountains and Alaska – while harnessing renewable sources such as clean coal, wind and solar.
Bradley, who while in office supported earmark reform, explained a couple of his own earmark sponsorships. One was for night-vision equipment for the Marines in Iraq, which Bradley said helped them see roadside bombs.
Getting that money through an earmark was essential because the Pentagon's equipment procurement schedule didn't line up with what was needed in the field.
"If you cede power to federal bureaucrats, you will get bureaucratic solutions, and that's not always the best thing," Bradley said.
BRADLEY ON THE ISSUES
Here are Jeb Bradley's positions on major issues:
VETERANS: Bradley recently unveiled a "seven-point plan" that includes restoring a full-service veterans hospital to Manchester, similar to Shea-Porter sponsored legislation this summer. Bradley also supports introducing a card that veterans would carry to receive services, particularly for emergencies, at hospitals convenient to them. He called for restoration of "prisoner of war" and "missing in action" statuses, calling the action a "faith and trust" issue to veterans.
SOCIAL SECURITY: Bradley said he doesn't agree with President Bush that Social Security should have a private component, but he didn't offer a specific plan to the problem. Rather, he supports a bipartisan discussion to find a solution.
IMMIGRATION: Bradley supports securing borders with a fence, supporting better technology for patrol agents and cracking down on employers who knowingly hire illegal immigrants.
ETHICS: Bradley said Shea-Porter called for him to support then-House Speaker Dennis Hastert's resignation following former Florida Rep. Mark Foley's scandal involving congressional pages, given that Hastert may or should have known about Foley's alleged indiscretions. Bradley, citing a current FBI investigation into Florida Rep. Tim Mahoney for an alleged extramarital affair involving hush money, asked why Shea-Porter would not call for "applying the same standard to her own leadership."