Entrepreneur Joe Faro gives NH his most ambitious project yet
Tuscan Village, a 170-acre retail-residential-commercial project, to replace former Rockingham park racetrack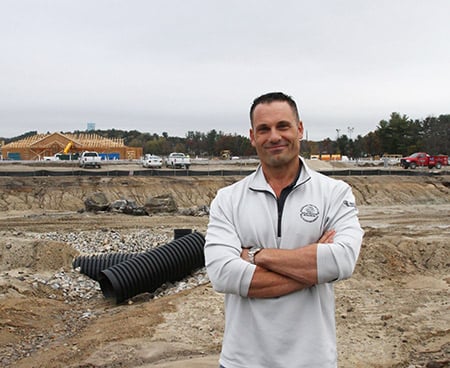 Joe Faro enjoys the outdoors, whether it be surfing, paddle-boarding, fishing, skiing or cycling. He jokes about his golf game, which he said he can improve. He has a passion for old Italian sports cars.
He loves his family and will tell you stories about the trip they took to Italy this past summer.
And Faro isn't sheepish about his success; just ask him yourself.
The entrepreneur has started a hugely successful authentic Italian cuisine company (twice), retired and re-entered the working world before he was 40, and is now having a hand in what will be one of the biggest real estate developments New Hampshire has ever seen.
"I'm not really much of a sheep," Faro said. "I never really follow the herd."
The son of two Italian immigrants, Faro said he had a traditional "immigrant upbringing, one of food, family and tradition. We made everything from scratch. I just thought this was life."
Faro's father, Joe, started off working as a hairdresser and shoes salesman before becoming a baker. The elder Faro bought an old Greek Orthodox church in Haverhill, Mass., that he turned into his bakery.
Faro said the banker is where he really grew up. He would spend his off time working with his father. The most common job that he had was to clean the bread oven.
"I was the only one small enough to fit inside of it," Faro joked.
This is what would shape Faro's focus and drive when he finally entered the working world himself.
"Slowly but surely, I developed my own passion for (authentic) Italian food," Faro said.
'History' in the making
Faro attended the University of New Hampshire and majored in business, though that journey was rocky. Faro said that he ended one semester with a 1.7 GPA and knew he was in trouble.
But that did little to dampen Faro's drive. During the summer, he would dabble in pasta making, which led him to selling some of his products to local restaurants.
"What started out as a summer hobby turned into a small business," Faro said.
The 170-acre mixed-use Tuscan Village will feature a roughly 200-room hotel, dozens of storefronts and standalone retail spaces as well as North Village, a section consisting of 50 acres of townhouses.
From there, Faro said he went back to school reinspired. During his senior year, he learned of the Holloway Competition, in which students are able to present their plans to a panel of judges. The winner is given a cash prize to help with the startup of their business.
Faro placed second that year, but he was set on opening his pasta factory. He'd found an old shoe factory that he had plans to fit up to hold the entire operation.
Faro said he spoke to more than a dozen different banks before he finally found one that would help him — First Essex Savings Bank out of Lawrence, Mass. — and started Joseph's Gourmet Pasta and Sauces.
"The rest was history," he said.
He said the work was consuming, but not something that he shied away from.
"There's no drug like it," he said. "I would be dreaming about tortellini in the middle of the night."
Faro said at the peak, about $75 million in revenue was brought in annually.
Nestle approached Faro in 2006, offering to buy his company. Faro, who was 38 years old at the time, said he went back and forth on whether or not to go forward with the deal.
"That was a real crossroads for me," he said.
He loved his work, but the idea was of being able to spend time with his family full time instead seemed like an opportunity too good to pass up.
"I wasn't learning anymore because I was maxed out," he said.
Something new
Faro eventually agreed to the sale, though on one condition: A portion of the sale needed to go back to his employees.
"At the end of the day, how would I have gotten there without them?" he said.
Faro retired, and for the first time since college he didn't have a job. He traveled, spent time with his family and took golf lessons.
"I realized after seven months, I still suck at golf," he joked.
But he said it was hard to transition into that sort of lifestyle. He missed his old life in business, particularly the people and the creation process of new product.
"I felt like I was not contributing anything to the world," he said.
Faro said he was also worried about his children and not setting a good example for them by living a life of leisure.
"That is a recipe for raising a moron — or three morons in my case," he said.
Faro said he decided to look more into real estate. But during a tour of a restaurant building in Salem, plans changed as he toured the 67 Main St. space.
"I wasn't even listening to the broker," Faro said.
He was planning what would become the Tuscan Brand.
"A light bulb went off in my head that very moment," he said. "I'm a food artisan — that's what I am."
Faro bought the business and rather than continuing as is, he decided to make his own Italian restaurant, a place where he could show off his lifelong passion for food.
He passed this love on to those who worked there as well. In the restaurant, Faro said he makes sure everyone on staff knows how each dish is made, whether or not they're actually the ones doing the cooking.
"I wanted my employees to share my passion," he said.
In 2010, the Tuscan Kitchen officially opened its first location in Salem. As part of the opening, Faro said about 1,000 veterans were served, for free.
Tuscan Village is being built at the site of the former Rockingham park racetrack, pictured here in August.
"It was probably the best day ever," Faro said.
Business continued to grow from there.
In 2012, Tuscan Market was opened next door to the Salem restaurant. It's designed to mirror an open-air artisan Italian market, selling meats, cheeses, wines, baked goods and Italian groceries.
Two years later, a Tuscan Kitchen and Market was opened in Burlington, Mass., and last summer, a Portsmouth location opened. Yet another new location opened Nov. 17 in Boston's Seaport.
Building a downtown
His latest project is his most ambitious yet.
For the last few years, he's been working to redevelop the former Rockingham Park property in Salem into what will be the 170-acre mixed-use Tuscan Village.
Rockingham Park, an historic racetrack that opened in 1906, closed in August 2016 after years of declining business. The land was sold off and purchased by Faro. Demolition of the old buildings started this past Spring, though some of the historical items were saved to be used in the development.
The parcel will be a multi-use, multi-phased development that will feature hotels, housing, restaurants, medical offices, entertainment venues and retail space. The hope is to revitalize the town of Salem by building a live-work-play area.
"Salem doesn't have a downtown," Faro said.
The project is split into two different parts: the main development and the North Village.
The main development will sit on the majority of the land — about 120 acres — that used to be the site of the racetrack. Some of the highlights include a roughly 200-room hotel, dozens of storefronts and standalone retail spaces, a small lake that can be used for recreational activities and walking paths throughout the property.
There's also a promenade in the center of the development, where there will be restaurant and shops, along with other features like a fountain, giant chess board and a bocce arena.
Faro said the space will also allow him to expand and showcase the Tuscan Brand.
The Tuscan Kitchen and Market will be moved there from their Main Street homes, and some of the other concepts being toyed with are a Tuscan Steakhouse and Joey's Sports Bar.
"I'm Joey," Faro said with a smirk.
There's also the North Village section, which will consist of about 50 acres of townhouses and retail space. Already, HomeGoods, Market Basket and Sketchers are expected to have stores in the shopping plaza there.
Parts of the project are underway. Construction on a 96-unit townhouse development in the North Village part of the development began this past summer.
The units will be a mix of two- and three-bedroom units that are designed to be a stepping stone for people saving up to buy a home, or for senior citizens looking to downsize.
The project has an undoubted economic benefit for the region as well, Faro told town officials earlier this year during a presentation to the Salem Planning Board.
In all, he said, there will be more than $11 million in tax revenue each year for the town. That doesn't include the roughly $8 million in impact fees and $15 million in infrastructure improvements.
Tuscan Village will create potentially 5,000 permanent jobs and 1,000 construction jobs as well.
"We're super excited about that," Faro said. "There's nothing like it in New Hampshire."
Community-focused
For those who work regularly with Faro, one of the main things that sticks out to them is his focus on the community.
Donna Morris, president of the Great Salem Chamber of Commerce, said the Faro is a great neighbor — literally. The chamber's office is right next door to his Salem restaurants.
Morris said that she was able to watch Faro build both the Tuscan Kitchen and Market from her office. She said she was amazed at the transformation.
"He does quality," she said. "He goes that extra mile when it comes to quality."
This will translate to the work he's doing with the Tuscan Village, Morris said. "I know he is a smart business man who has done his homework," Morris said. "He knows the importance of being a good community member," she said.
Ross Moldoff, Salem's town planner, echoed those words. Part of what makes Faro easy to work with is the fact that even when he has a set vision, but he knows when to change, Moldoff said.
"It's been a great experience for me to work with a guy like that," he said.
Moldoff said that Faro's passion for his work is constant and his work ethic admirable.
"You wonder how the guy can get everything done," Moldoff said. "[But] he's able to do it, and he's able to do it a very high level."
Moldoff has seen Faro's eye for details.
While conducting research for the new Tuscan Village project, Moldoff said he and Faro went to visit a similar development.
During such trips, Moldoff said he enjoys taking pictures and exploring the architecture and design, though he's usually alone in that excitement. But with Faro, the two spent the visit sharing both observations and excitement.
"Honestly, he was more excited than I was," Moldoff said.
In fact, Faro would jump out of his seat, pointing out all the highlights of that development and how it would compare to the Tuscan Village, Moldoff said. "He also said, 'We can do better than this, we will do better than this.'," Moldoff recalled.
And that's a challenge Faro isn't scared of.
"I'm stubborn in that way," he said.