Black Heritage Trail uncovers hidden history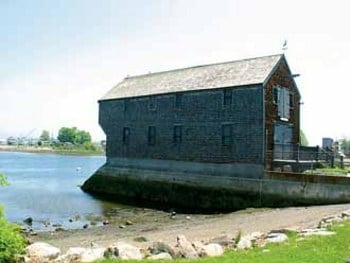 For more information:
The city of Portsmouth is steeped in history, spanning from the Colonial era to the high-tech e-Coast. But there are many chapters of history that are almost unknown – including those of the people of African descent who have lived and worked in Portsmouth for over 350 years. Their stories are now being told on the Portsmouth Black Heritage Trail.
Valerie Cunningham, local historian and president of Portsmouth Black Heritage Trail Inc., has linked 24 sites throughout downtown Portsmouth, providing a sensitive, eye-opening and often poignant look at the lives of the city's African-Americans throughout the centuries.
"I didn't learn black history in school," said Cunningham, a Portsmouth native, "I learned it from my family, from my church and from the black community. I started doing serious research and it became my life's mission."
After 30 years of painstaking research, that life's mission took the form of the Black Heritage Trail, which officially opened in 1995.
While all of the sites are important to her, Cunningham said, perhaps the site that most stands out for her is Long Wharf. "When I conduct tours of the trail, this is where people come to understand that the African people that were brought here were people first, then enslaved. This is where people 'get it,'" she said.
Here is a look at just a few of the sites on the Portsmouth Black Heritage Trail and the information surrounding them brought to light by Cunningham's research:
• The Wharf at Prescott Park: As early as 1645, cargo and goods of all kinds were once unloaded on the wharf in what is now Prescott Park. That cargo also included Africans bound for slavery. Slave auctions were sometimes held near piers like Long Wharf, and occasionally sales were made onboard the ships or on the docks.
• Stoodley's Tavern: Built in 1761, James Stoodley's tavern was a gathering place for Revolutionary patriots and was even visited by Paul Revere in 1774. Auctions for bulk goods and occasionally enslaved people also took place there. Stoodley owned two enslaved people, Frank and Flora. As a member of the North Church, he owned a pew and had seating for Frank and Flora in the upper gallery.
• New Hampshire Gazette Printing Office: Primus Fowle was a skilled enslaved man who worked the printing press for the New Hampshire Gazette for some 50 years. When he died in 1791, an anonymous epithet, a rare tribute for an enslaved person, described him as a "hearty friend" and possessed "a grateful mind though oft borne down with pain."
• Macphraedris-Warner House: The 1716 brick house was home to several prominent occupants including its builder, Archibald Macphraedris, the royal governor Benning Wentworth and merchant Jonathan Warner. During its colonial history, the house was also home to eight enslaved people. In 1779, Cato and Peter, who were owned by Warner, were two of 20 men who signed a petition to the New Hampshire Legislature to abolish slavery.
• St. John's Church: Black people were often documented in church records. Cunningham's research offers a tantalizing entry in the 1807 records of St. John's Church on Chapel Street. It says: "Contribution Xmas day, Venus – a Black — $1." The fact that she made a donation suggests that she was free. Perhaps most touching is that she made a donation at all. Life for African-Americans in the early 19th century was difficult, and a dollar was a considerable amount of money for the average person, black or white.
• Site of Negro Burial Ground: In colonial times, blacks and whites were buried in separate cemeteries. Cunningham's research pointed to Chestnut Street, between State and Court Street, however the exact location of Portsmouth's "Negro burial ground" was unknown. In October 2003, workers constructing a new sewer main found the remnants of two wooden coffins – precisely where Cunningham believed the cemetery to be.
• Moffat-Ladd House: This mansion is a beautiful example of mid-18th century architecture, and was the home of William Whipple, a Revolutionary War general and signer of the Declaration of Independence. It also was the home of Prince, enslaved when he was a boy. Prince's story is a heart-breaking one. His family, members of royalty in West Africa, sent Prince and his younger brother to America to be educated. Cunningham's research revealed that the boys were actually sold into slavery instead and were bought by Whipple upon arrival in Portsmouth. Prince fought in the Revolutionary War in exchange for his freedom and was said to be among George Washington's troops that crossed the Delaware River on Christmas Eve in 1776.
• Site of the Whipple House: Prince's story continues on the site of the Whipple House. He became one of the 20 signers of the slavery abolition petition brought to the state Legislature in 1779, relating how he and his brother had been kidnapped as children. He married in 1781 and was freed in 1784. Sometime after Whipple died, his widow lent Prince and his wife a small plot of land on the Whipple House property, where they built a house and raised a family. Prince died in 1796.