Big second quarter gains for White Mountains Insurance Group
Fewer natural disasters and new investments bump up profits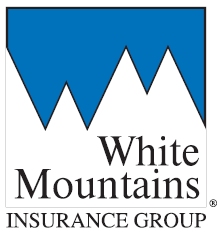 With no major catastrophic loses, and increased premiums, White Mountains Insurance Group posted a net income of $96 million in the second quarter ($15.53 a share). That's some $70 million more than the same quarter in 2013, bringing profits for the first half of the year to $191 million or about $31 a share, a $45 million increase.
The insurance conglomerate – run out of Hanover but domiciled in Bermuda for tax purposes – now says its adjusted book value per share is $667, only up 1.7 percent from last quarter and 4 percent since the start of the year. The company now has $12.4 billion in assets, with some $331 million in cash, and stockholders' equity has increased by $200 million to $4.1 billion.
The two major segments of the company: OneBeacon and Sirius Group both made money, $31 million and $77 million in pretax earnings respectively. Sirius was still recovering from the Japanese earthquake and tsunami and tornados in the American Midwest in 2013, but this year it was primarily concerned with flooding in Europe. OneBeacon also did well in its divisions most impacted by nature – Specialty Property and International Marine Underwriters – compared to the previous year. Its primarily losses this year (relative to last) were in professional insurance, entertainment and government.
HG Global/BAM, a municipal bond insurance division started by White Mountain last year, did lose $3 million in pretax dollars, but it is still expanding rapidly, guaranteeing $2.2 billion of municipal bonds, up more than 70 percent from the pervious year. (Since BAM is a mutual, it is not included in the company's book value, but federal regulations require that it be included in quarterly financial statements).
White Mountains made two investments over the summer. In June, it committed $21 million to fund a joint venture with David Shield for the development, marketing and distribution of PassportCard travel insurance. The transaction is expected to close in the fourth quarter of 2014, subject to regulatory approvals. In July it acquired approximately 45 percent of durchblicker.at, Austria's first independent price comparison portal for insurance, gas/electricity and finance services for approximately $12). These are included in White Mountains' "Other" segment, a hodge-podge of smaller companies and investments, which made $4.1 million, pretax.