Big Friendships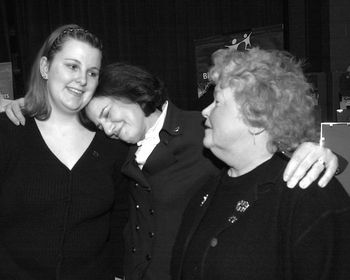 Crystal Carter and Maureen Harriman have been pals for years.
The two met when Crystal was just a kid. Harriman's own children had already grown and moved away.
Despite being separated by more than 30 years, they hit it off more like sisters than mother and daughter. That's partly because their bond was forged through Big Brothers and Big Sisters.
"Without her, I never would have made it," Carter said on Friday after she lauded the program that gave her support through some of the toughest years of her life. "I still want to be just like her."
Their story is the type of thing Judy Vredenburgh hears all the time as the president and CEO of Big Brothers Big Sisters of America.
Hope, salvation, support and friendship: Those are the things that a relationship through Big Brothers and Big Sisters can give to the "bigs" and "littles" who are paired together, Vredenburgh said.
More of those relationships have been forged in New Hampshire recently, she said.
In fact, the state's six Big Brothers Big Sisters agencies have grown by about 25 percent in the past year and now serve nearly 1,500 children.
Vredenburgh came to Nashua from Philadelphia to deliver the state of the state report for New Hampshire Big Brother Big Sister agencies and to thank U.S. Sen. Judd Gregg for his efforts to secure funding in Washington, D.C., for mentoring programs. The event was held Friday at Mount Pleasant Elementary School, where Gregg's deceased father, Hugh Gregg, once went to school.
As Carter, now 20, spoke about her relationship with Harriman, she was on the verge of tears.
"She's a very respectable person and I want to be like her," she told the crowd of people, which included Mayor Bernie Streeter, Gregg, Vredenburgh and pairs of bigs and littles. "We had our ups and downs, but we were always together."
Harriman said she and Carter are like buddies, but they've been through so much together they love each other like family now.
"You get back as much as you give," Harriman said.
Carter now has her own little sister through the agency and Harriman has a little brother.
Despite their new relationships they still get together and they talk all the time. "She gave me a listening ear; someone I could look up to," Carter said. "I could always call her if I was having a bad day and I still can."
Vredenburgh, who is a big sister herself, said that's the magic of Big Brothers and Big Sisters – the relationships that can transform a life.
While applauding New Hampshire for its growth and commitment, she also said the organization could use more volunteers and money to support those volunteers.
Jerry Grantham, the executive director of Big Brothers Big Sisters of Greater Nashua, couldn't agree more.
Despite his agency's growth from serving 454 children up from 339 last year, there are still more than 60 children waiting to be paired with a big brother or big sister, he said.
Grantham himself is a big brother to 12-year-old Chris Mondoux, a sixth-grader at Mount Pleasant.
"I don't have a brother at my house," Chris said. "Having a brother is awesome. I've always wanted a brother."