Better late than never?
FairPoint tries to battle back in a transformed telecom market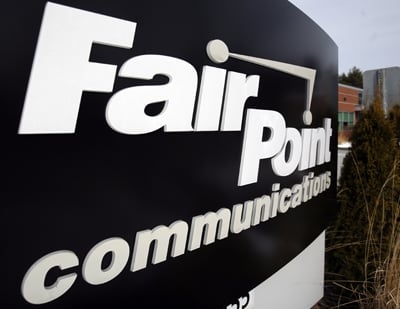 Mike Chambers, director of operations and customer service at Relyco Business Solutions, a commercial printing firm in Dover, says he gets a message a day from companies looking to sell him telecommunications services.
Before he actually decided to switch from Carousel Industries, a provider based in Rhode Island, he "kicked the tires" at Comcast but chose BayRing Communications, out of Portsmouth.
"We wanted someone that was hands-on, not someone out of Providence," Chambers said.
Chambers said he didn't consider FairPoint Communications, the company that in 2008 acquired Verizon's Northern New England's operations.
That's OK with BayRing, which presents itself as a high-end "boutique" firm that caters to business and which has doubled its size in the last five years. And only being considered isn't necessarily bad for Comcast, whose business market has grown some 24 percent nationally in the last year, to $917 million.
But it's not OK with FairPoint, which has a small slice of the broadband business market in New England.
"We have a pretty small share," said Patrick McHugh, state president of the North Carolina-based company. "But we are now focusing pretty heavily on the business market."
That is where the money is. And now that the company is finally free of most of its regulatory shackles, FairPoint wants that business back.
Changing technology
The telecommunications world is different from the world FairPoint entered when it bought the New England assets of Verizon in 2008, or even from the world when it emerged from bankruptcy in 2011.
"Clearly, it's a more competitive environment than it was five years ago," said Bruce Leichtman, a Durham-based analyst who follows the broadband, media and entertainment industries on the national level.
Changing technology and mergers are mostly to blame, though the new environment manifests itself in different ways, especially in the residential market.
Cable customers are moving to satellite dishes and streaming video, as nearly half of all U.S. households now have one television hooked up to the Internet, according to a Leichtman study
Meanwhile, telephone customers are cutting the cord, with a growing reliance on cellphones. The number of FairPoint's access lines, for instance, declined 6.8 percent last quarter. It was a 7.8 percent decline from a year ago.
Yet all this opens up opportunities as well. Someone has to provide the data that voice and video are now increasingly using – and that someone is the owner of the pathways that carry the data.
Yes, FairPoint is losing phone customers to mobile companies. But those companies need hard-wire connections from the cell tower, and FairPoint is ready to provide it in a service it calls Fiber-to-the-Tower to meet those growing data demands.
"We are the backhaul provider for the wireless network, so if people use wireless that's good for us as well," said Ellen Scarponi, FairPoint's director of government relations and economic development.
At the end of 2013, FairPoint provided backhaul service for 1,300 mobile Ethernet backhaul connections and fiber connectivity for 1,000 cell towers in northern New England, according to its financial statements. Comcast provides similar service, though it does not provide local figures.
Just as cellphones need reliable on-the-ground fiber, so do businesses, which are increasingly running their phone service over a data line. Data needs have grown as well. Websites are becoming increasingly sophisticated, graphic-oriented and interactive, with the need to process more information at quicker speeds. Finances are also mostly conducted online as well, which requires more security, such as encryption, which requires even more bandwidth. And prudence dictates off-site data storage in the cloud, and other services can be moved to the cloud as well.
In other words, FairPoint has a lot more to offer than just a phone line and a DSL line.
"Businesses are our fastest-growing entity," said Steve Walsh, vice president of Comcast Business for the greater Boston region, which includes eastern Massachusetts, New Hampshire and Maine. "Its not a sideshow. It's a big piece of what we do, what we continue to do."
Comcast got into the business market bottom-up, offering service to residential and home-based business, then to mom-and-pop businesses, then to major companies. Five years ago, it would have required something of a quantum leap – a T-line – to meet the needs of even a medium-sized business, but technology has evolved and "scalability" is now the watch word.
"It's almost like turning the volume knob," said Walsh. "There is no swapping out cards. People can add and drop uses, so they can get to a price point that will meet their business needs."
Comcast's latest inroad was into Pease International Tradeport in Portsmouth, which is BayRing's home turf. The tradeport is also served by FairPoint and AT&T, so Comcast is just an additional player.
Comcast's reach might grow further if a possible merger with Time Warner Cable ever comes to fruition. Nationally, the $45 billion deal would give the company another 8 million subscribers, giving the company a 30 percent cable share nationwide. In New Hampshire, though, it will give Comcast access almost everywhere, on its own cable lines. Offering such end-to-end service is a key selling point to businesses, which don't want to hear, when something goes wrong, that it's some other company's fault.
Regulatory changes
FairPoint already has this reach. As the phone company, it owns copper wires to nearly every community in the state. And as part of the deal to take over Verizon's lines, it promised New Hampshire regulators that it would provide 95 percent broadband access. The utility exceeded that number in the Granite State earlier this year, and across the northern New England region it boasts that it reaches 95 percent of businesses, but it doesn't provide service to the vast majority of them.
FairPoint's advantage, its greater reach, was undercut by being regulated as a utility. It could offer a special rate to businesses, but "we had to file what our promotions would be ahead of time, so our competitors could go right in and scoop up the business before the rate got passed by the PUC," said Scarponi.
But in 2012, FairPoint finally got what it wanted – deregulation on the retail level. Indeed, the change was so substantial that the Public Utilities Commission no longer needs to regulate the company nearly as it had. So FairPoint asked for – and last session the Legislature granted – a 65 percent cut in the $1 million assessment it pays the agency each year.
FairPoint now has a direct geographically allocated sales force aimed at the business market, but it got back into the action late in the game. In its last annual financial statement, however, it painted its position as a potential asset: "Our relatively low current market share provides us the opportunity to both win back business customers who have left for another carrier as well as acquire new business."
In its latest financial statement, FairPoint reported that it is still slipping, even among business customers, at least when it comes to switched access lines. While the company lost almost 7 percent of its voice access lines, business lines were down by nearly 2 percent.
Federal initiatives
On the flip side, Ethernet access lines have grown by 57 percent, with wholesale sales (to large businesses and other carriers) going up by 79 percent. Indeed, FairPoint now sells more wholesale Ethernet lines than retail.
"In the last few years, we have been most successful at the enterprise level – large businesses and universities," said McHugh.
Several of these sales involve government-supported initiatives. FairPoint won the contract for Maine's next-generation 911 (which allows texting). It also won the bulk of the $24.6 million contract put out by the New England Telehealth Consortium to connect rural hospitals and doctor's offices through the Rural Health Care Pilot Program.
Under the program, the hospitals only have to pay 15 percent of the installation. FairPoint fronts the rest, and then gets reimbursed by federal government. So far, FairPoint has connected more than 250 of the 300 health care sites in Northern New England.
FairPoint received about $16 million of the total award, and seven other vendors were involved as well.
"We didn't care if it was one or eight companies," said Jim Rogers, who heads NETC. "We just wanted the best companies for the best niches.
In New Hampshire, FirstLight Fiber provides data center services from its data center in Lebanon. FirstLight – formerly Tech Valley Communications and based in Albany, N.Y. – got into the Granite State by acquiring segTEL in 2011. Most experts say it is the strongest regional competitor to Comcast and FairPoint, especially now that it has joined forces with the aforementioned BayRing Communications.
BayRing, based at the Pease Tradeport, has long run its own network on the Seacoast, but now offers direct access to Concord and Boston. It most known for "dark fiber," enabling large companies to purchase the bandwidth, but providing their own electronic controls, as opposed to paying BayRing for providing that service. That enables BayRing to sell lines for a lot less.
BayRing also provides those custom services for small businesses, the kind of services that other small Internet providers use to offer, like One Communications (now part of Earthlink, a publicly owned corporation out of Atlanta).
"There has been a lot of consolidation while we continue to grow," said Ben Thayer, BayRing's CEO.
The company now employs 100 people – about twice the number of five years ago. "We have a tremendous respect for FairPoint and Comcast, but we are a boutique firm. We are not the Walmart of telecom. We are not the cheapest. But when you call BayRing, you get a person right off the bat."
Correction: A previous version of this story was incorrect when it stated that Comcast also was losing phone customers to mobile phone providers. In fact, the company has been gaining phone customers for the last several years.