Berlin, Gorham push for Conway bypass
'Tens of millions' at stake if it's not built, officials warn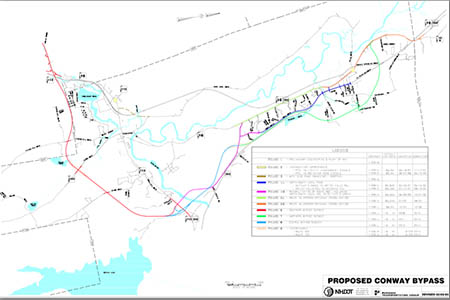 Officials of the city of Berlin and the town of Gorham are warning state transportation officials that New Hampshire may have to end up returning "tens of millions" of dollars to the federal government if the long-sought Conway bypass is not built.
The issue was reported by The Berlin Daily Sun, which said came up last week at the public hearing on the Department of Transportation's draft 2017-2026 Ten Year Plan.
Former Gorham Selectman Paul Robitaille said he believes the Conway bypass is important to the economy of the Androscoggin Valley. "People here north of the notch desperately need that," he said.
The proposed bypass would have rerouted Route 16 around North Conway, but with limited support for the bypass in the Conway area, it is not included in the 10-year plan.
The newspaper reported that Robitaille said he heard that the state will have to repay the federal government for money spent on the bypass and asked if it was true.
Cass said a lot of federal highway money was spent on acquiring the corridor, and the state has 20 years to complete the project. He said that deadline is coming up and there needs to be a public debate on whether the state wants to maintain that corridor.
Cass said NHDOT is in the process of determining how much money is at stake, but it is in the tens of millions of dollars. He also said the state could decide to sell some of the property to recover some of the money.
The draft 10-year plan contains $2.2 million for a roundabout in Conway Village at the intersection of Routes 16 and 153. The project is scheduled for construction in 2025.
The Sun also reported that, in his presentation, Cass said spending on the state's roads has not kept pace with pavement deterioration.
Over the past five years, he said the percentage of good and fair roads has dropped. Currently 68 percent or the state's roads (both municipal and state) are in good or fair condition, leaving 32 percent in poor or very poor condition. There are currently 53 bridges on the red list and Cass said another 344 are scheduled to be added to the list this year.