Bedford Medical Center
Nickerson Designs establishes expertise in medical fit-up execution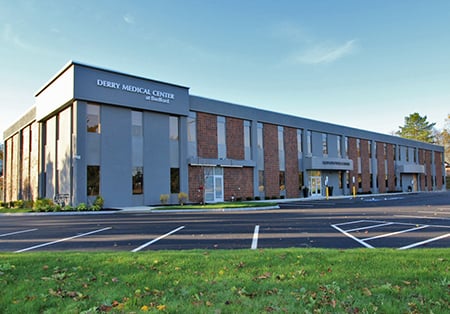 When Christopher Nickerson, manager of Nickerson Designs LLC arrived at 160 South River Road in Bedford, N.H. to begin construction on the new Bedford Medical Center this past March, he walked into an empty shell: concrete floors, bar joists — and nothing more.
Less than six months later it opened its doors for business.
"We worked fast," Nickerson said of the medical fit-up. "It was a burn-the-wheels-off pace."
Nickerson and his team at Nickerson Designs, a full-service design-build firm based in Windham, N.H., managed the extensive project, from overseeing the project's design to the construction management required to complete the job. From examination rooms to multiple primary care practices, specialists and imaging, the model of locating a diverse offering of services under one roof had previously proven successful for Nickerson Designs. Nickerson had designed and managed a similar extensive medical fit-up project at the medical complex now located at Castle Commons, Windham, N.H.
What started out as an extensive renovation essentially evolved into new construction at the River Road site as the project took shape over the spring and summer.
"I have overseen this group's real estate for the past five years, starting with the Windham location," Nickerson said. "We know that in Windham we have a model that works. It makes everything a little easier because it's a repeatable formula."
Visitors to the newly opened Bedford Medical Center will find a one-stop spot for many medical services and needs. Located in the 18,000-square-foot space are Derry Medical Center, Derry Imaging Center at Bedford, Southern New Hampshire Internal Medicine Associates, Quest Diagnostics, Granite State Gastrointestinal Consultants and Granite State Podiatry.
"Because Windham was such a good model, we replicated it in Bedford — but we stepped it up a notch," Nickerson said. "The finishes were stepped up a notch. The availability of imaging is stepped up a notch. There's more available on-site in Bedford than there is in Windham."
The benefit for patients, then, is that all of the different practices are often complimentary to one another: a visit to a primary care physician may necessitate blood work, getting an x-ray or additional imaging — all of which is now available just across the lobby from one another. The diverse roster of medical services is easily accessible from a central area on the building's second floor.
"The first thing people would notice is an upgrade in the finishes there," Nickerson said. "A lot of medical space is institutional and cold. Some of the elements we've brought in resonate more with hospitality. The patient experience is more warm and friendly, rather than something you'd experience in a hospital where it can be cold and uncomfortable."
Another notable element in the space is the diagnostic imaging facility. In this single space, patients will find X-ray, 3-D mammography, bone densitometry, two ultrasounds and a cardiology suite.
"The amount of information you can get there is fascinating," Nickerson said. "Now they're set up for 3-D mammography. The technological advances, even just in the past five years, are pretty profound."
That success, however, led to one of the project's more interesting tests.
"I would say that the most challenging thing was that, as word got out, we got a lot more interest," Nickerson said. "All of a sudden, everyone wanted to be in there. Even though it's 18,000 square feet, which is quite a lot of space, getting everything to fit is harder than you might think."
Despite those challenges, the project remained on schedule — thanks in part to the history and working relationship between Nickerson and Dr. Ed Schiavoni of Southern New Hampshire Internal Medicine Associates and Tom Buchanan, CEO of Derry Medical Center.
"Those are the two lead people," Nickerson said. "I've been working with them for five years, and you get to know the personalities and what the expectations are. It makes it easy to do the work, but honestly it's a real joy. Everybody involved is outstanding to work for."
Over the past 5 years, Nickerson Designs has designed and managed the fit-ups and construction of numerous medical facilities across southern New Hampshire. In addition, the firm has developed and managed the construction of condominiums and single family residences. The six-person team oversees projects from design and permitting, to building, contract negotiation and preservation.
In addition to the interior renovations at 160 South River Road, the office building underwent a number of infrastructure improvements and an exterior facelift, all performed by Eckman Construction of Bedford. Interior infrastructure renovations included new HVAC systems, lighting, life-safety measures, sprinkler systems and a new elevator. Extensive sitework was completed as well, providing new drainage systems, sidewalks, site lighting and landscaping, as well as a connector road to an adjacent facility. Exterior upgrades to the building façade, which include new canopies, glass entryways and paint systems, have given this high-profile Bedford building an updated, modern look.
---