Bedford inventor's idea begins to take flight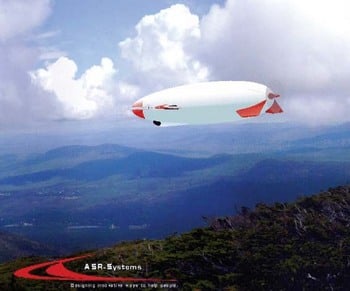 From time to time aircraft builders find a home in New Hampshire although they eventually either move on or fade into obscurity.
But a new aircraft builder emerging in a basement in Bedford has a good chance of staying afloat — literally. Called Airship Search & Recovery Systems, the company is developing a semi-rigid airship to be used as an unmanned aerial vehicle.
New Hampshire inventor and Bedford resident Steve Brian — founder and coowner of the firm, along with his wife Barbara — explains the genesis of his latest project this way: "Last winter I read about a young boy who was lost in the woods during a snowstorm.
Unfortunately, he died of exposure before he could be found. I thought on the tragedy and thought a useful tool for search and rescue would be a slow-moving and low-flying aircraft equipped with sensors and communications equipment that could stay in the air for hours.
"It was obvious that only a remotely piloted airship was the way to do it. I had Aerostar Inc. build me a basic envelope (for non-lighter-than-air enthusiasts the "envelope" is the basic bag or shell of an airship with no equipment) of 25 feet. The modifications, such as outfitting the engines and the various sensor and communications equipment, would be done by my company. The front and rear are rigid, but the middle is not. Currently the uninflated aircraft is being worked on in my basement."
Brian plans to volunteer his aircraft for use in search-and-rescue missions.
To generate income, he plans to use them as advertising aircraft during the summer, and expects to deploy a fleet of three 60- foot aircraft this summer.
He is currently working with state Fish and Game Department officials on how his aircraft can best be used in search-andrescue missions, but other government agencies (that he did not identify) have expressed an interest in the aircraft.
He has already put together a design team that includes Bruce Blake, a noted lighter-than-air aircraft designer. The prototype will be using electric engines built by the German firm Hacker, which supplies engines to the hobbyist and UAV markets. For larger aircraft, Brian plans to use hybrid engines, but he declined to identify the supplier.
Since you can't have an aircraft factory in the basement of a suburban New Hampshire home, Brian says he is looking for a site in the Concord area that could support both a field and a manufacturing facility.
For more information, visit ASRSystems.us.