Bauer changes name to Performance Sports Group
Shares will switch from Toronto to New York exchange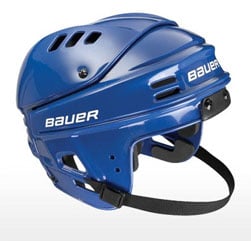 Bauer Performance Sports, takes on a new name Tuesday and its stock will be traded on the New York Stock Exchange for the first time on Friday.
The Exeter-based company – whose shares were previously only traded on the Toronto exchange under the ticker symbol BAU – is now called the Performance Sports Group Ltd. and will be traded on both exchanges under the symbol PSG by the end of the week.
The move – part of a public offering intending to raise $110 million only two months after its $330 million acquisition of Easton-Bell Sports' baseball and softball business – signals the company's shift both south of the Canadian border and from the rink to the diamond of American pastime. The money from the IPO will be used to finance that acquisition as well as provide operating capital, the company said.
"The success of Bauer Performance Sports over the last several years, driven by significant market share growth in hockey and the expansion of our platform into new sports and apparel, has elevated our company to new levels as we look to broaden our shareholder base with an NYSE listing," said Kevin Davis, president and CEO of the company, in a company release. "With the No. 1 brands in ice hockey, roller hockey, baseball and softball, as well as a growing lacrosse business, the new name Performance Sports Group better defines our market leadership in high performance sports equipment, our more diversified business and our ability to continue to pursue strategic acquisitions across the industry."
Bauer started out in 1927 primarily as a Canadian hockey equipment company, absorbed like so many others, in the Nike conglomerate. It moved its headquarters from Montreal to New Hampshire shortly after Davis took over as CEO in 2002.
In 2008, Kohlberg Funds, a private investment firm bought it from Nike. The firm aggressively expanded Bauer through the acquisition of six companies, with the latest and largest being April's $330 million purchase of Easton, a California company that has been manufacturing baseball equipment since 1922. The deal resulted in a combined company with about $593 million in annual sales, and some $95 million in adjusted earnings based on recent filings of both companies
Bauer dominates the hockey equipment industry with more than a 65 percent market share in skates and helmets, and 85 percent of lacrosse helmets. Now as PSG, it has an overall 30 percent market share in the overall baseball/softball equipment.
The stock was trading for slightly under $17 Canadian on the Toronto exchange, but the offering made it clear that the NYSE share price might be different.