Battle over electricity customers turns to small businesses, residential users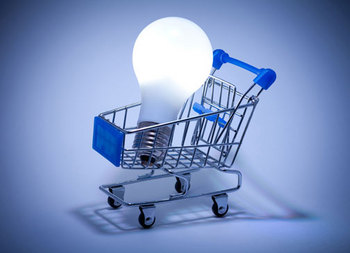 O'Keefe Enterprize, a general store in West Ossipee, saved about $100 a month after changing its electricity provider from Public Service of New Hampshire to ENH Power.
Poly Recovery, a plastics recycler operating at Pease International Tradeport, estimates it saved $1,200 a month after it left PSNH for Freedom Energy Logistics.
And the Mountain View Grand Resort in Whitefield is reporting "substantial savings" now that it gets its power from Constellation Energy.
These are just three of the more than 15,000 small and medium-sized businesses in PSNH's service area that now get their energy from competitive suppliers. Add another 17,500 residents, and electricity customers are buying almost 44 percent of their electricity from other companies and not PSNH, compared to 35 percent just two years earlier.
The migration of commercial and residential customers is getting so serious that PSNH has asked the Public Utilities Commission for permission to offer a special rate to lure customers back. Yet the utility's competitors want to make it easier for those customers to leave and have asked the PUC to require PSNH buy its bad debt, turn over customer information and refer customers to them.
While the issues are being duked out in the regulatory ring, both sides are asking larger questions:
• Can and should PSNH hold on to its generating assets at a time when cheap natural gas prices continue to lure the utility's customer base away, forcing those who are left behind to shoulder an ever-increasing burden?
• Should regulators protect those remaining customers by spreading that cost to those who are leaving, or should they make it easier for those remaining customers to leave?
Residential migration
Two years ago, it was the large customers that migrated from electric utilities in search of lower prices. They are still leaving.
In September, 88.5 percent of large customers in PSNH's service territory bought their electricity from another supplier, taking with them 98 percent of the load in that category.
But that's essentially old news. The growing concern involves small and midsize businesses. PSNH has lost 70 percent of midsize customers, which have taken three-quarters of that load. A fifth of small businesses have left, taking 40 percent of that load. The migration of small business from PSNH to other providers is roughly twice the amount it was two years ago.
Even residential customers are beginning to leave.
Two years ago, one out of 500 residential customers in PSNH's service area bought their electricity elsewhere. In September, it was one out of 25.
Most of them are signing up with two companies: ENH Power, a supplier based in Auburn, Maine, with an office in Portsmouth, and Freedom Energy Logistics, an aggregator based in Manchester. These companies have helped accelerate the flight of small businesses as well.
Lower-cost gas
Customers of other utilities besides PSNH have been shopping around too. Unitil has lost 85 percent of its large-customer business and about a third of its small business customers.
Liberty Energy (which recently acquired National Grid's New Hampshire operations) has lost 76, 36 and 15 percent of its business among its large, medium and small businesses, respectively. And 500 businesses in the New Hampshire Electric Cooperative's service area are now buying their power elsewhere.
But none of these utilities generate their own power. They buy it from energy suppliers, so if they have fewer customers, they simply buy less power.
"We just pass along the cost," said Unitil spokesman Alex O'Mara.
Thus migration has not affected their per-kilowatt-hour price, which means they have remained more competitive than PSNH and have been able to hang on to more customers.
PSNH, however, has its own power to sell. While most other utilities ditched their generating capacity more than a decade ago, the state's largest utility – at the behest of lawmakers, worried about the price manipulation that plagued the West – held on to a coal-burning power plant in Bow and others on the Seacoast. For most of that decade, coal was cheap, PSNH customers benefited, and competitors stayed away.
But all that changed about three years ago, when the price of natural gas started to come tumbling down, thanks to greatly increased supplies found through hydraulic fracturing technology (or fracking).
Competitors contend that this is the new normal, and that supplies will remain high and gas prices will remain low for decades to come.
But PSNH warns that such low prices are unsustainable, as well as unwise, noting that gas now accounts for half the region's energy. It is arguing for more diversification in the region's energy supply.
The utility also is pointing out increasing environmental concerns about fracking as well as the recent reporting of losses by major gas extractors.
For now, most environmental regulations have increased the price of PSNH's power, especially the requirement to build a $450 million mercury scrubber on its Bow plant, estimated to add about a penny per kilowatt-hour. Thus the scrubber is a major contributor to PSNH's preliminary estimate of a January rate increase from 7.11 cents per kWh, to 8.97 cents. The rate hike also wouldn't be so large if PSNH had more customers to spread that cost around.
The utility tried to do that when it requested permission to add a special "non-bypassable charge" that would be imposed on all electricity customers regardless of provider. The utility's reasoning was that it was unfair for customers left behind by migration to have to bear the full cost of maintaining a system that all electrical customers can return to at any time.
But the Public Utilities Commission agreed with PSNH's competitors, which argued that it was unfair to force large customers to maintain a system it doesn't need.
The rate increase will cause more customers to flee, contributing to a PSNH "death spiral," in the words of Doug Patch, an attorney who represents the Retail Energy Supply Association, whose members include a number of suppliers, including Constellation Energy and TransCanada.
A 'no-brainer'
PSNH rates did fall in July, a circumstance that may have caused some residential customers in New Hampshire, locked into a deal with another provider, to pay more over the cost of the year — a fact that PSNH spokesman Martin Murray likes to point out.
"Read the fine print," he warns those wishing to buy power elsewhere.
"That didn't happen with us," said Emile Clavet, part-owner of ENH. "When PSNH cut prices, we cut them to our customers."
ENH now offers power at 6.99 cents per kilowatt-hour for residents and small business alike.
Clavet is practically salivating at PSNH's preliminary estimate of a rate increase.
ENH — which is opening a new office in Manchester — now claims 20,000 New Hampshire customers, 6,000 more than it was claiming a month ago.
The word about switching to other providers "is spreading like wildfire," he said, mainly through social media sites like Facebook.
"It seemed like a no-brainer," said Ed Rudolph, owner of Canterbury Commons, a 78-apartment complex in Raymond, about his decision to switch to ENH.
The tenants pay for their own electricity, he said, but Rudolph pays for lighting and heating in the five common areas and the laundry center. He was paying $640 a month to PSNH, he said, and he is now paying about $540.
"When I got my first bill, I said, 'Wow, this is substantial.'"
Robert O'Keefe saves about the same amount at his general store in West Ossipee, he said.
"The money I make goes right back into inventory. I'm going through the slow season, so I need to build up inventory to get me through the winter," said O'Keefe.
Unlike ENH, Freedom Energy is an aggregator. It goes out on the market every day and buys electricity from a number of suppliers. While a consumer can still lock in to an annual fixed-price contract, the price quoted depends on the price of electricity and the usage pattern, which varies considerably from business to a resident.
Freedom said it has about 11,000 New Hampshire customers — 15 to 20 percent of them businesses, primarily small ones. It recently made a big inroad into the small business market, when it announced a partnership with the New Hampshire Retail Merchants Association.
Gus Fromuth, Freedom's managing partner, said he would like to accentuate that price differential even more by installing smart meters, which he said will enable a business to save more money depending when the power is used.
A smart meter would help cut costs for a pizzeria, where the heavy usage is at night, but it also can help businesses like Poly Recovery, which operates machinery in its plastic-shredding operation and can schedule its largest loads at a time when electricity is cheaper. (He now schedules those loads from 11 p.m. to 4 a.m.) The firm is also able to specify what kind of energy it can buy, lowering its carbon footprint, which is good for marketing in the recycling business.
"This is very valuable to the small manufacturer," CEO John Pelech said. "It's like having a partner, to make sure your energy consumption is as low as it could be."
Constellation Energy also works with its customers on energy timing.
The bread and butter of the Baltimore, Md.-based Exelon subsidiary are Fortune 500 companies. But most of the firm's 300 business customers in New Hampshire tend to be on the smaller side, though not exactly mom-and-pop operations. For Constellation, the Mountain View Grand Resort — one of the state's grand hotels — is a small business.
Mountain View also markets itself as a green institution, so the ability to add a little more per kilowatt-hour to buy wind credits complements the resort's on-site windmill.
Even so, the resort has made some "substantial" savings, said chief engineer Mike O'Loughlin.
But PSNH spokesman Murray counters that Constellation in particular is not trustworthy.
He points to a $245 million settlement with the Federal Energy Regulatory Commission involving charges that the company engaged in price manipulation in New York, New England and Canada grids. New Hampshire will get $1.8 million of that settlement, to be rebated to ratepayers.
Daniel Allegretti said that the FERC matter is "behind us" and has "nothing to do with competition in New Hampshire."
But Murray also points to the investigation by the New Hampshire PUC of the forged signature by an employee of Good Energy LP – a Constellation broker – that would have allowed a New Hampshire company to switch its electric provider.
Allegretti, Constellation's director of government affairs, insisted that it was the Good Energy employee who was responsible for the wrongdoing. "We didn't forge the signature," he said. "We did nothing wrong." He added that the PUC didn't take any action against Constellation in the matter.
The PUC, however, did say that Constellation's "lack of effort to ensure that such practices have not been common or will not occur in the future" was "disheartening."
Special rate
PSNH has another idea to deal with the migration. It wants to be able to offer a special rate to bring customers back, an idea backed by the PUC staff, though the commission itself has yet to rule on the proposal.
Under the plan, the alternative default energy rate would be the marginal cost to serve returning customers, plus the non-operating cost of the scrubber at the Bow plant. As of last July, that added up to 6.4 cents a kilowatt-hour.
Only those who left PSNH for more than a year could receive the rate, and it would last only a year (though customers could come and go during this year). The rate would change if the price goes up or down by about 0.75 cents.
The deal would be offered to large businesses first, but would be extended to small businesses and residents nine months later.
PSNH's competitors oppose the idea, arguing that it would result in higher prices for those who had not migrated, which is unfair. Besides, "the very purpose of the rate … is to entice customers away from an existing competitive supply," said Fromuth.
Hearings on the alternative rate have been scheduled for Nov. 26.