'Barbenheimer' gives regional theaters a much needed post-pandemic boost
Movie fans return in droves to see 'Barbie,' 'Oppenheimer' blockbusters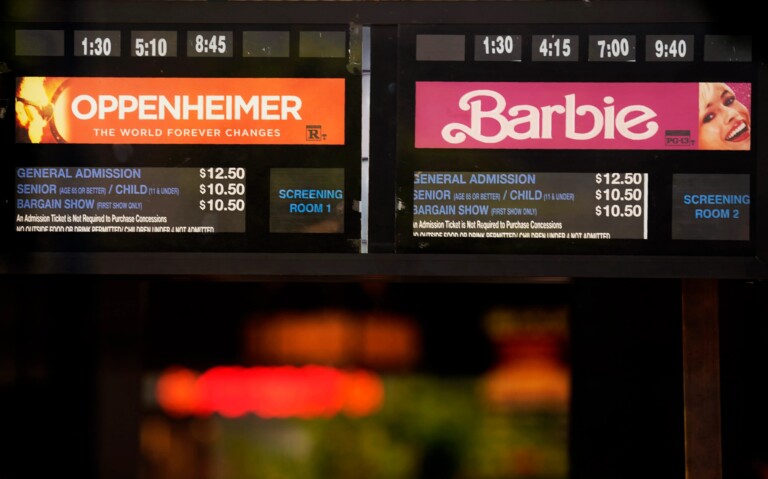 Those who have gone out to the movies in the past few weeks have undoubtedly faced a phenomenon juxtaposing two opposing genres and presenting higher-than-average ticket sales at theaters in and beyond the Monadnock Region.
It's called "Barbenheimer," and it's the unintended marriage of newly released films "Barbie," directed by Greta Gerwig, and "Oppenheimer," directed by Christopher Nolan. The first is a cinematic reimagining of the classic American product line of dolls, and the second tells a historical biography of J. Robert Oppenheimer, who was involved in the Manhattan Project that developed the atomic bomb during World War II.
The films became culturally joined at the hip when the two flicks had a coinciding July 21 release. That earned both productions significant interest from moviegoers due to the polar-opposite plots of each movie.
Gavin Key, a filmmaker and musician studying at Keene State College, said he felt the heightened demand for the unintended double feature was "really good for the industry."
"As someone who follows the movie industry, I knew about this like a year ago — the new Christopher Nolan bomb movie coming out the same day as the Greta Gerwig Barbie movie," said Key, of Keene. "Everybody in the industry was saying one of them is going to move the date because they're not going to want to compete."
But they did not, and that led to Key making a double feature out of the two movies beginning with "Oppenheimer" on the first Saturday of its release followed by "Barbie" later that evening. Wanting to see the former on a larger scale than what's available locally, he traveled with a friend to Hooksett to view the movie on an IMAX screen.
Brattleboro arts director Jon Potter said the two movies drew consistent crowds to the Latchis Theater in town even after opening weekend, weeks after the June 30 release of "Indiana Jones and the Dial of Destiny" proved successful.
"Thanks to 'Barbenheimer' (and Indiana Jones), July 2023 was the first month where ticket sales beat pre-pandemic totals for a comparable month," Potter, the executive director of Latchis Arts, which includes the Latchis Theater, wrote in an email.
"Our movie audiences had slowly been trending back toward pre-pandemic levels but had only reached about 80 percent of pre-pandemic levels. July 2023 beat July 2019 — and also beat July 2018, 2016 and 2015."
Most movies, even box office hits, drop 40-60 percent in attendance at the theater in subsequent weekends after their first weekend, Potter said, but "Barbie" had 95 percent of ticket sales in its second weekend compared to the July 21-23 opening period. The second weekend of "Oppenheimer" had 84 percent of the first, he added.
The anticipation of the films, particularly "Barbie," drove some patrons to immerse themselves in the narrative by matching the style of characters on screen with their clothing worn to the theater.
But Amanda Perry, of Antrim, took it even further, throwing a Barbie-themed party for friends involving selling Mary Kay cosmetic products, and theming her home to mirror the fictional "Barbieland" seen in the movie, where Barbie and Ken dolls live.
"We made it the best day ever, the best Barbie day ever," Perry wrote in an email. "I turned my house into a Barbie world with cardboard boxes turned into a high heel, lipstick, and Barbie box, [with] lighthearted Barbie memes and pink light bulbs."
Keene resident Pamela Adorno took a different approach in her excitement for the blockbuster: Her husband, Anthony, rented out a whole auditorium at Keene Cinemas so she could view "Barbie."
"I'm such an introverted person, and that's actually kind of why my husband did it," Pamela said. "It was the opposite of a fun girl group party — my own introverted way of having a Barbie celebration for myself."
Potter said the Latchis Theater took advantage of the "Barbie" buzz by offering a raffle for a backpack themed around the dolls, which contained school supplies and arts and crafts items.
"There's been a renewed sense of fun, of movie-going being an event, thanks to 'Barbenheimer'," Potter said. "We've seen lots of people dressed as Barbie or dressed head-to-toe in pink. Our theater manager has reported a way higher number of repeat customers and big groups of people coming to see 'Barbie.' "
'Robust turnout'
The "Oppenheimer" half of the trend has also fared well in local venues, including The Colonial Performing Arts Center's auditorium on Main Street in Keene, where Executive Director Alec Doyle said the gritty wartime film was better suited for the theater than the vibrant, social commentary Barbie adaptation.
The Elm City's main movie theater, Keene Cinemas, was not displaying "Oppenheimer," making The Colonial the only place to see the film in the immediate area upon release.
"People love it, and I think they particularly like seeing it because we have it on our big screen, not on our second screen [in our Showroom space]," Doyle said.
As of Wednesday, The Colonial had sold 1,874 tickets for Oppenheimer, which Doyle said he considered a "robust turnout" for the narrative of the movie but not a record showing for the theater's history.
"Back in the day … all the major studios had their smaller independent wings, and what that meant was that there was a lot of marketing efforts that went into those small, independent wings," he said. "So, when we showed something like 'March of the Penguins,' it would do amazing business. 'March of the Penguins' did way more than this; we sold over 5,000 tickets to that."
Back across the Vermont state line, the Bellows Falls Opera House has been screening "Oppenheimer" since Aug. 1 to steady sales ranging between 63-100 tickets sold in the venue's first five showings of the movie.
Charlie Hunter, a representative for the Opera House, said he feels some of the attraction to "Oppenheimer" centers around the recent anniversary of the atomic bomb's use on Hiroshima and Nagasaki, Japan, in World War II on Aug. 6 and 9, 1945 — a result of the Manhattan Project portrayed in the movie.
"Because of ['Indiana Jones' and 'Oppenheimer'], we've had such a strong July," Hunter said. "We seem to have some momentum because of just the sheer amount of media coverage that 'Oppenheimer' received. … I just think it's a movie that has really struck kind of a cultural nerve."
It's a nerve not seen at the Latchis Theater since before the pandemic, where Potter compared the response to the 2019 film "Avengers: Endgame" and the 2015 film "Star Wars Episode VII: The Force Awakens." But he said this summer's phenomenon between "Oppenheimer" and "Barbie" feels different with their strange pairing.
"I think it's safe to say we knew 'Barbenheimer' was going to be big, but we didn't know how big," Potter said. "On opening night, we had a line out the door and back up the street. … Giving it a name — 'Barbenheimer' — has made it something people want to be a part of."
This article is being shared by partners in the Granite State News Collaborative. For more information, visit collaborativenh.org.