Bar Foundation to honor Dalianis
Chief justice to receive Frank Rowe Kenison Award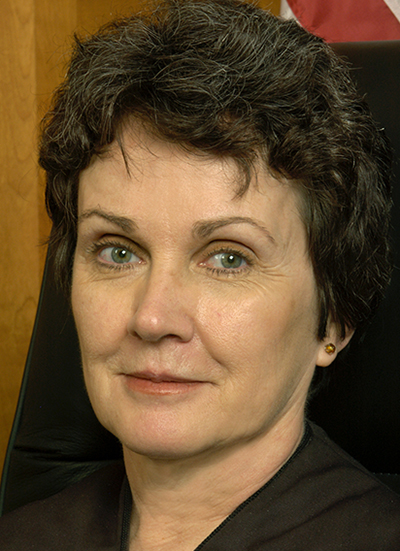 NH Supreme Court Chief Justice Linda Stewart Dalianis will be presented with the 2015 Frank Rowe Kenison Award at the Bar Foundation's annual dinner on Thursday, Sept. 17, at the Grappone Conference Center in Concord.
Jonathan Eck, a member of the litigation group at Devine Millimet law firm, will also receive the Robert E. Kirby Award at the dinner.
Jack Middleton, chair of the Bar Foundation Board of Directors (and a 2004 Kenison award recipient), said Dalianis's selection was based on several factors.
"The chief justice is particularly deserving of this honor as she has had a long and distinguished career as a judge," he said. "She is a pioneer and a leader – the first woman on the superior court and the supreme court, and the first female chief justice of both, and she has led the way in innovations for the courts."
The award is named after the late Chief Justice Kenison, who led the Supreme Court for more than 25 years and committed his life to the legal system, education about the law and the promise of equal justice for all.
Dalianis, the first female NH Supreme Court justice when she was appointed in 2000, was the 50th woman to be licensed as a lawyer in New Hampshire when she was admitted to the bar in 1974. She was the first woman appointed to the Superior Court in 1980.
Throughout her judicial career, Dalianis has pushed for innovation in the courts, including improvements in the handling of divorce and other matters involving families and children, promoting the use of alternative dispute resolution, streamlining the bar admissions process, and, most recently, championing the NH e-Court Project.
The Robert E. Kirby Award is presented to an attorney 35 years old or younger who demonstrates traits of civility, courtesy, perspective and excellent advocacy. The selection committee for the award each year is comprised of judges from every level of the courts in New Hampshire.
Eck, a member of the litigation group at Devine Millimet law firm, is a member of the NH Bar Association board of governors and immediate past president of the Manchester Bar Association.
He was nominated by several attorneys who noted his effectiveness as a trial lawyer who has a trademark approach of respect and humility.