BAE Systems awarded $13 million federal research contract
Program will demonstrate the navigational superiority of new optical seeker for precision-guided munitions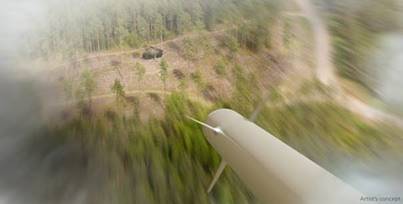 BAE System has been awarded a $13.1 million contract from the U.S. Defense Advanced Research Projects Agency, through the U.S. Air Force Research Laboratory, to demonstrate a new, cost-effective optical seeker for precision-guided munitions.
The seeker, which was developed in BAE System's facilities in Merrimack and Hudson, is designed to improve navigation as well as automate target location and homing for different types of munitions that are used in GPS-denied and other contested environments. Day or night, where GPS navigation is unavailable or unreliable, the seeker can navigate using autonomous precision guidance via passive electro-optical and infrared sensors.
BAE Systems tested the seeker during the first phase of DARPA's Seeker Cost Transformation program (SECTR). The seeker integrates with a wide range of weapon platforms that use munitions. The open architecture enables seeker integration into current and new weapons systems. It also provides munitions quick-reaction capabilities while meeting stringent cost, size, weight, and power requirements.
"Low-cost, precision munitions are critical to our customers, which is why we've developed a flexible seeker that radically lowers the cost typically associated with precision guidance," said Mark Meisner, a chief scientist at BAE Systems. "The SECTR program is allowing us to deliver advanced sensing and navigation capabilities for munitions to warfighters faster."
This phase of the program will conclude in July 2019 with multiple test firings on several precision-guided munition platforms.